1. Product Introduction of Interlocking Organizer Bins
1) [100% SATISFACTION GUARANTEED] We guarantee 100% return in 365 days if you are not completely satisfied with our product after receiving our interlocking organizer bins.​ You can feel free to shop and contact us when you have any questions.
2) [Organize Your Tool Tidy] These interlocking organizer bins are made from high quality solid durable plastic, ideal for storing tools, such as slip-joint plier, combination wrench, screwdriver, utility knife, groove joint plier, claw hammer, junior hacksaw, screwdriver bits, ratchet wrench, spark plug driver socket, extension bar, spring clamp, stripper, torpedo level, tape measure, clamp, and any other small parts.
3) [32Pcs & 3 Sizes] These interlocking organizer bins have 32 pcs and 3 sizes. These tool box accessories contain 8 large sizes, 12 medium sizes, and 12 small sizes. Small size: 3 inch*3 inch*2 inch, Medium size: 9 inch*3 inch*2 inch, Large size: 9 inch*6 inch*2 inch.
4) Customized by Interlocking Design] These interlocking organizer bins adopt interlocking design.​ The design can help you to organize and create your own style to fit in drawers, a good solution to make your tool box, tool cart, roller tool chest, workbenches more neat.​ You can use it separately or mix and match.
5) [Various Usage Scenario] These interlocking organizer bins are perfect for organizing your toolbox, tool cart, roller tool chest, workbenches and so on. Will fit inside shallow drawers and in standard tool boxes. This multipurpose desk drawer organizer tray shallow keeps your things in order.
2. Product Parameter (Specification) of Interlocking Organizer Bins
| | | | |
| --- | --- | --- | --- |
| Organizer Bins Size | Material | Color | Combo |
| As follows | PP | Khaki, Black, White | Free Combination |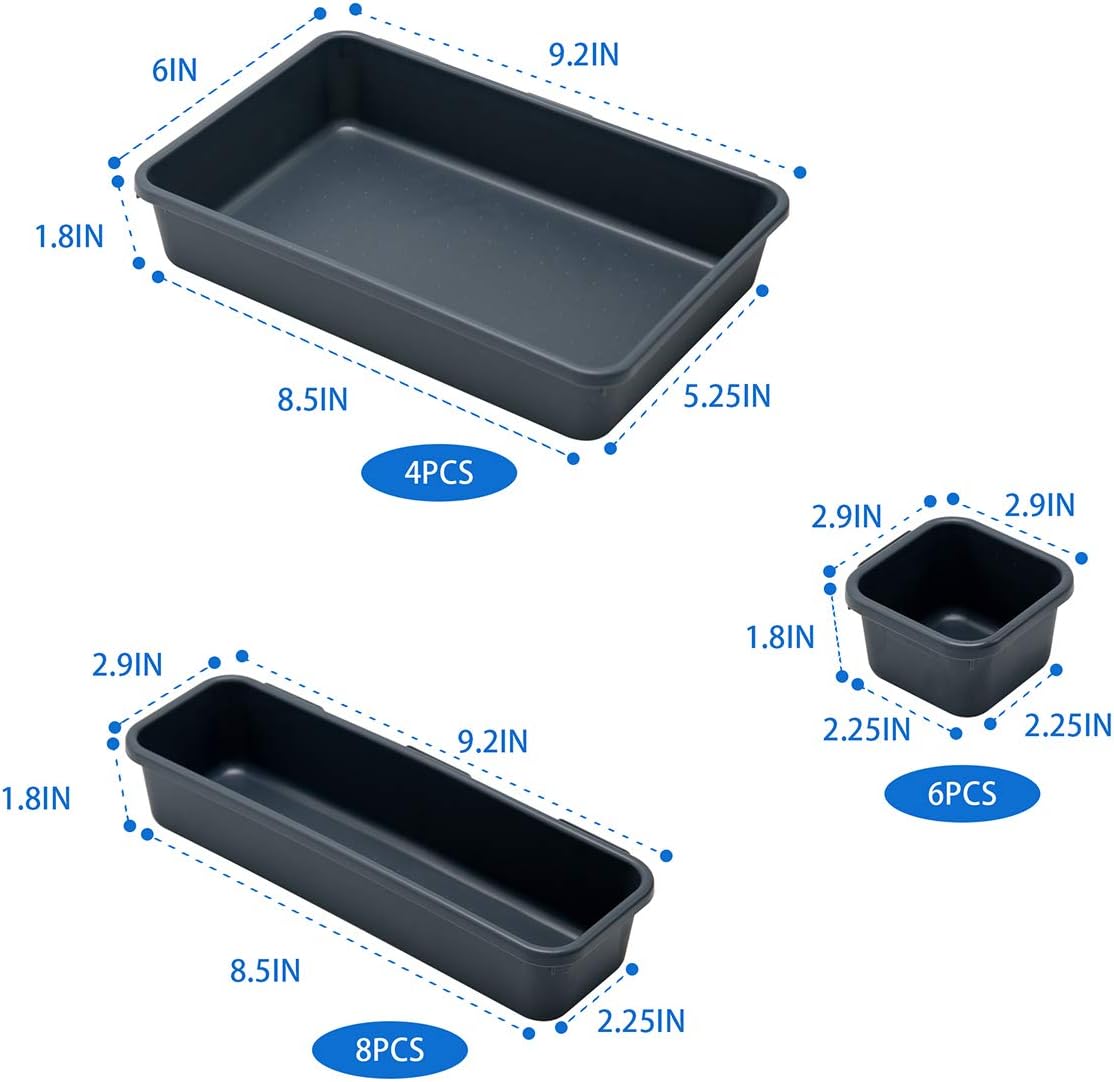 3. Product Feature And Application of Interlocking Organizer Bins
Interlocking Organizer Bins for Your Office and Home
Made your stuff organized in your style.​
For drawer organizer, organizer your life, not only in makeup drawer, can put them in every kind occasion, such as kitchen drawer, office desk. Make every look more neat and organized. Great help in your home and office.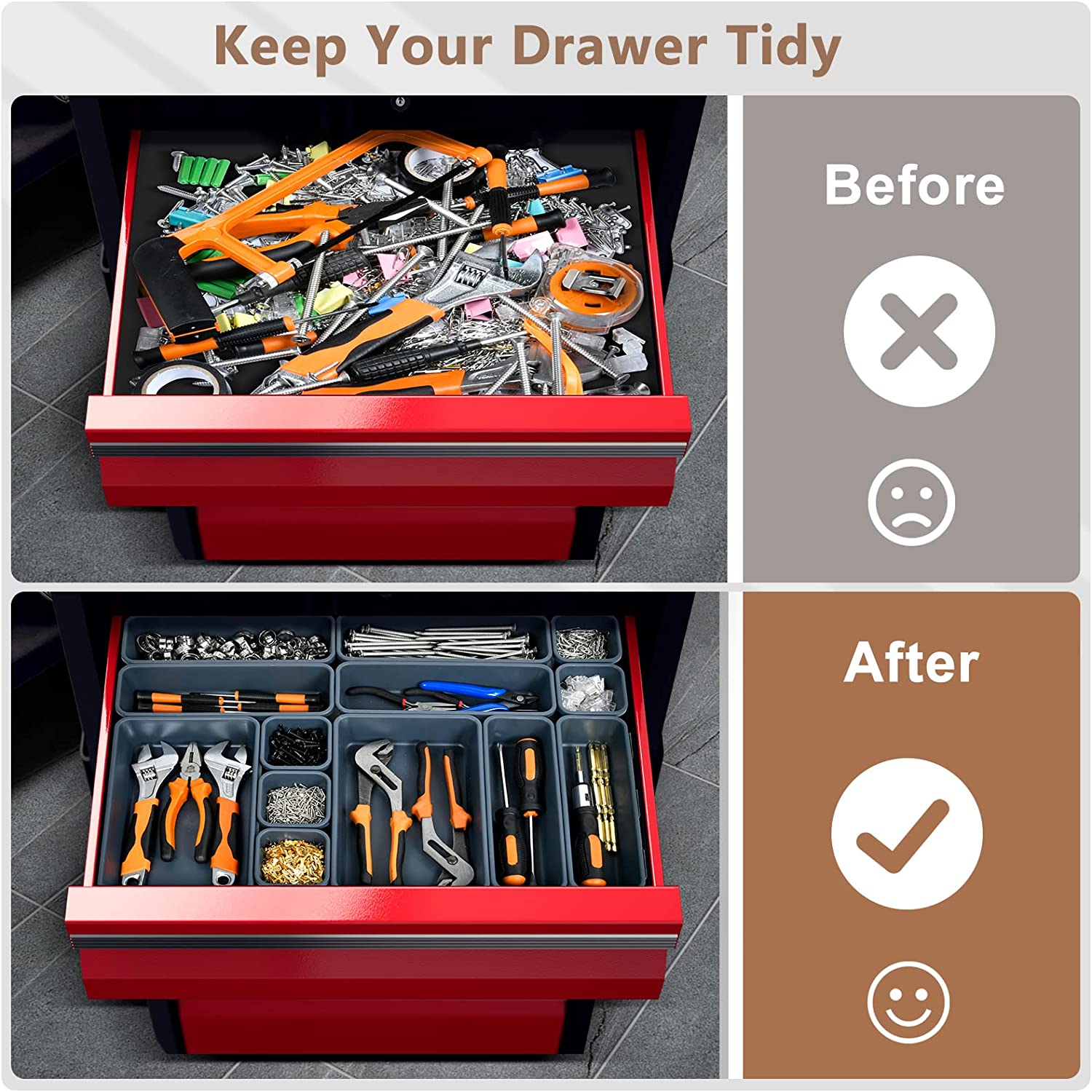 4. Product Details of Interlocking Organizer Bins
Office Drawer Organizers
Put pens, clips, staplers, staples, and sticky notes in the drawer to make everything easy to find and improve work efficiency.
Makeup Drawer Organizers
Suitable for putting cosmetics, like eyeshadow tray, eyelash curler, facial cleanser, nail polish, etc, keep your things neat, enjoy our relaxed and happy life.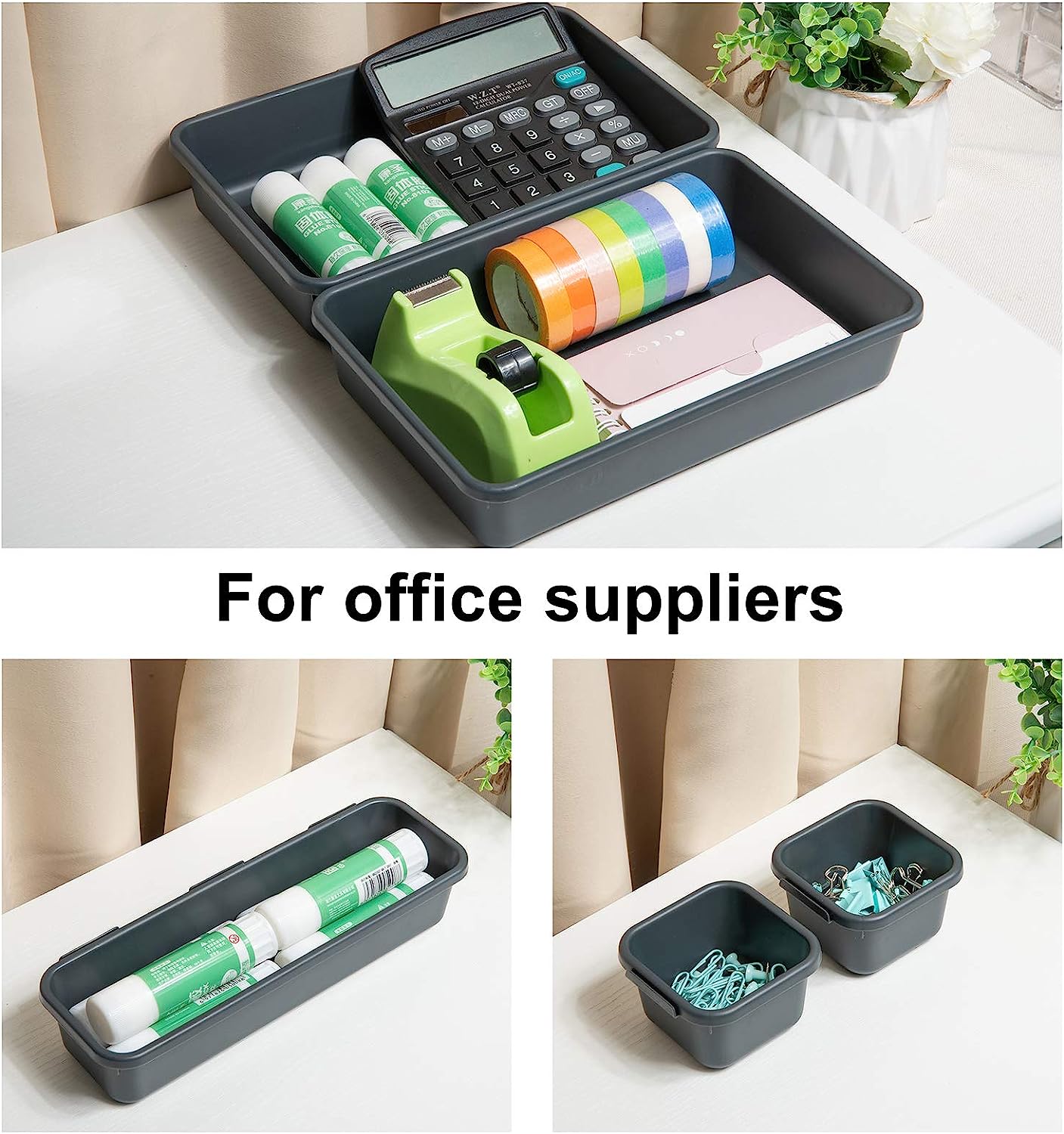 Kitchen Drawer Organizers
Cutlery and other kitchen utensils are placed separately to avoid direct contact with the drawer, which is convenient and clean.
Interlocking Design
For each size drawer organizer, there is an interlocking design to keep every drawer organizer bin neat and lock together. Make every stuff aligned in the drawer to find it easily.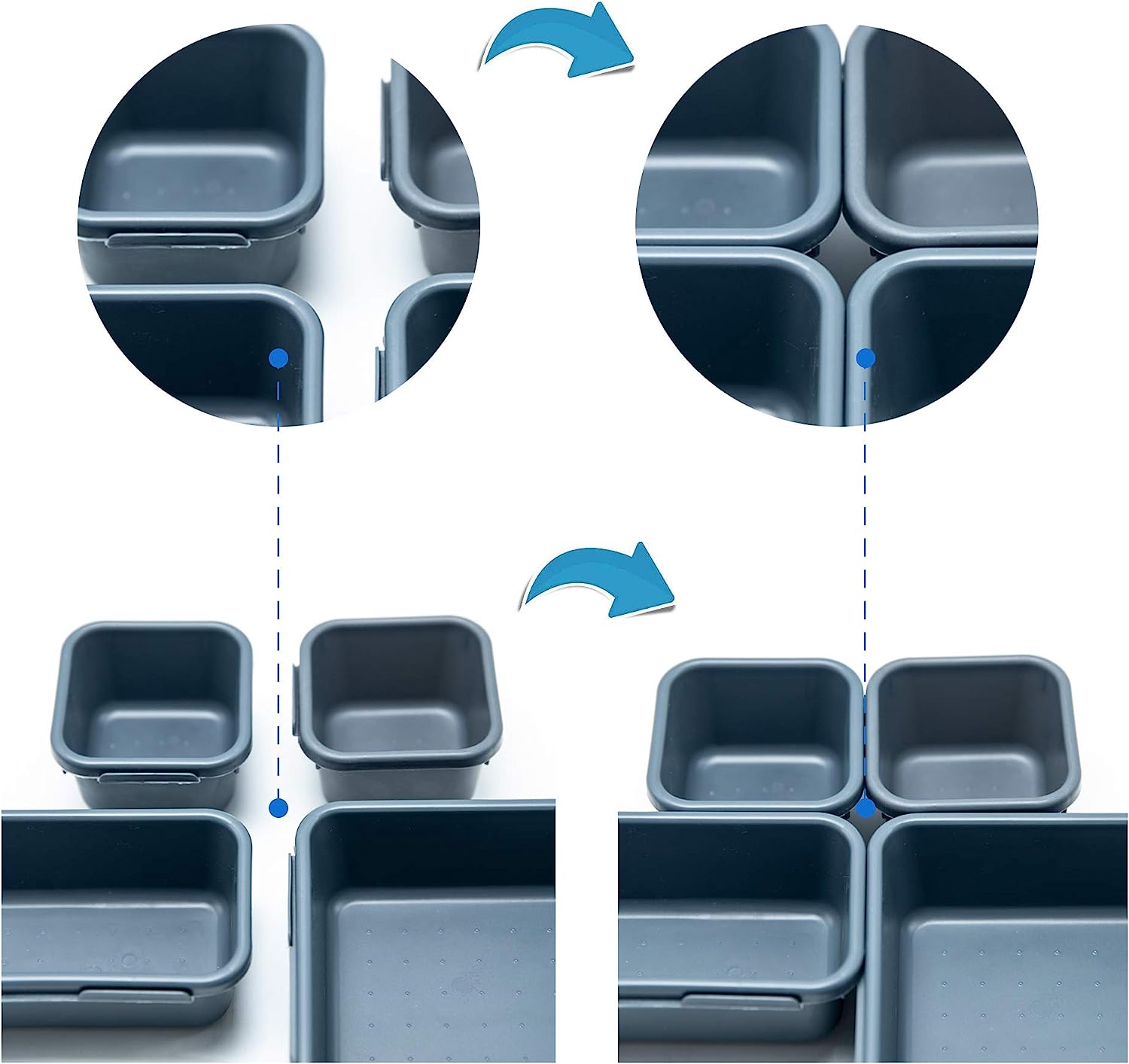 Smooth Edges
Easy to clean your drawer and fit for any kind drawer corner. smooth edge prevents any cutting feeling causing.
Non-slip stripes at the bottom
When you open your desk drawer/makeup drawer, you will find every drawer organizer bin kept in the same place.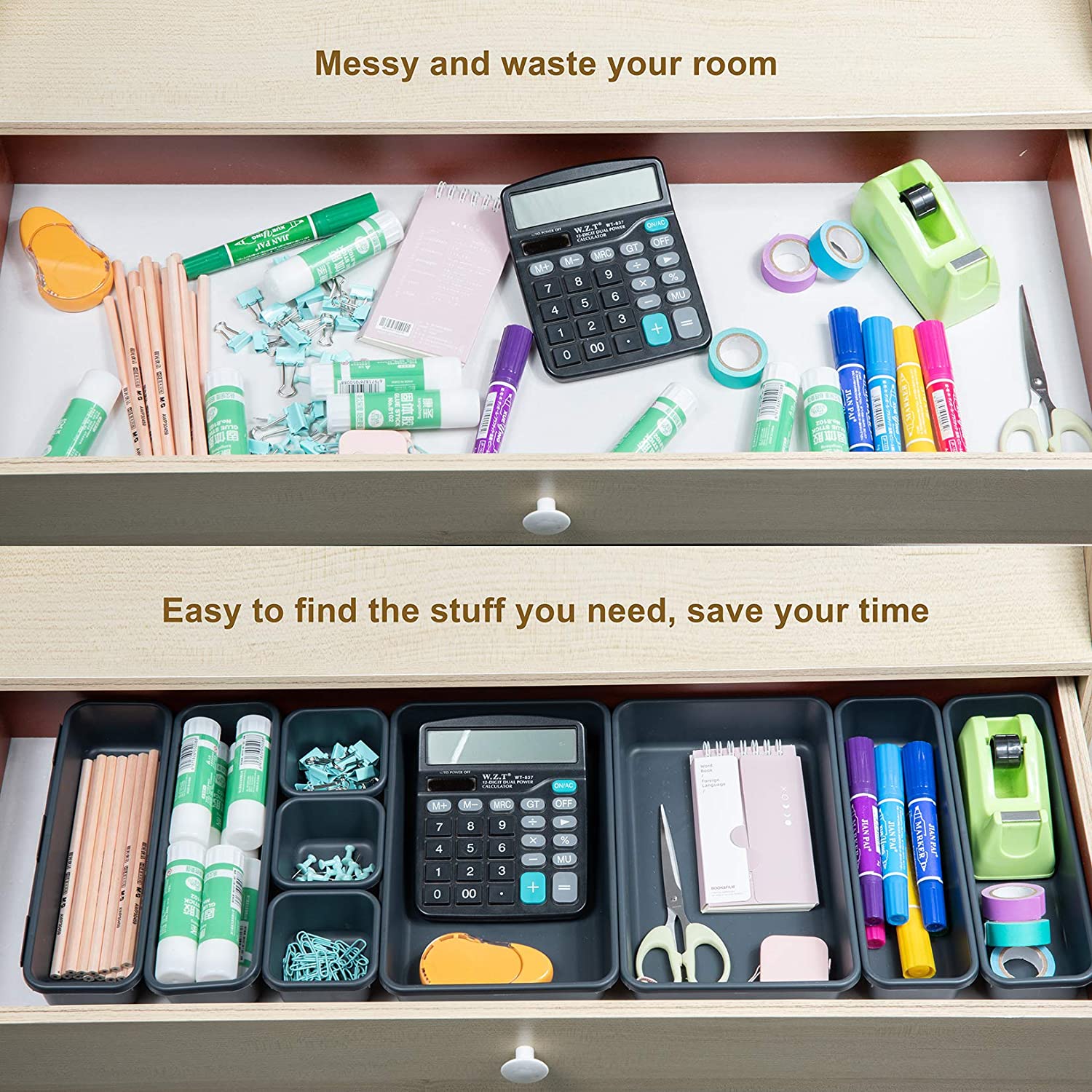 5. Product Qualification of Interlocking Organizer Bins
SUAN Houseware is a Chinese interlocking organizer bins manufacturer and supplier. We look at everyday objects and activities and we see ways to make things simpler, easier, more thoughtfully designed–better.
Our organizers make everyday life easier, in every room of your home. We design tools that fit comfortably in your hand and in your life. Our products are engineered for functionality and durability.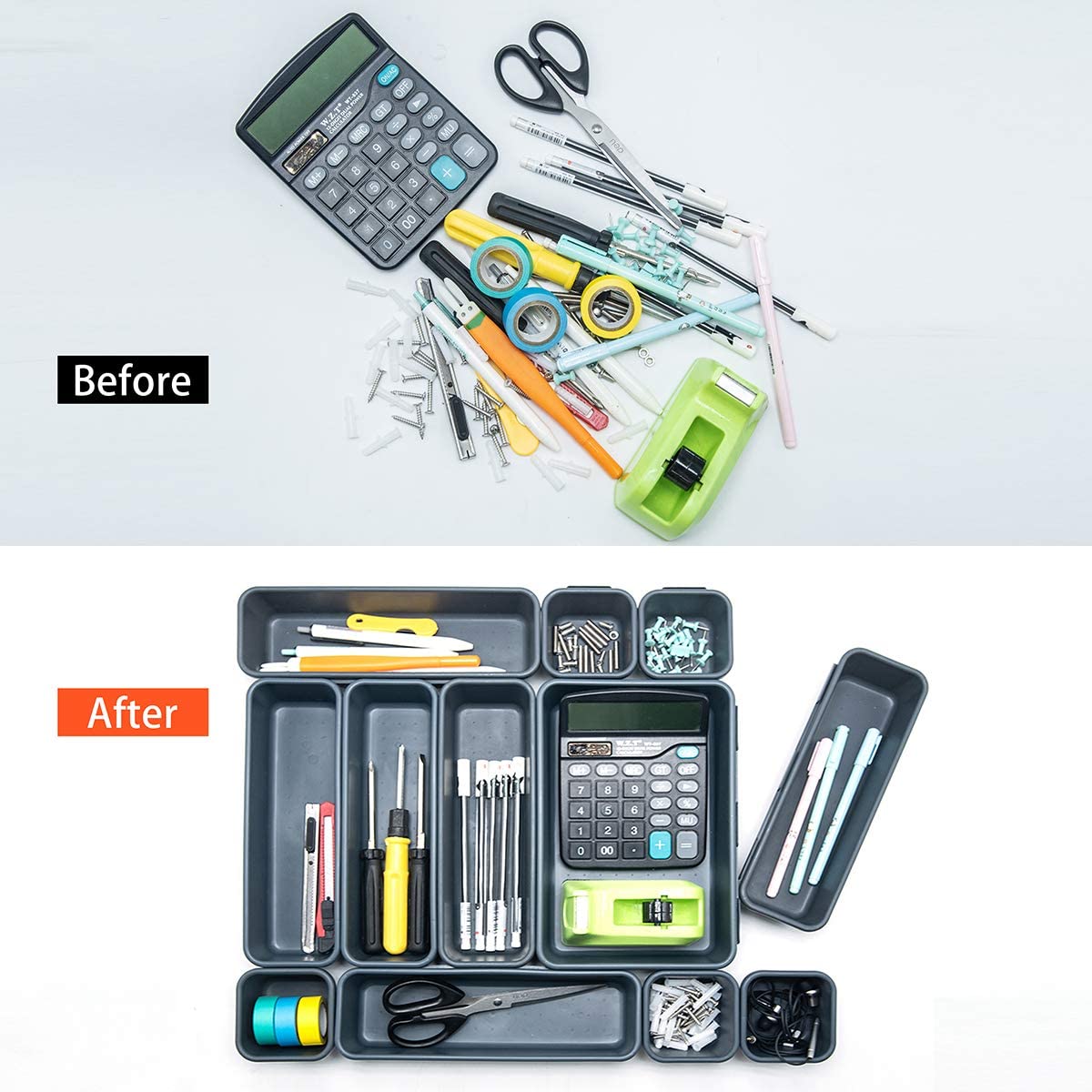 6. Deliver, Shipping And Serving of Interlocking Organizer Bins
We offer polybag or custom color box package for these interlocking organizer bins, better protection during delivery. Door shipping to your address or FBA warehouse address, all duties and freight are included, very convenient for starting a new business.