1. Product Introduction of Clear Storage Bins
1) MULTIPLE DRAWER ORGANIZERS - 25 various sizes clear storage bins for organizing every drawer in your bedroom, kitchen, study, or bathroom. Keep cosmetics, makeup tools, jewelry, office supplies, and hair accessories tidy and within easy reach.
2) SPACE SAVING SET - Find the sizes right for each drawer and utilize every nook and cranny. The clear storage bins are stackable so you can save space while keeping narrower drawers organized and accessible.
3) NONSLIP STABILITY - 100 nonslip rubber tabs are included. Stick one onto each corner to keep the clear storage bins neatly in place. The ridged interior of the containers ensures the contents don't slip and slide.
4) CLEAR EXTERIOR - Crafted of crystal-transparent durable plastic, the clear storage bins are chic and modern while granting you an instant view of what is inside.
5) ERGONOMIC DESIGN - The clear storage bins are lightweight and superbly simple to clean and maintain. No tools are required to set these up; they are ready to use straight out the packaging.
2. Product Parameter (Specification) of Clear Storage Bins
| | | | |
| --- | --- | --- | --- |
| Advantage | Material | Color | Combo |
| Completely new material | PS | Stock color: clear | Combine as you like |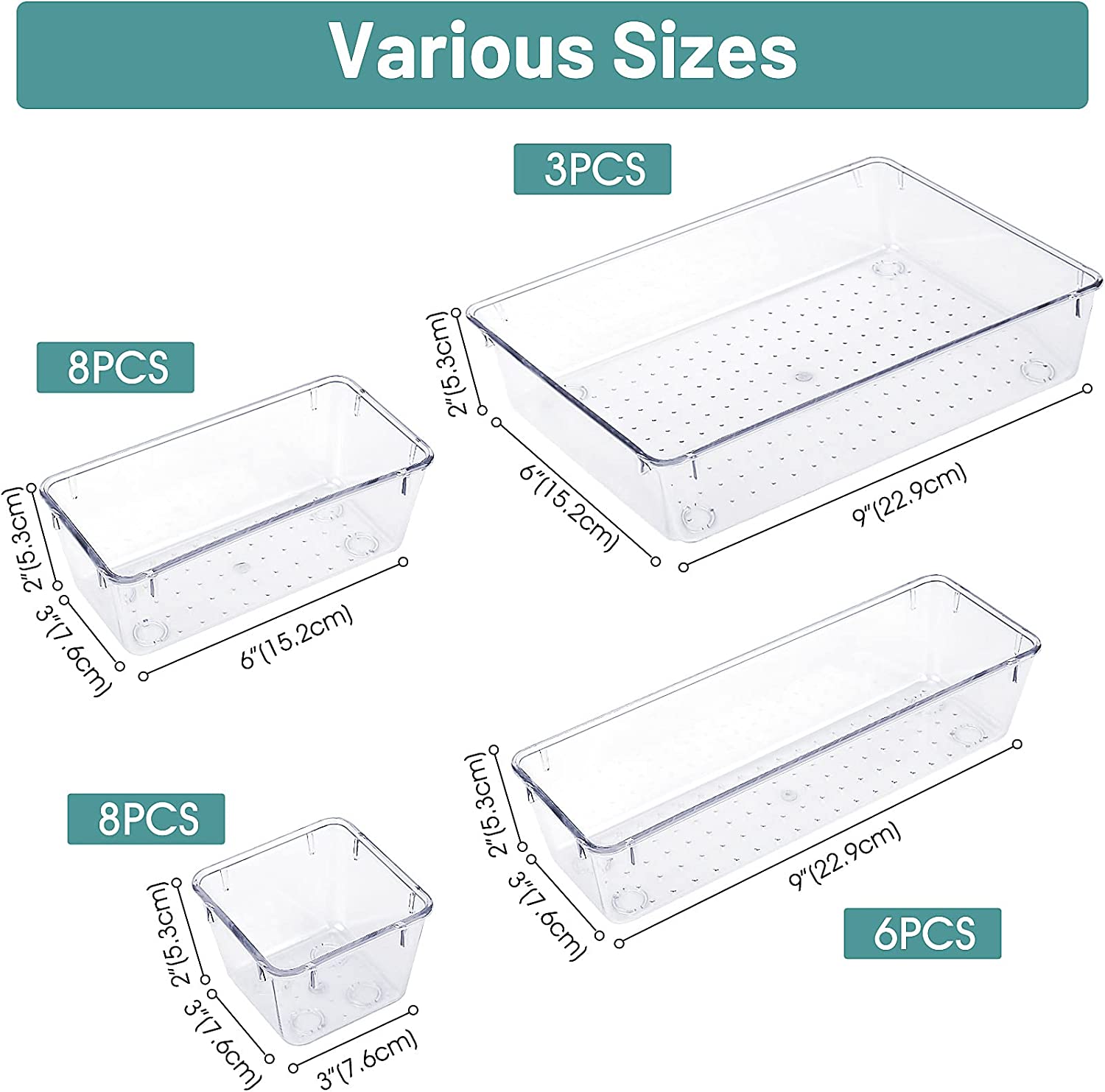 3. Product Feature And Application of Clear Storage Bins
These clear storage bins are perfect for anyone who needs to keep their workspace organized, neat, and tidy. They are also great for students, teachers, and anyone who works with a lot of paper. The organizing trays make it easy to find what you need when needed, and they help keep your workspace tidy and organized.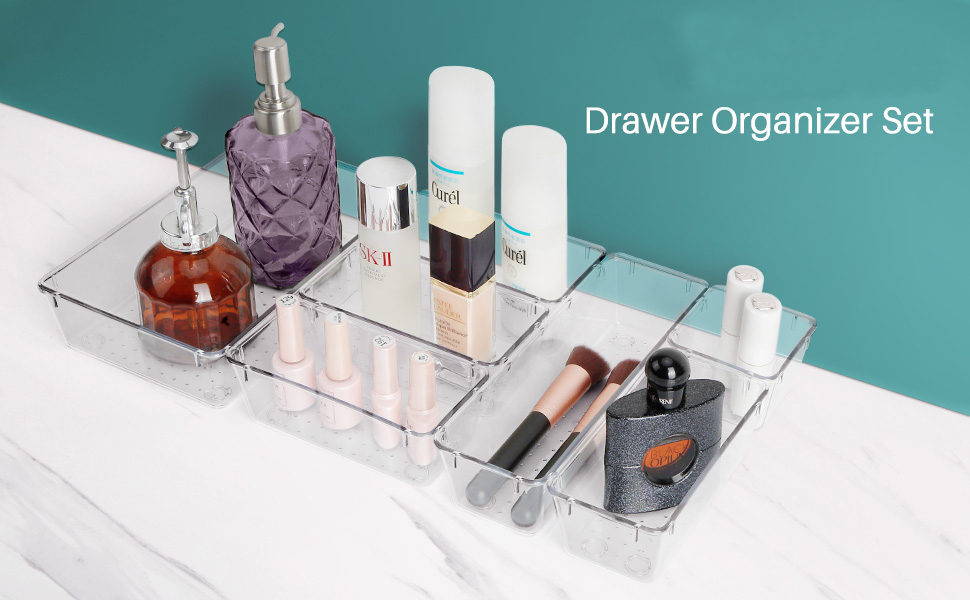 4. Product Details of Clear Storage Bins
Premium PS Material, durable and good quality
These clear storage bins are durable and of good quality! I used these to organize my kitchen desk drawer and love the stackable design. I was able to stack them to maximize the storage in my drawer. I put pencils in the bottom container and put pens on the top!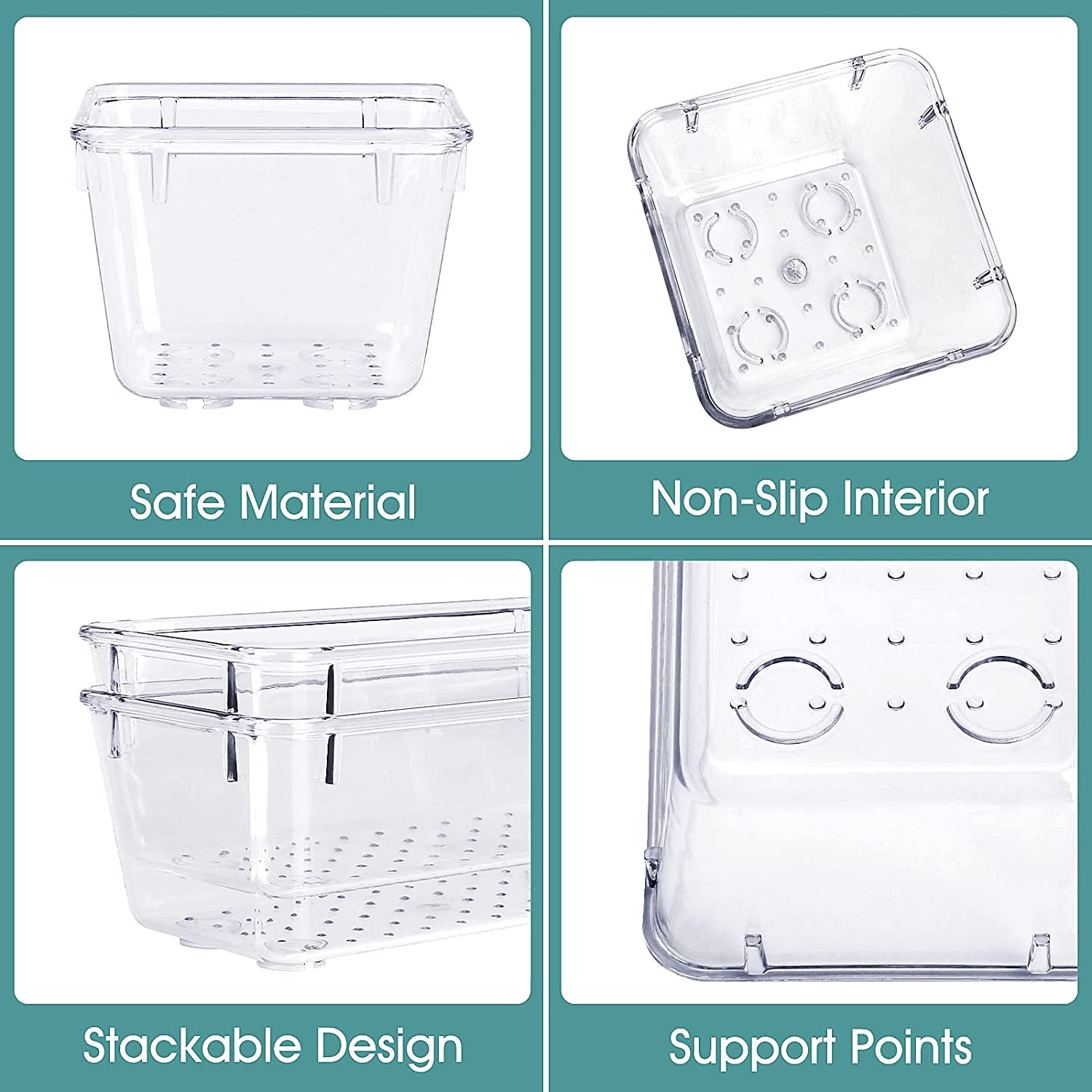 Wide Application, also fit for bathroom cabinets
Really like these, I started using them in my bathroom cabinets and found I could organize everything extremely quickly. The price of these clear storage bins for how many you get is awesome! I love the bumpers on the bottom that prevent them from sliding around when you open your drawer. I was able to organize my bathroom vanity and my desk with these.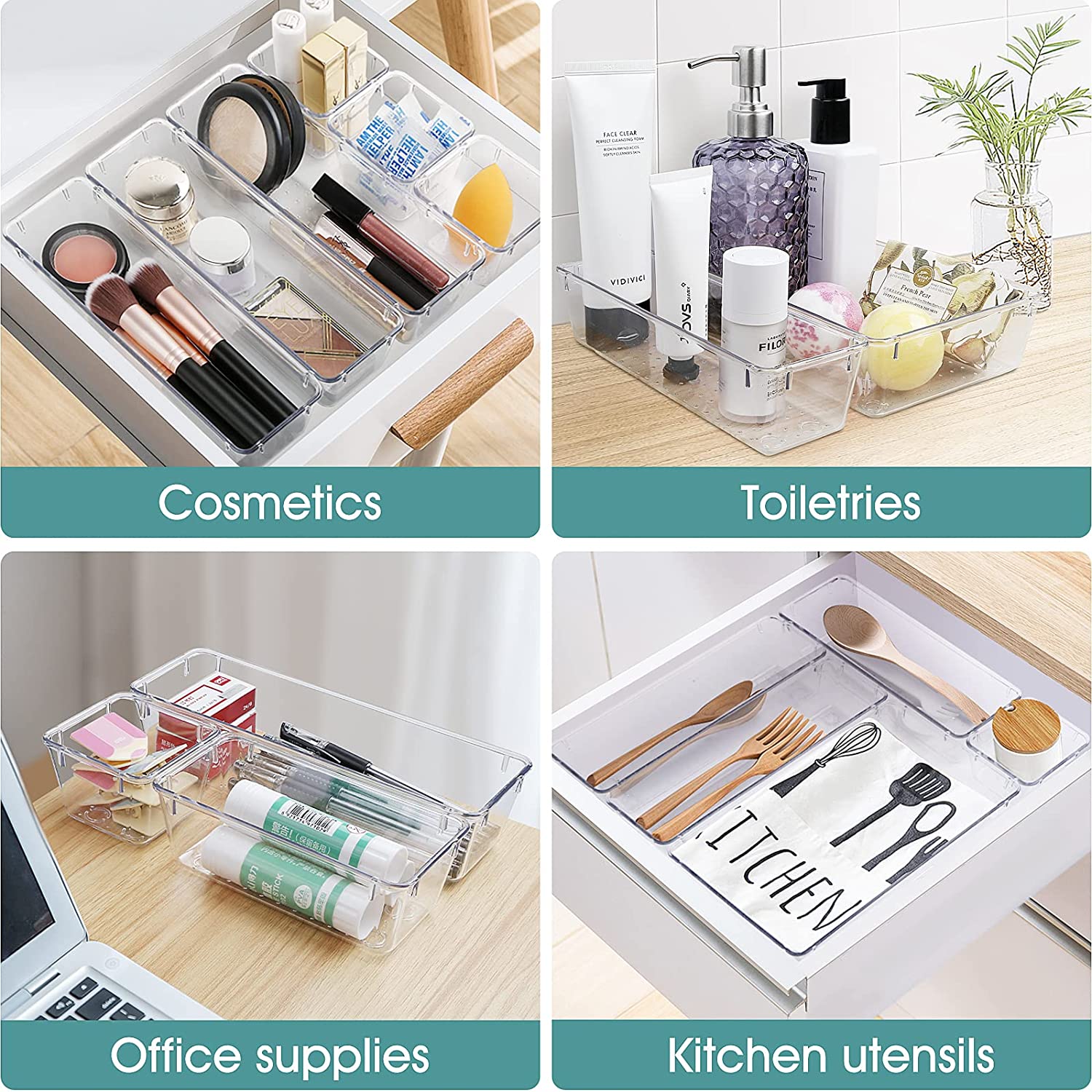 Crystal clear, stackable, and customizable
It's crystal clear, stackable, and customizable. These clear storage bins are attractive and there is a wide variety of sizes for flexibility of use. They are high quality and the pack was a great price for the amount of organizers included.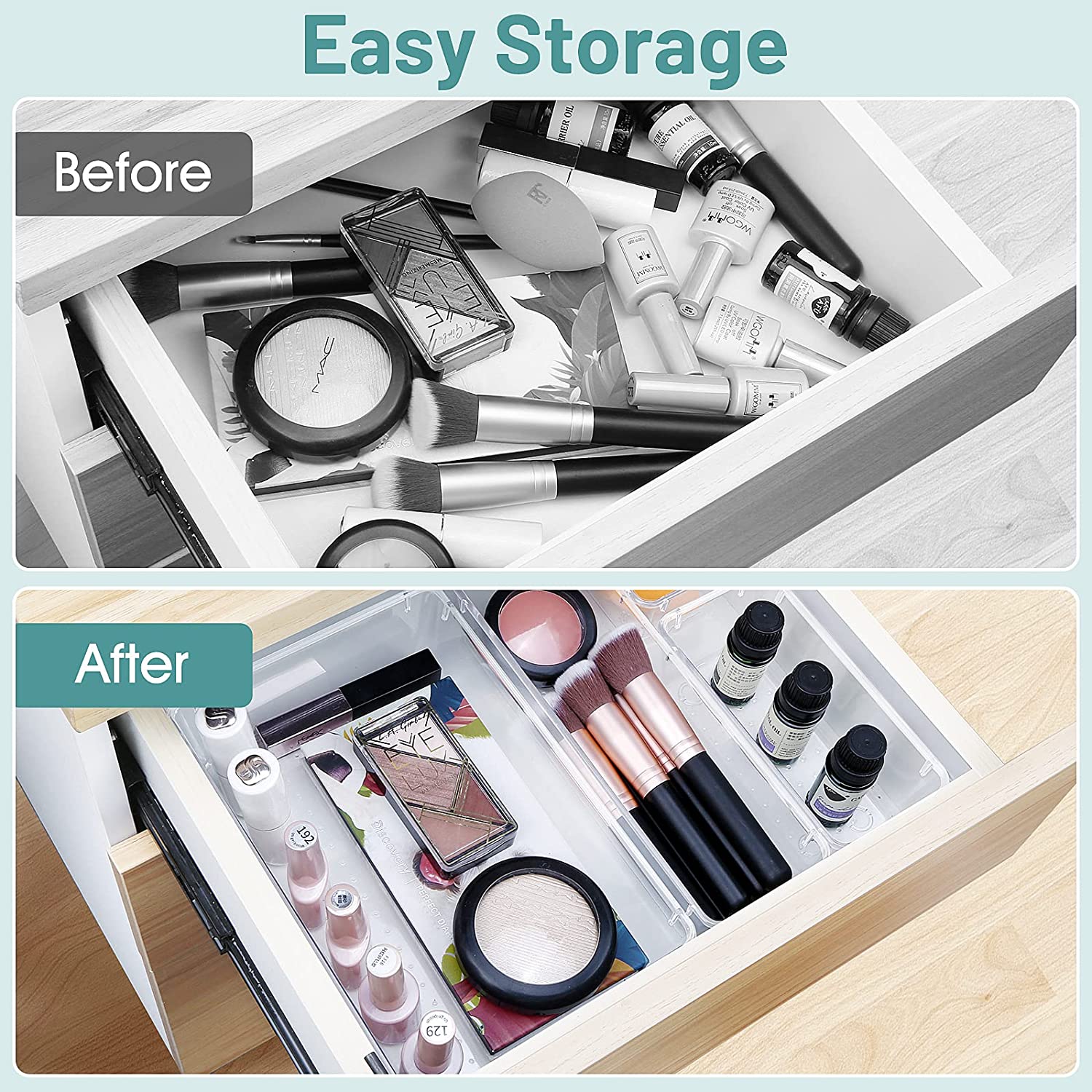 5. Product Qualification of Clear Storage Bins
SUAN Houseware aims to provide customers with high-quality home products. Our clear storage bins can save you time to organize and find your stuff, make more space at home for daily storage.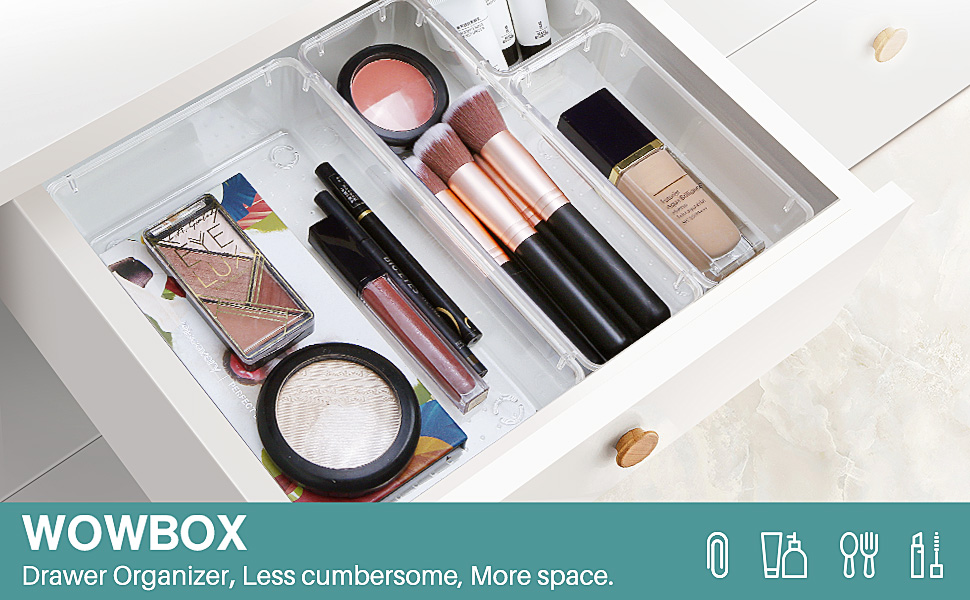 SUAN clear storage bins fit different sizes of drawers. They are used in dressers, offices, kitchens and bathrooms. Ideal for arranging your toiletries, makeup tools, cosmetics, office supplies, kitchen utensils, jewelry and more.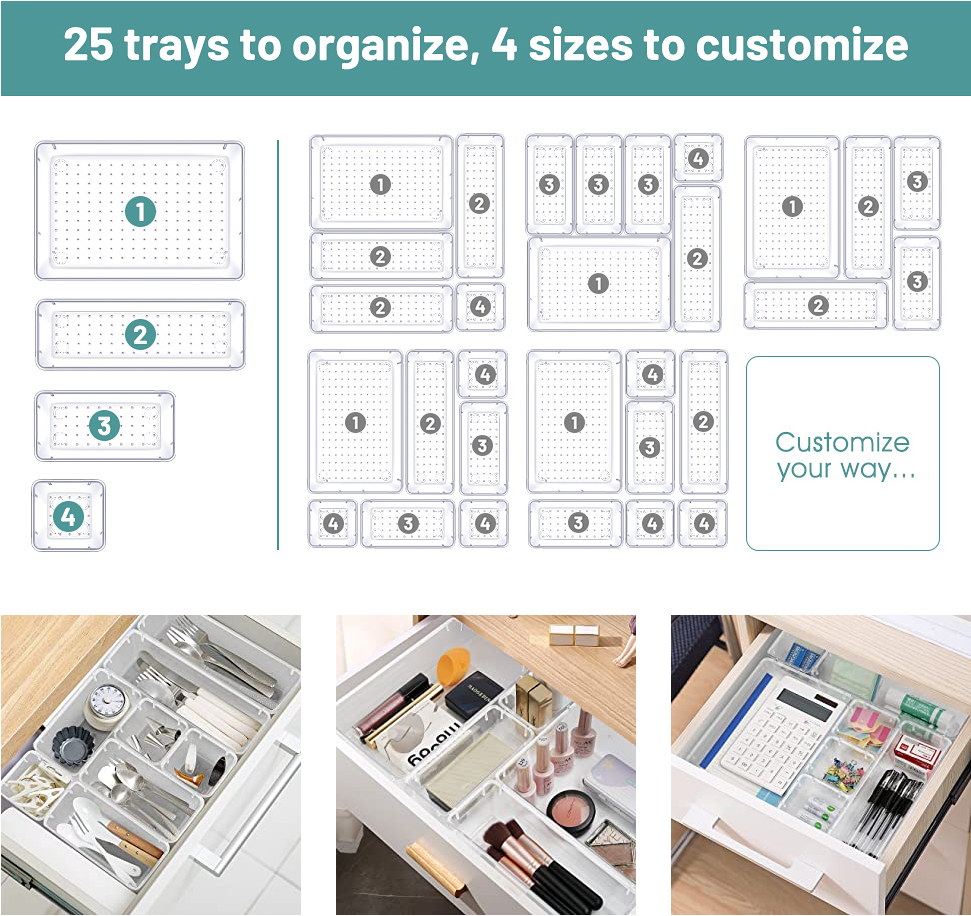 6. Deliver, Shipping And Serving of Clear Storage Bins
We offer bulb bags and brown box packages for these clear storage bins, better protection during delivery. Door shipping to your address or FBA warehouse address, all duties and freight are included, very convenient for starting a new business.