1. Product Introduction of Drawer Divider Trays
1) Sufficient to Meet Your Needs: you will get 64 pieces of drawer divider trays, 3 sizes, 16 large, 24 medium, 24 small, they can be combined and matched according to your needs; ​sufficient quantity will meet your needs, and you can share them with your family.​
2) Drawer Divider Trays Size Details: these bathroom drawer organizers are designed in 3 different sizes, in approx. 9.2 x 6.1 x 1.8 inches, 9.1x 3 x 1.8 inches, 2.9 x 2.9 x 1.8 inches, can store items of different sizes, which is convenient for you to store and organize.​
3) Fine Workmanship: our plastic drawer divider trays are made of reliable plastic material, safe and sturdy, with a smooth surface, not easy to break or fade; ​reliable material will serve you for a long time.​
4) Individually or stacked: our office drawer divider trays can be applied either individually or stacked together, can help you organize your items and can maximize the use of desktop space, keeping your desk clean and tidy to find what you need.​
5) Widely Applicable: you can use these interlocking desk drawer organizer trays on various occasions, like kitchen, bathroom, bedroom, office, classroom, to store your cosmetics, stationery, tools, daily necessities, office supplies, etc., and this drawer divider trays design is suitable for most people.​
2. Product Parameter (Specification) of Drawer Divider Trays
| | | | |
| --- | --- | --- | --- |
| Special Feature | Material | Uses For Product | Color |
| Portable, Easy-Clean, Lightweight, Stackable, Sturdy | Plastic | Cosmetics, Accessories, Crafts, Jewelry | Clear or customized |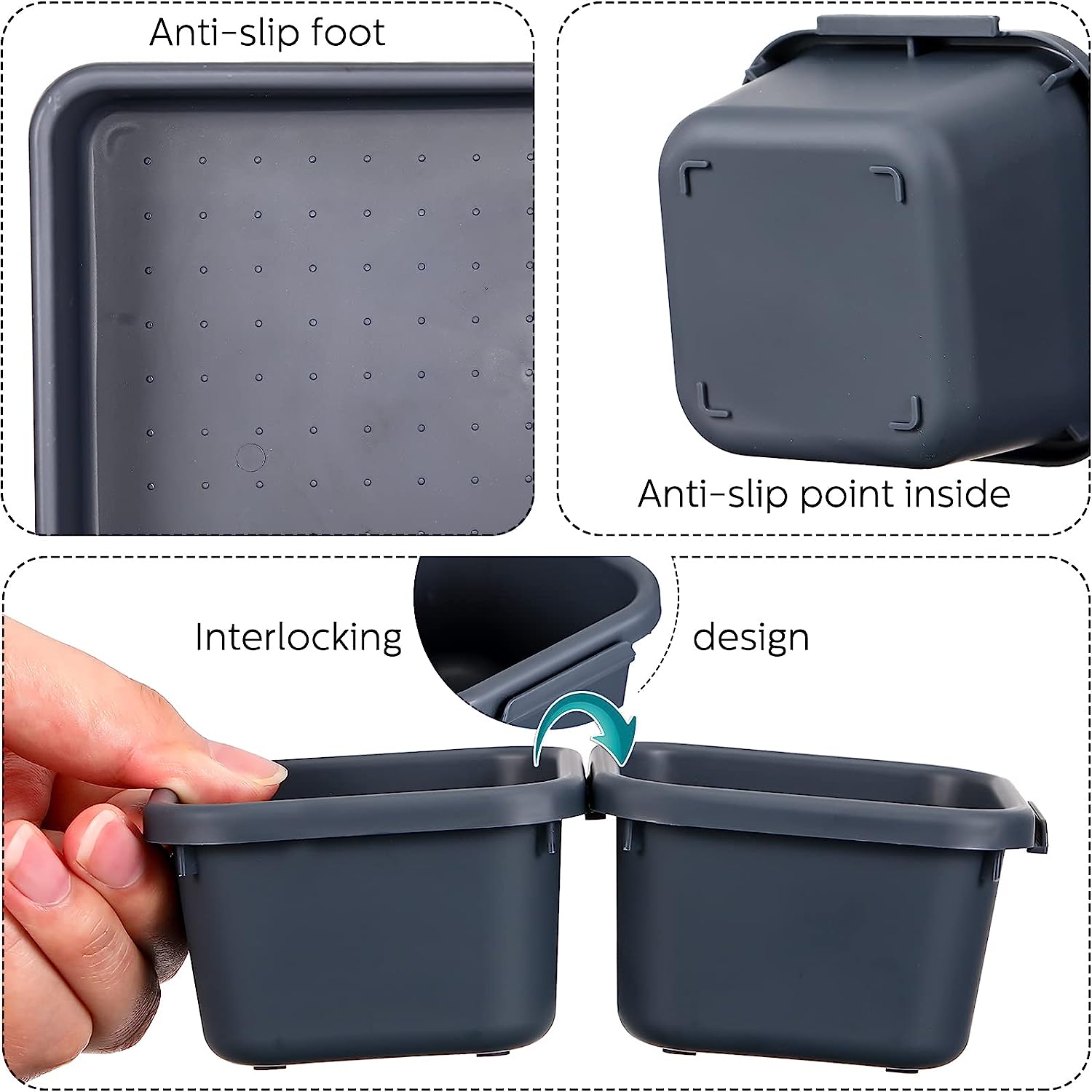 3. Product Feature And Application of Drawer Divider Trays
Time to get your drawers organized! With many applications and configurations, these drawer divider trays can fit side by side to sort daily essentials in your drawers! Each container easily stacks for multiple layers of storage. Great for deep drawers! Purchase additional sizes to customize your organizational needs. Create modular sets to organize drawers in your entire house. Clear, break-resistant plastic fits in any decor. No assembly required. Cleans easily with mild soap and warm water.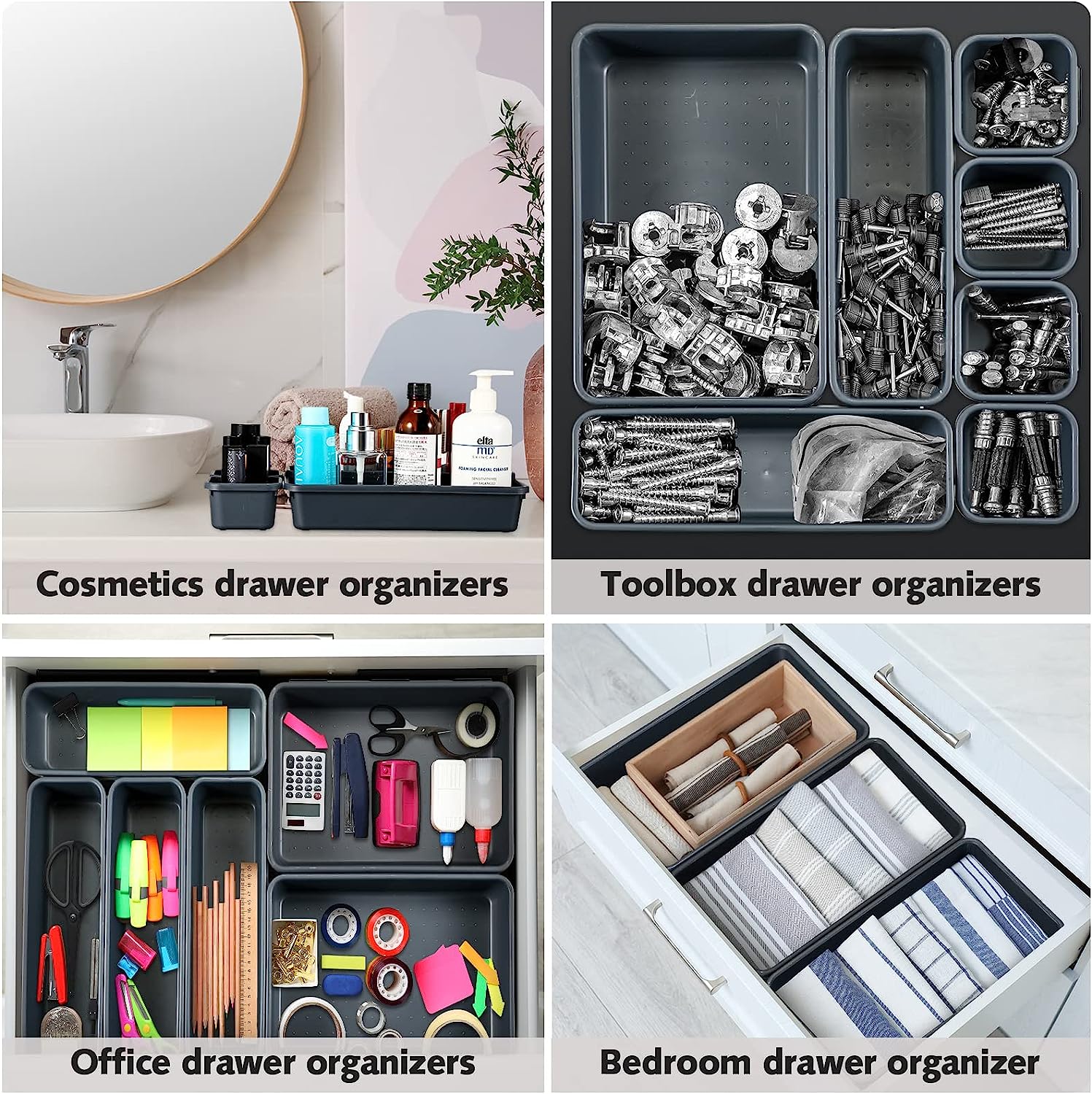 4. Product Details of Drawer Divider Trays
Organize your workspace
Sort desk essentials easily! Pencils, pens, and paperclips fit perfectly in small organizers. Keep paper, calculators, and scissors in wider compartments. Customize your drawer with multiple drawer divider trays.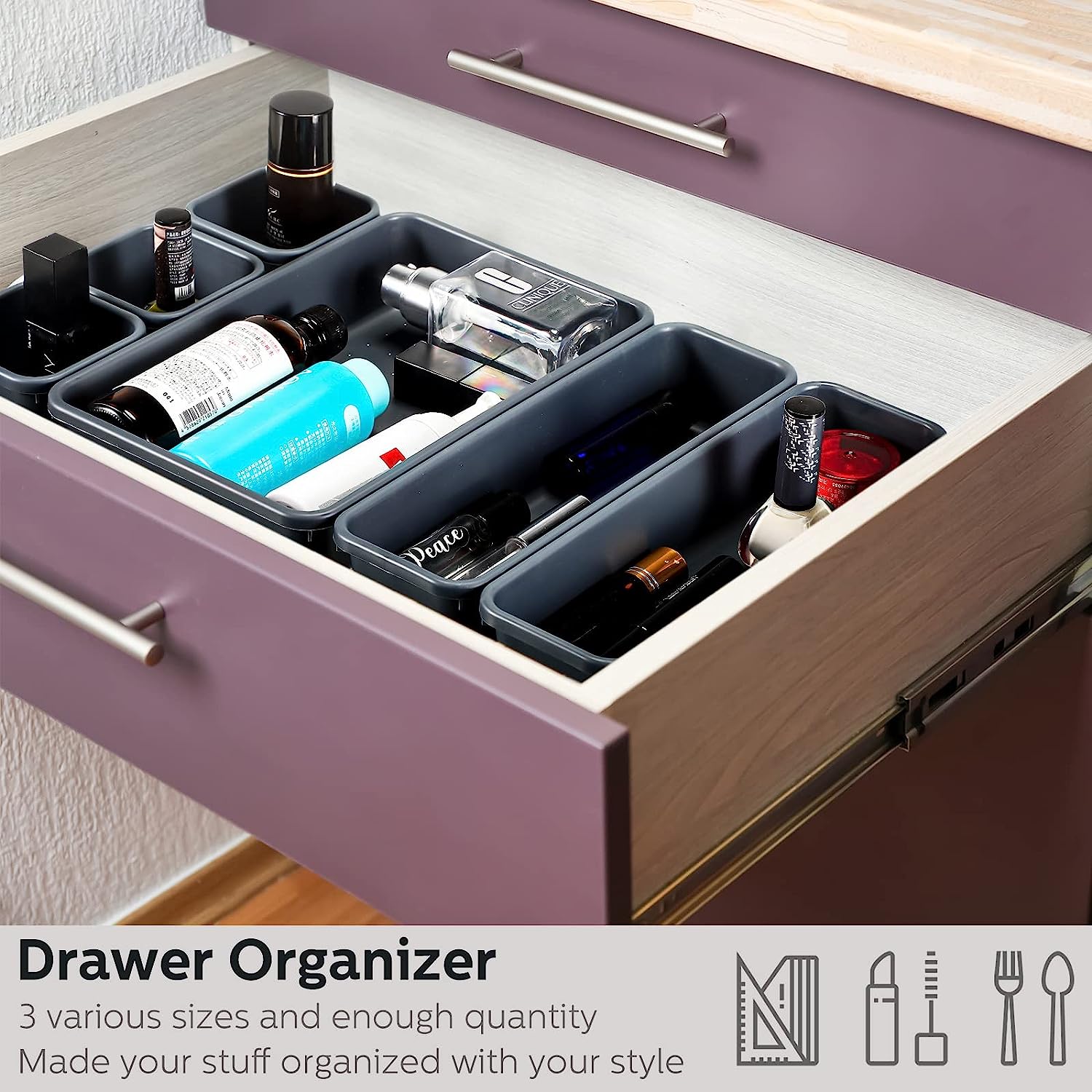 Keep cosmetics tidy
Simplify your morning routine! Vanity drawers stay tidy with our drawer divider trays for makeup brushes, palettes, and lipstick tubes. Use modular organizers for skincare products: remover wipes, serum bottles, and lotion pods.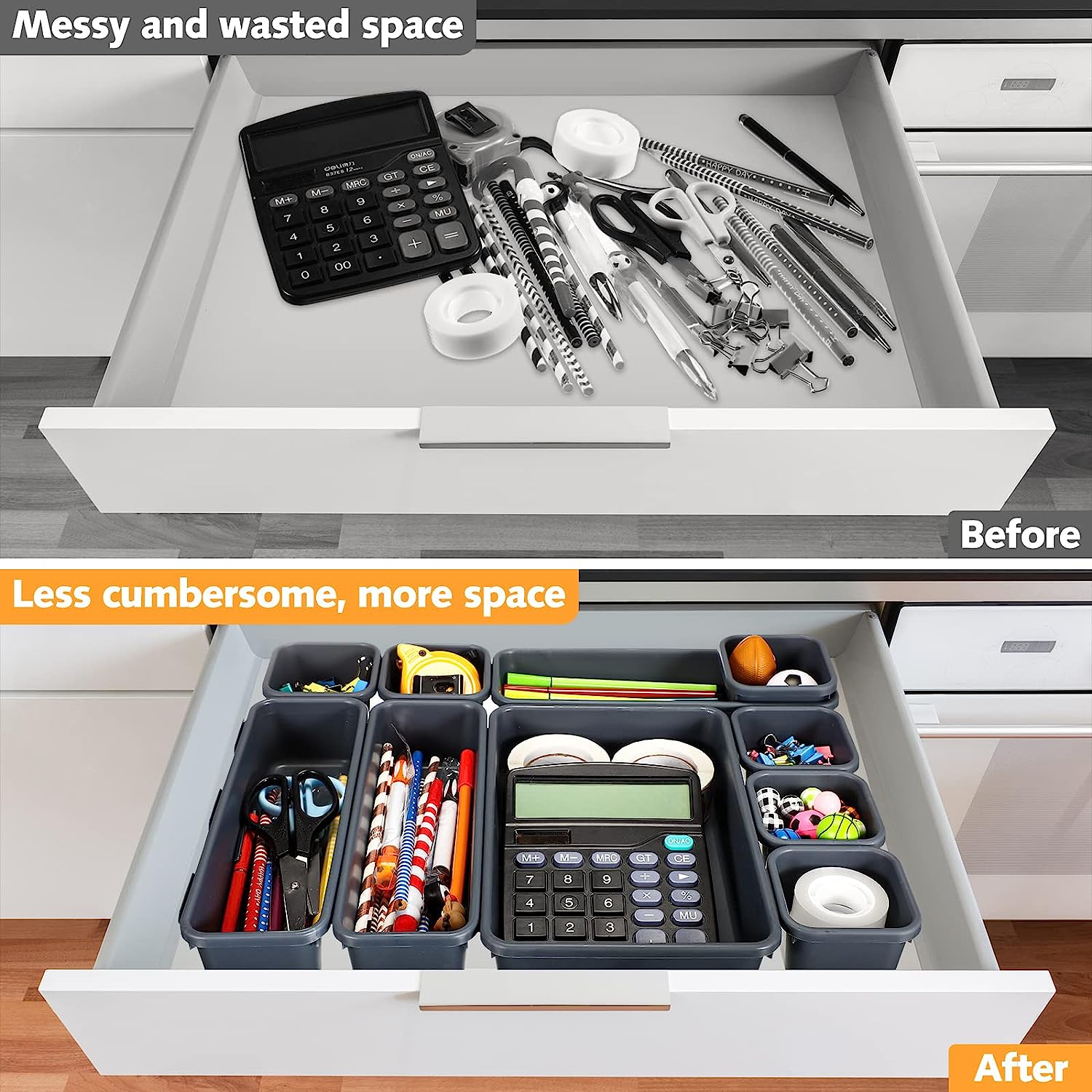 Simple kitchen drawer storage
Straighten up your utensil drawer! Large compartment drawer divider trays are the perfect size for spatulas, mixing spoons, and whisks. Keep your coffee supplies at your fingertips, long organizers are perfect for k-cups and teabags.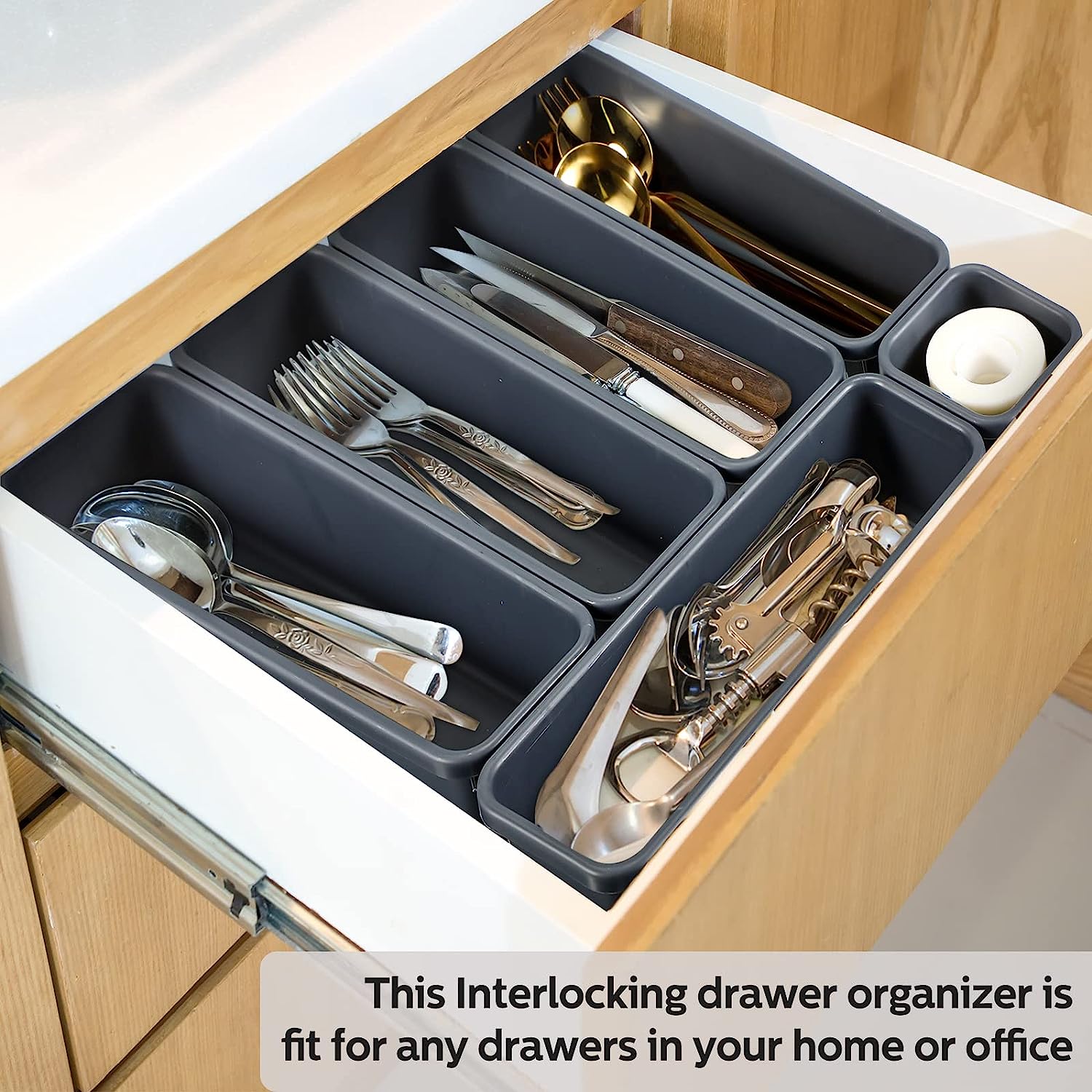 5. Product Qualification of Drawer Divider Trays
As a plastic organizing products manufacturer, our mission is to provide our customers with innovative ways to store, stack, and sort. Our drawer divider trays are created from original designs and the highest quality materials. Backed by many years of experience, we remain committed to creating products with today's households in mind. Imagine your life organized.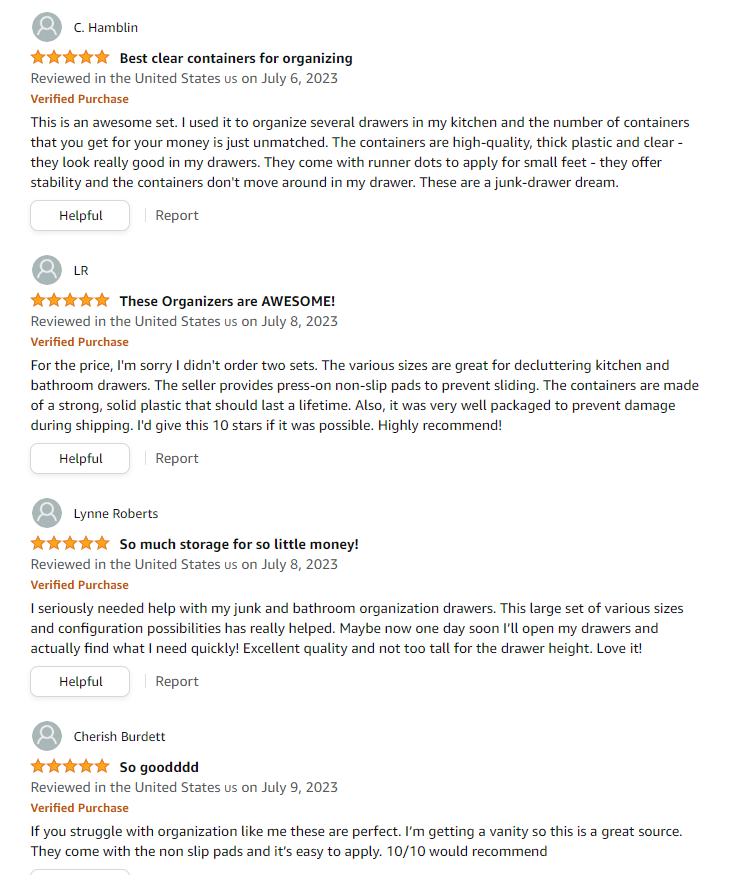 6. Deliver, Shipping And Serving of Drawer Divider Trays
We offer bulb bag and brown box package for these drawer divider trays, better protection during delivery. You can make any size of them as a set as you like, we don't have a limit on combo. Don't hesitate to contact us for your clear drawer organizers quote!