China Silicone Baking Liners for Safe Cleanup manufacturers
China Silicone Baking Liners for Safe Cleanup factory
China Silicone Baking Liners for Safe Cleanup suppliers
1. Product Introduction of Silicone Baking Liners for Safe Cleanup
1) MULTI-PURPOSE SET: 3 packs Silicone Baking Liners, 2 pack of half-sheet size mats (11 5/8" x 16 1/2") & 1 pack of quarter-sheet size cooking mats (11 1/2" x 8 1/2"). Let the food heat evenly, without uneven browning, no residual odor.
2) WACKER FOOD GRADE SILICONE: Silicone baking liners are made of WACKER silicone and premium fiberglass, which is BPA free, non-toxic, odorless. The silicone baking mats never tarnish or fade and will serve you meticulously for years, a must-have kitchen accessory.
3) DOUBLE THICKNESS: Thickness of silicone baking liners is 0.7 mm(approx. 1/32"), which is almost twice that of others mats (0.3 mm). Thicker mats will not slip or wrinkle when used, extra thick and durable.
4) NON-STICK & EASY TO CLEAN: This silicone baking liner is non-stick and can be easily washed with warm soapy water or in a dishwasher, even if grease or dough sticks to the surface, resistant to stain and stick.
5) PREMIUM QUALITY & RELIABLE: Silicone baking liners withstands temperatures from -40°F to 500°F(-40℃ to 260℃). Bakeware mat is safe for use in the oven, microwave and dishwasher with practicality and durability.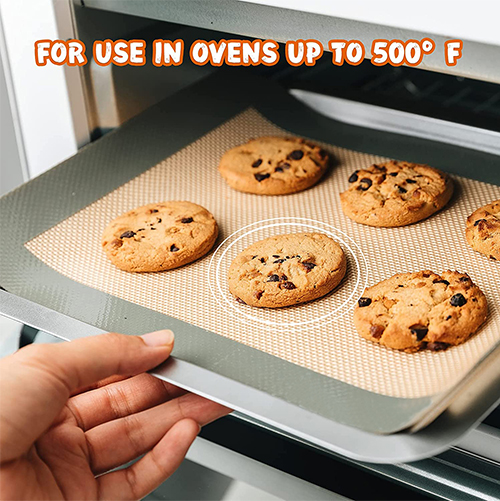 2. Product Parameter (Specification) of Silicone Baking Liners for Safe Cleanup
| | | | |
| --- | --- | --- | --- |
| Size | Material | Thickness | OEM |
| 16.5*11.6inch 11.5*8.5inch | Silicone & fiberglass | 0.7mm | Print your design |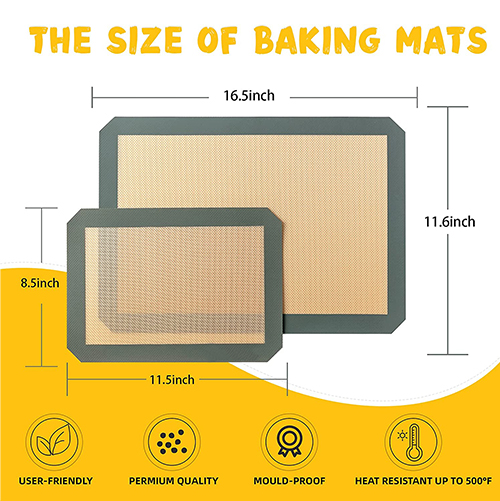 3. Perfect Silicone Baking Liners for Safe Cleanup that Accommodates All Your Needs
Our silicone baking liner will lay flat on your countertop without moving or bunching up as you roll and work dough. It is stain-proof and stick-resistant, so no greasing is required! Our slip-proof mat works well for rolling out piecrusts and cookie dough, making sweets, roasting meat and vegetables, and more!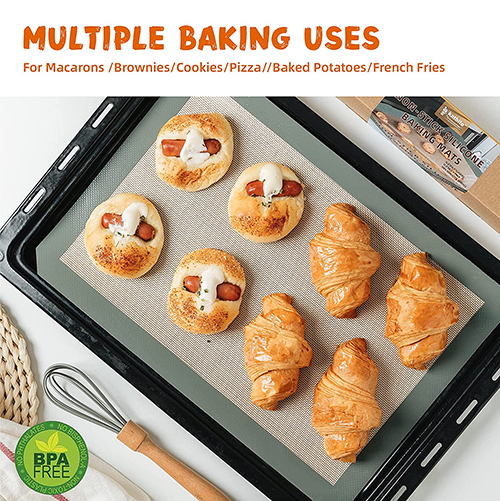 4. Product Details of Silicone Baking Liners for Safe Cleanup
Double Thickness
To make the process of rolling dough or baking more convenient, the thickness of the silicone baking liner is up to 0.7 mm, which is twice that of other mats.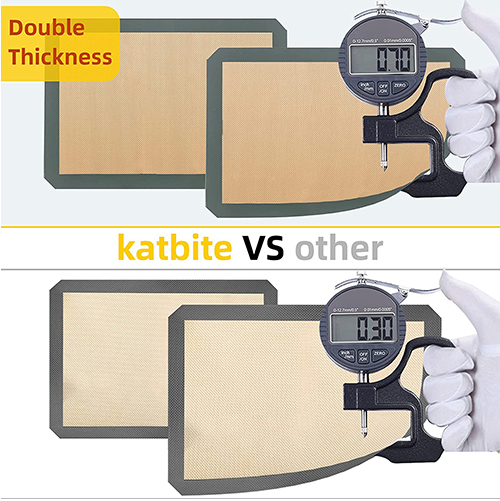 Non-Stick Surface
This silicone baking liner provides a convenient surface for you to work with sticky dough and flour. This reusable, non-stick, and non-slip silicone-coated mat keeps counter surfaces protected.
No Distortion
Reinforced with glass weave, this silicone baking liner is more durable and reliable than pure silicone mats. Repeated multiple uses and washing cycles do not affect the shape of the mat.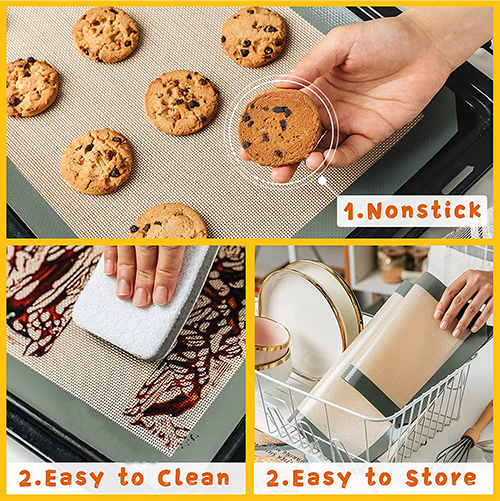 Easy Cleanup
When finished, cleanup is a breeze. Simply wash the silicone baking liner by hand with soap and water and allow to air dry, or place in the dishwasher (top rack only).
5. Product Qualification of Silicone Baking Liners for Safe Cleanup
Suan Houseware has always provided consumers perfect products that use healthy and premium materials from rich baking experience.
Hope to help customers feel happiness through high-quality baking pans.
Easier cooking,easier life!

6. Deliver, Shipping And Serving of Silicone Baking Liners for Safe Cleanup
China Suan Houseware factory is a worldwide designer, manufacturer, and supplier of Silicone Baking Liners. We focus on Silicone Baking Liners and provide different needs for different customers. Our Silicone Baking Liners supports wholesale customization, free samples, low price, large Bulk and more discounts. This is the latest product. Good quality, durable and made in China. Our products are cheap, if you need, we can provide you price list and quotation. Silicone baking liner are carefully packed by poly bag wrapped or customized gift box during transportation. For shipping, our forwarder give us very competitive price on sea and air door-to-door, FOB, CIF...Welcome to contact us for a shipping quote.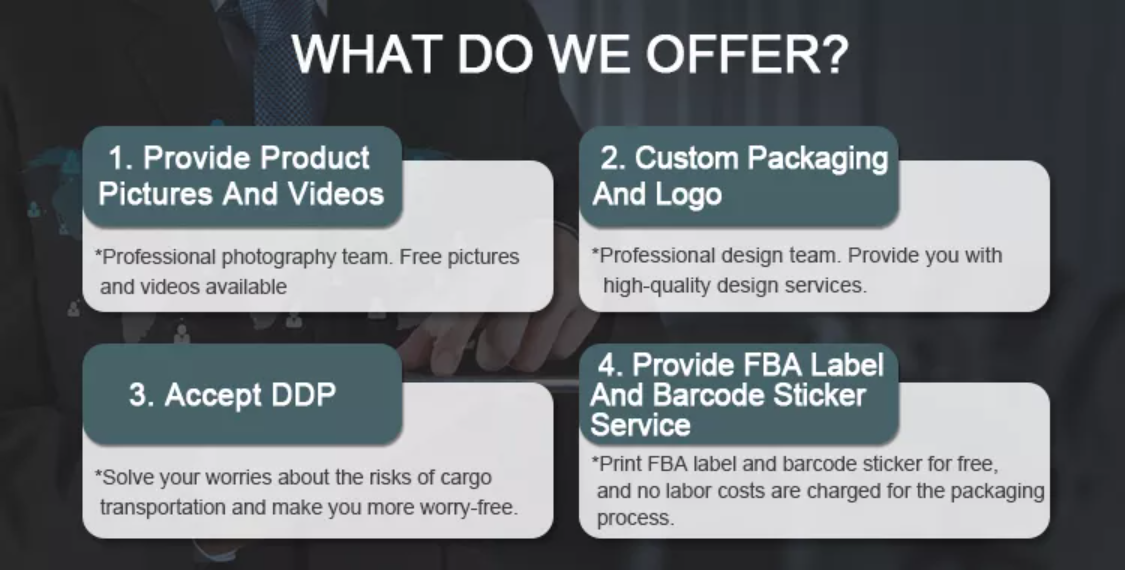 7. Silicone baking mat for home baking using quick solutions to share
Silicone baking mat is a kind of material commonly used for baking bread at home. This material is made of silicone components, and the content is made of good glass fiber material with very strong force area. In the process of making, some harmful substances or unstable chemical components are not added.
After the silicone baking mat is put into the oven, the temperature in the oven is too high, the raw material liquidity of the product is not good, which will lead to the deformation of the product, and the second reason for the whitening is also because the temperature is too high, resulting in discoloration.Baking time is too long will also appear as a Browning phenomenon. Recent observation, the second raw material also has a certain impact, such as raw materials belonging to high temperature glue but color glue is not resistant to high temperature ordinary glue, will also lead to product discoloration white phenomenon. Secondly, in the process of baking, the products closest to the high temperature mouth are more likely to be found bad, and the time of baking is too long.
The above problems will occur when the silicone baking mat is of poor quality, because the silicone baking mat material is a relatively high temperature resistant mat. If the baking mat with poor quality is of very low temperature resistance, and can not be used repeatedly, it is easy to stick to the things we bake. But good quality silicone baking MATS can prevent these things from happening. The most important thing is convenient cleaning. Not easy to stick to, storage is also very convenient, can be folded storage, silicone material products, not only baking mats and silicone steamer mat products.
Silicone Baking Liners for Safe Cleanup manufacturers
Silicone Baking Liners for Safe Cleanup factory
Silicone Baking Liners for Safe Cleanup suppliers