Oven Liners manufacturers
Oven Liners suppliers
Oven Liners factory
1. Product Introduction of Oven Liners
1) NON-TOXIC & HEALTHY: Made of premium quality non-toxic materials, there isn't any bad smell and won't produce any harmful substances to pollute your food at high temperature. Our premium quality Oven Liners do not curl, crack, smoke or releases chemicals. These oven liners safely protect your kitchen's most valuable appliance with no chemicals, oven mat for bottom of electric oven make food less harm and more flavor!
2) PREMIUM QUALITY - 5-piece set of 13"x 15.75" heavy-duty NonStick oven liners for bottom of electric oven that fit most standard-sized ovens and can be trimmed for a custom fit. A better alternative to aluminum foil and sheets. Ideal protection for keeping your oven free of baked-on spills. Safe for temperatures of up to 500 degrees Fahrenheit (260°C).
3) Easy to clean - Our oven liners for bottom of oven catches spills, drips and to eliminate mess in your oven so you don't have to spend your precious time.
4) Perfect for any BBQ, including Char-Broil, Weber, Porcelain, Charcoal and even Infrared Barbecues.
2. Product Parameter (Specification) of Oven Liners
| | | | |
| --- | --- | --- | --- |
| Size | Material | Safe Temperature | Color |
| 13"x 15.75" | TPFE | 500 degrees Fahrenheit (260°C) | Copper |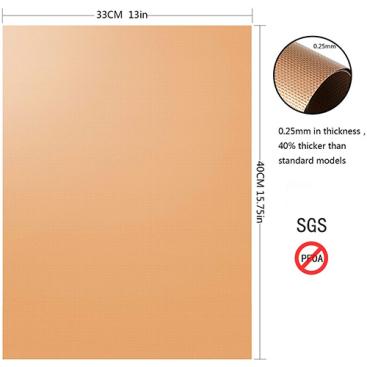 3. Product Features of Oven Liners

These oven liners can be used to grill ANYTHING because nothing will fall through the grates or get scorched! These mats are perfect for grilling...
-Veggies
-Shrimp
-Fish
-Bacon
-Pizza
-Pancakes
-Eggs
-Anything else you want to put on the grill!
4. Product Details of Oven Liners
Each set has 5 of the highest quality oven liners that makes grilling anything easy!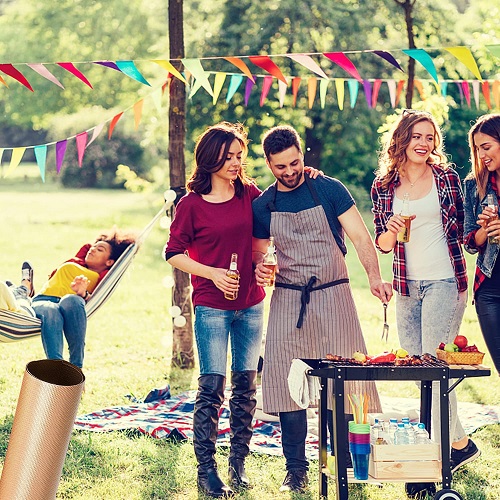 Non-stick oven liners are perfect when cooking at home, and also ideal for cookouts in parks and campgrounds to provide an instantly clean surface to cook on.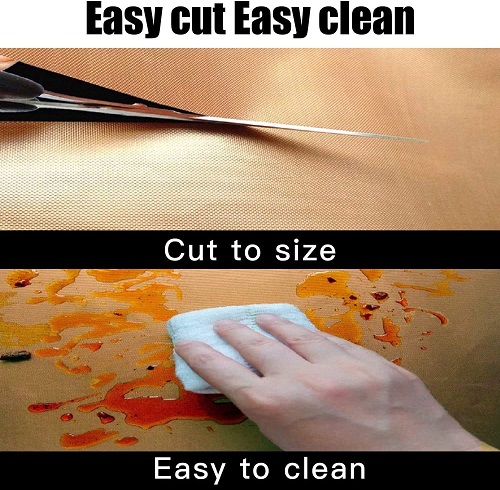 Instead of BBQ sauce causing food to stick and become mangled or burnt, it will flip over easily to remain intact, and cook to perfection. This results in better tasting food, but also makes cleaning up afterward far easier and less time consuming. It will not retain or transfer tastes or odors between uses.
You would never think of frying an egg on your regular grill, but with one of these mats down, you can prepare a full breakfast in a matter of minutes.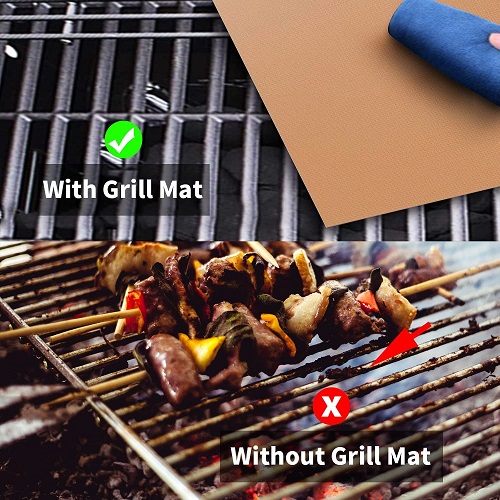 Oven Liners are totally washable and reusable. Almost like a thin, flexible pan, oven liners made from fiberglass fabric coated PTFE (Teflon) similar to what is used for non-stick pots and pans. This means that you can cook without oils, and cleaning up is simple because everything will slide right off.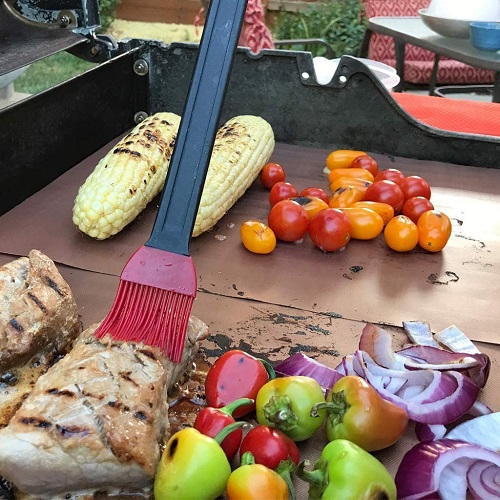 For larger grills you can use multiple mats, side by side, and for larger meals, you can even flip one over to keep on cooking with the clean side up to preserve flavours.
5. Product Qualification of Oven Liners
SUAN Houseware is an online home & kitchen brand dedicated to providing each customer with premium products at a wallet-friendly cost. We hopes that SUAN products could make your life better.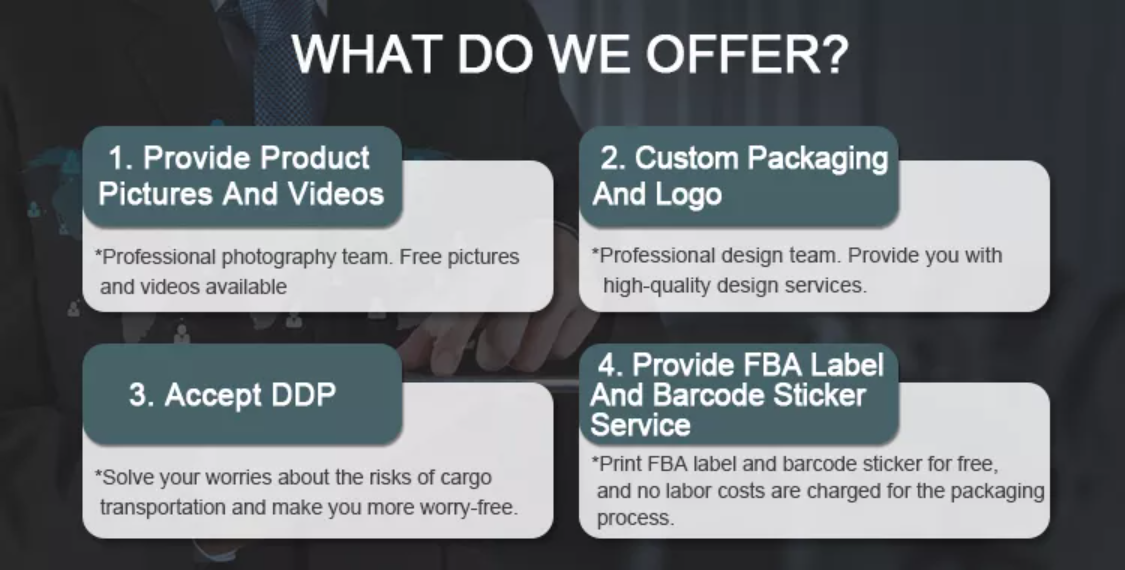 6. Deliver, Shipping And Serving of Oven Liners
Oven liners are carefully packed by poly bag wrapped or customized gift box during transportation. For shipping, our forwarder give us very competitive price on sea and air door-to-door, FOB, CIF...Welcome to contact us for a shipping quote.
7. FAQ
Q: How to install the oven liner in different ovens?
A: There are a few guidelines: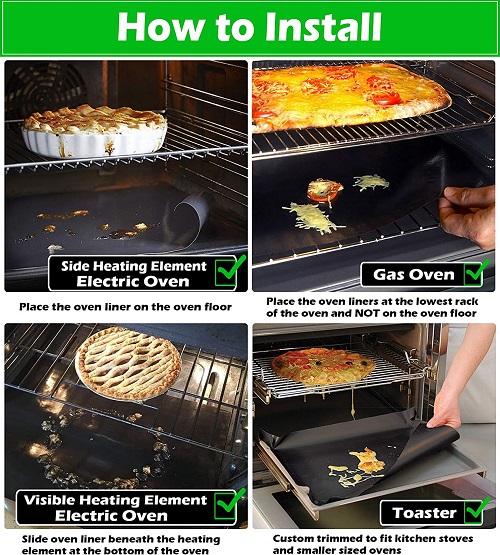 For Electric Ovens with a Visible Heating Element
Slide them beneath the heating element at the bottom of the oven.
For Gas & Electric Ovens with a Hidden Heating Element
Place the oven liners at the lowest rack of the oven and not on the oven floor.
For Electric Ovens with the Heating Element on the Sides
Place the oven liners on the oven floor.
For Smaller Sized Ovens
It can be custom trimmed to fit kitchen stoves, toasters, and smaller sized ovens. Avoid direct contact with the heating element or open flame.
China Oven Liners manufacturers
China Oven Liners suppliers
China Oven Liners factory