China Pastry Mat manufacturers
China Pastry Mat suppliers
China Pastry Mat factory
1. Product Introduction of Pastry Mat
1) High Quality Extra Large Kneading Mat: This silicone pastry mat is available in a large 16" x 24" size and is made of food grade silicone and fiberglass. It is BPA-free, safe, soft, durable, wrinkle-free, colorfast, easy to clean and reusable.
2) Multipurpose: This pastry mat is perfect for kneading pie dough, cookie dough, pastries, desserts and fondant, heat resistant from -40°C to 230 °C, can be used as a baking mat, in the oven, microwave or refrigerator, etc.
3) Dough Scraper: Pastry mat comes with 2 x bendable dough scrapers. Made of food grade PP plastic to ensure your health, non-toxic, reusable and dishwasher safe. The dough scraper is used to scrape, spatula, cut cream, cake, cheese, chocolate, dough, fondant, etc. and to move or shape the dough from the bowl.
4) Non-Stick: This silicone pastry mat has anti-adhesive technology on the surface, dough or grease will not stick to the pastry mat and can be easily cleaned to keep the worktop clean and hygienic. The pastry mat comes with measurement markings to choose the size of dough to measure as needed.
5) Anti-Slip: The bottom surface of this pastry mat has a non-slip surface and strong adsorption, which can adhere well to the work surface without slipping, making the dough easier to knead and roll out.
2. Product Parameter (Specification) of Pastry Mat
| | | | |
| --- | --- | --- | --- |
| Size | Material | Thickness | OEM |
| 420*295mm | Silicone & fiberglass | 0.7mm | Print your design |
3. Perfect Pastry Mat that Accommodates All Your Needs
Our pastry mat will lay flat on your countertop without moving or bunching up as you roll and work dough. It is stain-proof and stick-resistant, so no greasing is required! it also includes dimension, volume, and weight conversions to easily convert a recipe or roll out pie dough to the perfect length and thickness. Roll out pastry dough like a pro with this silicone mat while keeping your countertop clean. Our slip-proof mat works well for rolling out piecrusts and cookie dough, making sweets, roasting meat and vegetables, and more!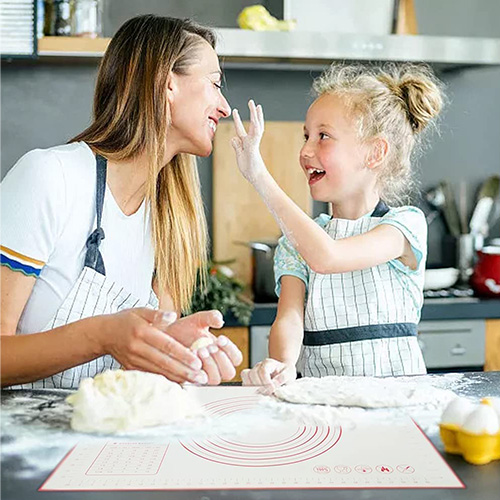 4. Product Details of Pastry Mat
Double Thickness
To make the process of rolling dough or baking more convenient, the thickness of the pastry mat is up to 0.7 mm, which is twice that of other mats.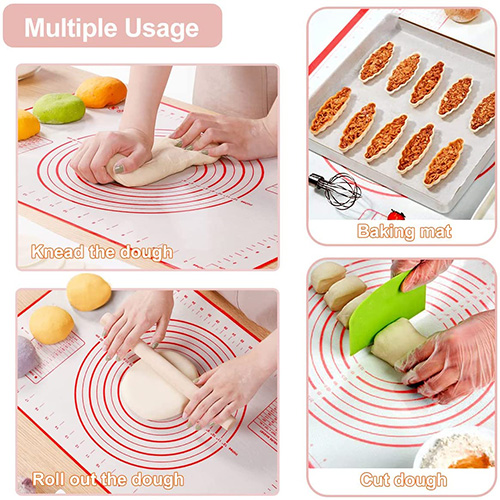 Non-Stick Surface
This pastry mat provides a convenient surface for you to work with sticky dough and flour. This reusable, non-stick, and non-slip silicone-coated mat keeps counter surfaces protected.
Measurement Markings for Precise Work
Measurement equivalents are printed right on the edges of the pastry mat in both imperial and metric units.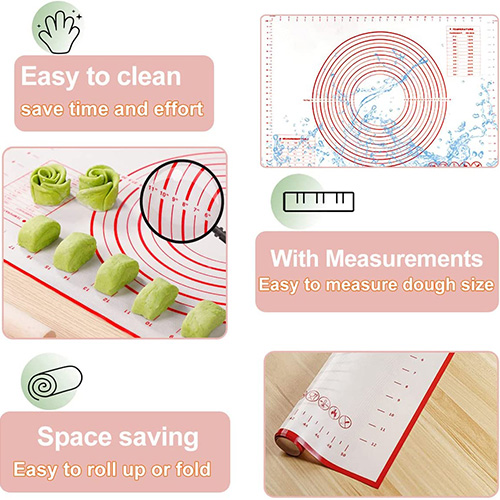 No Distortion
Reinforced with glass weave, this pastry mat is more durable and reliable than pure silicone mats. Repeated multiple uses and washing cycles do not affect the shape of the mat.
Easy Cleanup
When finished, cleanup is a breeze. Simply wash the pastry mat by hand with soap and water and allow to air dry, or place in the dishwasher (top rack only).
Fold up for easy storage
After the pastry mat is dried, simply fold it up for store.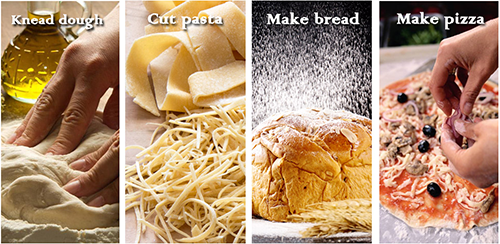 5. Product Qualification of Pastry Mat
SUAN Houseware is an online home & kitchen brand dedicated to providing each customer with premium products at a wallet-friendly cost. We hopes that SUAN products could make your life better.

6. Deliver, Shipping And Serving of Pastry Mat
Pastry mats are carefully packed by poly bag wrapped or customized gift box during transportation. For shipping, our forwarder give us very competitive price on sea and air door-to-door, FOB, CIF...Welcome to contact us for a shipping quote.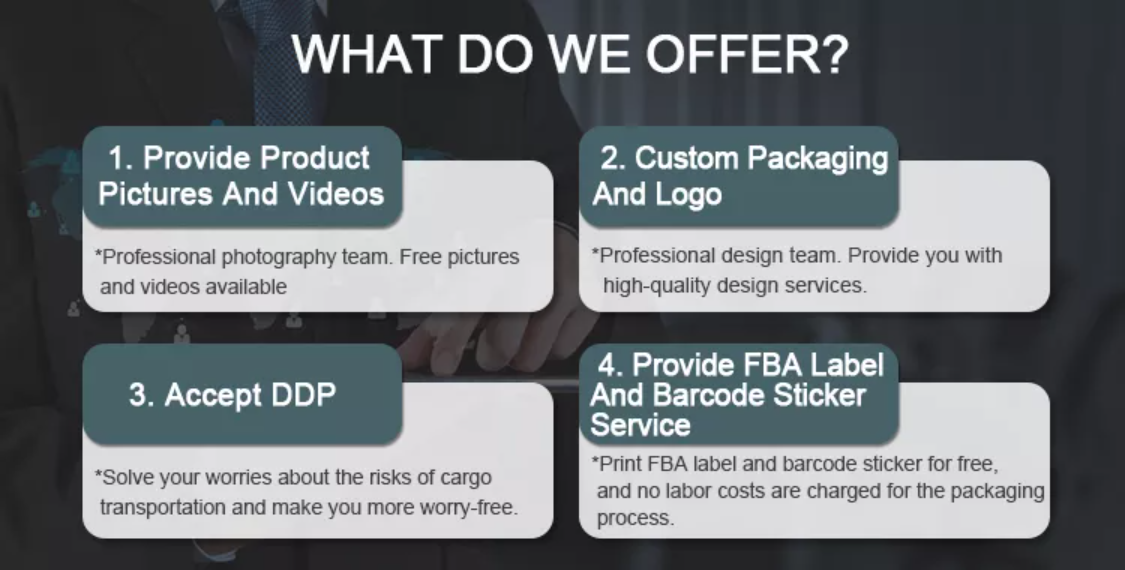 Pastry Mat manufacturers
Pastry Mat suppliers
Pastry Mat factory