BBQ Mats factory
BBQ Mats manufacturers
BBQ Mats suppliers
1. Product Introduction of BBQ Mats
1) KEEP YOUR OVEN CLEANING - Whether Tired of cleaning your oven and feel waste time? Our non stick BBQ mat catches drips, cheeses, sauces and other baked-on messes in your oven. Simply wipe cleaning and dishwasher safe MAKES CLEANUP A BREEZE!
2) PREMIUM QUALITY & NON-TOXIC - Made of premium quality materials, 30% heavier than all other bbq mat, which means it will outlast traditional liners and won't melt. The bbq mat with unique coating resists heat up to 500°F/260°C without any bad smell at high temperature, which make food less harm and more flavour!
3) MULTI-PURPOSE - Extra thick non-stick heavy duty bbq mat made of high quality reusable PTFE-coated fiberglass fabric that can be used over and over again. They can be works for Electric & Gas stove top covers, Microwaves, Toaster Ovens and also works greatly and safely as a pan liner, baking/cooking mat.
4) PERFECT SIZE & CUT TO FIT -You will get 4 PCS 16.25"x 23" large heavy-duty nonstick bbq mat that fit most full sheet standard-sized ovens. The bbq mat can also be trimmed and cut into any shape or size to fit all your needs. (While please burn the edge with a lighter to get rid of the white fringe after cutting, avoid causing fire on the grill).
5) EXCELLENT CUSTOMER SERVICE - Our bbq mat for bottom of electric/gas oven is the best durable and reusable oven liner you will ever use. If you are not satisfied with our bbq mat, please contact us, and we will give you a satisfactory solution. You have no risk to try!
2. Product Parameter (Specification) of BBQ Mats
| | | | |
| --- | --- | --- | --- |
| Size | Material | Safe Temperature | Color |
| 16.25"x 23" | Teflon | 500 degrees Fahrenheit (260°C) | Black/Copper |
BBQ Mats Features Compared to others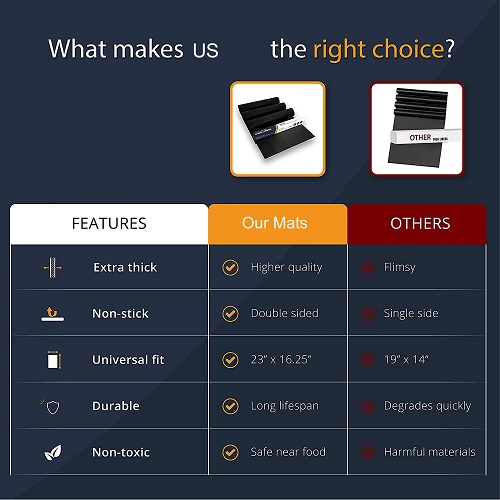 3. Product Details of BBQ Mats
Keep your oven clean with bbq mats!
Say goodbye to cheese drips when making pizza and spills when baking pies. These Teflon bbq mats protect your oven from those nasty, hard to clean spills. Here's why:


THICKEST QUALITY
Premium non-stick coating on both sides of the bbq mat with a thickness of 0.28mm - 36% thicker than regular ones.
Comes in a set of 4 pieces measuring 16.25"x 23" each that fits all standard sized ovens. It can be custom trimmed to fit smaller sized ovens, grills, and toasters.


100% NON-TOXIC
The bbq mats are made from food-grade materials that are free from BPA, PFOA, and other toxic substances that can harm you and your family. Cook food directly on the liners itself. Rest assured, these bbq mats will never leach hazardous chemicals that add harmful flavor or smell into your food. The silicone bbq mat has been tested by International Testing Agency SGS (March 2019) to certify that the product is non-toxic.


REUSABLE & VERY EASY TO CLEAN
These bbq mats are reusable and will last for a lifetime. Very easy to clean and dishwasher-safe. Wipe them clean with a damp cloth or rinse off effortlessly with running water. Throw them onto the dishwasher for fast and easy clean-up, then place it back in the oven to keep your oven spotless.
Tip: Wash the bbq mat with soap and water before using them for the very first time. Safe for temperatures of up to 500 degrees Fahrenheit (260°C). Please REMOVE the mats from the oven before running the oven cleaning cycle.
4. Product Qualification of BBQ Mats
SUAN Houseware is an online home & kitchen brand dedicated to providing each customer with premium products at a wallet-friendly cost. We hopes that SUAN products could make your life better.
5. Deliver, Shipping And Serving of BBQ Mats
Bbq mats are carefully packed by poly bag wrapped or customized gift box during transportation. For shipping, our forwarder give us very competitive price on sea and air door-to-door, FOB, CIF...Welcome to contact us for a shipping quote.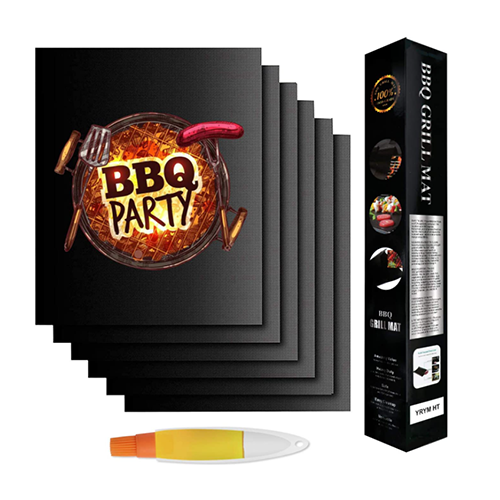 7. FAQ
Q: How to install the bbq mat in different ovens?
A: There are a few guidelines: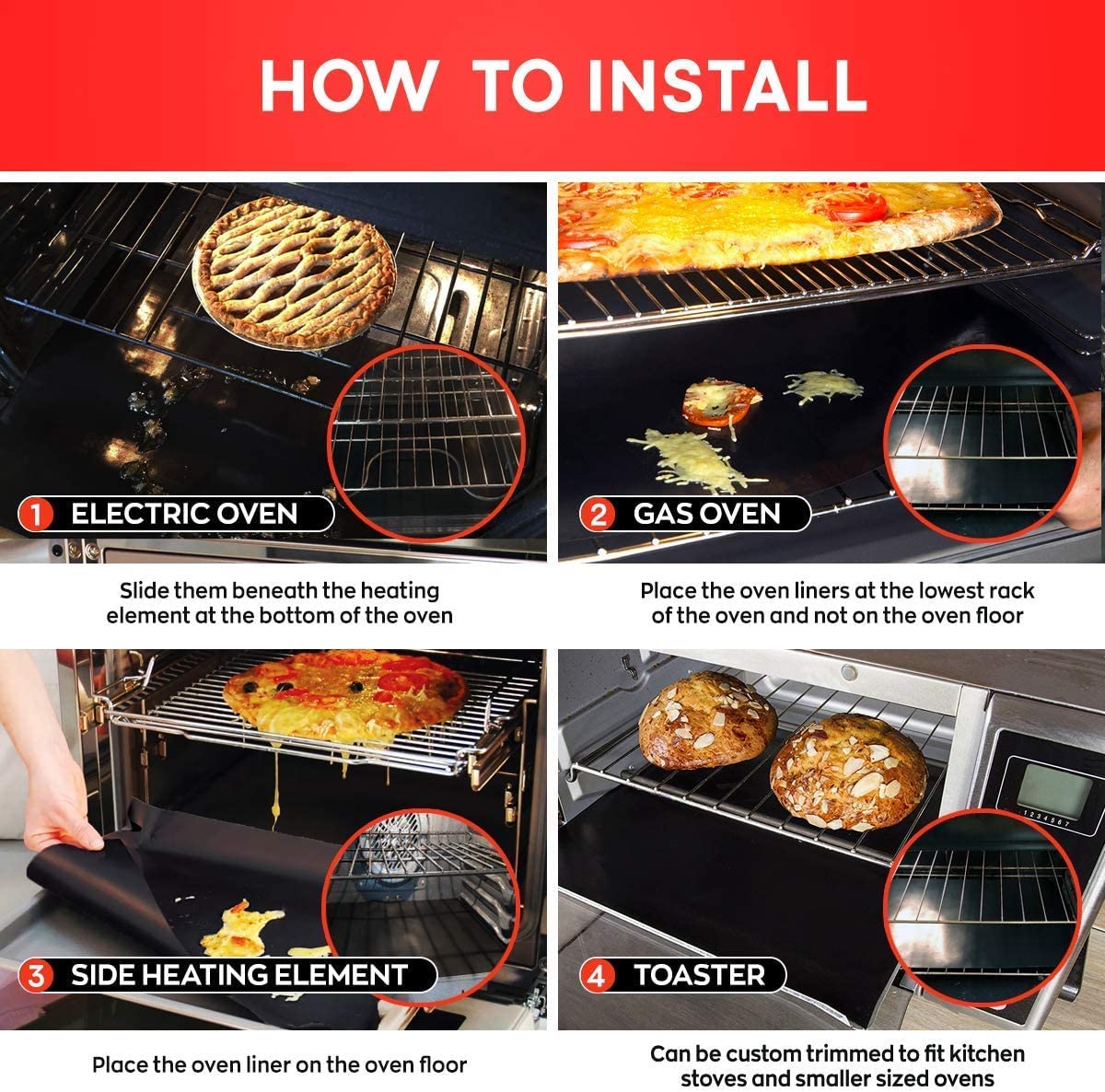 BBQ MatsFor Electric Ovens with a Visible Heating Element
Slide them beneath the heating element at the bottom of the oven.
For Gas & Electric Ovens with a Hidden Heating Element
Place the bbq mat at the lowest rack of the oven and not on the oven floor.
For Electric Ovens with the Heating Element on the Sides
Place the bbq mat on the oven floor.
For Smaller Sized Ovens
It can be custom trimmed to fit kitchen stoves, toasters, and smaller sized ovens. Avoid direct contact with the heating element or open flame.
8. Are baking silicone pads bad for you?
Baking silicone mat Features:
1). Environmental protection and non-toxic, silica gel material belongs to outstanding active substances, it does not contact with any substance, does not melt with any substance, in time in the human body, can also be preserved intact, will not release any toxins.
2). No stimulation of human tissues and organs, long-term contact with human skin will not appear allergies, body reactions and other phenomena.
3). With good physical performance, it will not release degradation toxins in contact with any other substances, although in a high and low temperature environment, it can also maintain good inert substances.
4). The heat transfer effect is moderate, at a high temperature of 200 degrees to ensure that the cleaning and disinfection of the product is intact, and no problems, convenient disinfection.
5). Without any smell, silica gel material is generally in the production of products will have a little smell, and after long-term use in any environment will not emit a bad smell.
6). The quality of the product is good, in the high temperature of 350 degrees above the open flame burning will emit white smoke, without any smell. It depends on your silicone material is good or bad, poor must not, good also best not to use baking special silicone mat is non-toxic, some small workshop production is unknown, it is recommended to go to the big store to buy, quality and safety is guaranteed on the new silicone mat itself will have some taste, wash with a few times good baking silicone mat is generally made of food grade silicone, There are all kinds of colors and shapes and patterns. Some silicone pads have scales and measurements to assist in situations that may be encountered during the baking process.Baking silicone mat generally has the characteristics of small volume, light weight, high temperature resistance, good anti-slip performance and convenient cleaning. It's a very handy and practical tool for baking.
Baking silicone mat Use:
First, anti-slip and anti-stick. When rolling or kneading dough, use silicone pads to prevent slippage and physical stickiness. Use as little dry powder as possible to keep more moisture in the dough.
Two, used as a scale meter. Many baking silicone MATS have scales and measurements that you can use to make it as easy as possible to roll out the size of pastry you want, especially pizza crust. The use of dimension ring to help shape has a good effect.
Three, can enter the oven for baking, physical non-stick, easy downloading. When making macarons, the silicone pads can dry the macarons and bake them together in the oven at high temperature, which is not only convenient, but also can be used repeatedly, saving resources.
Hot tags: BBQ Mats, Manufacturers, Suppliers, Factory, Wholesale, Customized, Quality, Buy, In Stock, Free Sample, China, Made in China, brands, cheap, discount, price, Price list, quotation, low price, buy discount, advanced, durable, easy-maintainable, latest selling, classy, fancy
China BBQ Mats factory
China BBQ Mats manufacturers
China BBQ Mats suppliers