Espresso Milk Pitcher suppliers
Espresso Milk Pitcher manufacturers
Espresso Milk Pitcher factory
1. Product Introduction of Espresso Milk Pitcher
The espresso milk pitcher is made of food-grade 304 stainless steel, durable, heat-proof and rust-free. It is perfect to DIY your personal latte art for coffee or cappuccinos. Wholesale Espresso Milk Pitcher, choose China Suan Houseware factory, a professional Espresso Milk Pitcher manufacturer, sincerely recruit agents from all over the world, welcome new and old customers to contact us.
The 12ozl/350ml espresso milk pitcher is a suitable size with a good hand feel design. It is ideal for daily use and art practice. Hands will not be tired.
The premium espresso milk pitcher features two measurements scale inside. It is useful for controlling the milk volume to make your perfect coffee art.
The simple design, smooth surface and dripless spout means no spill and perfect milk work; the espresso milk pitcher is easy to clean after use, and also could use the dishwasher.
The espresso milk pitcher can be used in different ways, such as froth or steam milk, measuring fluids, serving milk or cream. Buy now to make Michelin-level latte art at home! 100% money back guarantee and our 7x24 hours is read for you.
2. Product Parameter (Specification) of Espresso Milk Pitcher
| | | | |
| --- | --- | --- | --- |
| Size | Material | Finish | Logo |
| 12oz & 20oz | Stainless steel | Mirror Polishing | Laser |
3. Product Feature And Application of Espresso Milk Pitcher
This espresso milk pitcher is designed with 350ml scale lines inside, so you can precisely grasp the volume of liquid poured in to meet your different needs at a glance.
4. Product Details of Espresso Milk Pitcher
Ergonomic Handle
Espresso milk pitcher heat-resistant handle keeps your hand cool, easy to grip and pour, you won't feel soured hands when doing a much latte job. safe and comfortable for use. Dishwasher-safe construction for easy cleaning.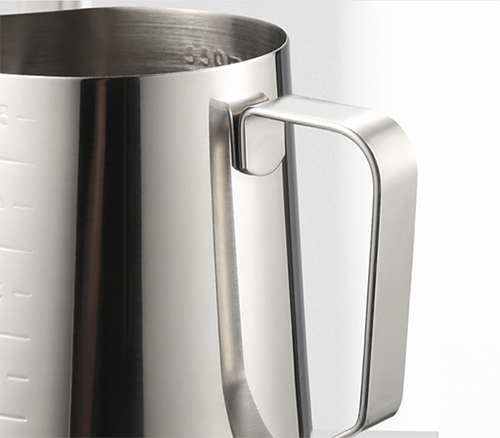 Dripless Sharp Mouth Design
The special design and dripless spout allows you to create your own artwork, slow precise pouring that will non-stick, no mess for perfect latte art. Our two different volumes of espresso milk pitcher (12 oz, 20 oz) will always meet your needs.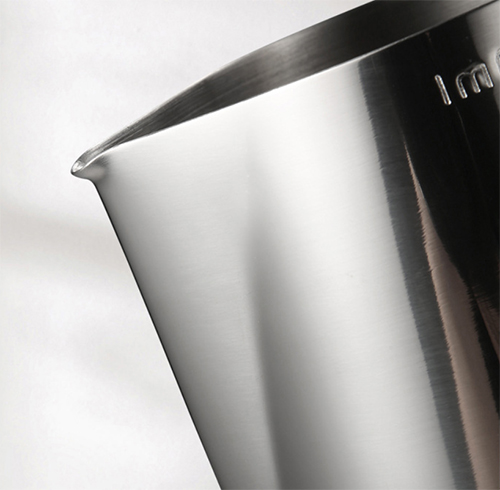 Clear Measurement Scale
With internal measurement scales, you can easily view liquid capacity. Compared with milk cups without volume scale, this espresso milk pitcher makes it easy for you to know the volume of the liquid. The measurement scale will never be scraped off, which prolongs its service life.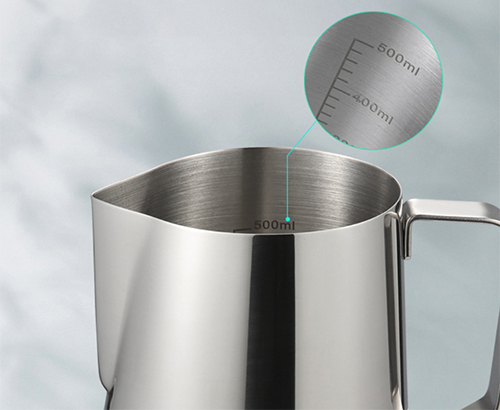 Concave Base Design
Concave base design, more stable and safe. Espresso milk pitcher is made of high-quality 18/8 stainless steel that won't rust, stain or break. Perfect for milk, water, juices, batter mixes, smoothies, and other pour-able items whether hot or cold.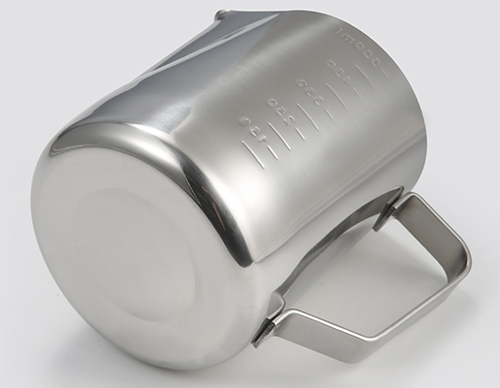 LASER LOGO
Just provide your logo design, we will laser it on espresso milk pitcher.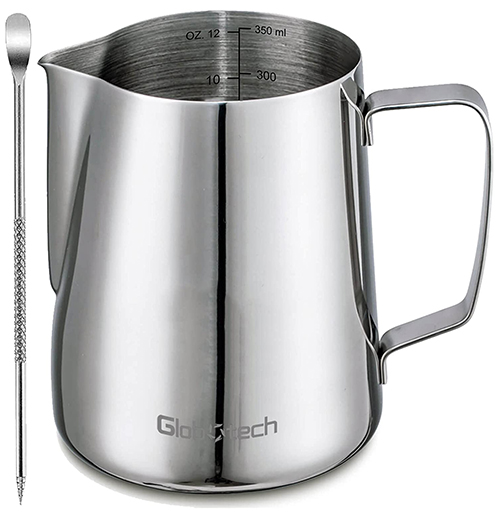 5. Product Qualification of Espresso Milk Pitcher
Our factory is experienced with espresso milk pitcher and has sells online for a long time. Various options for sizes/measurements. China Suan Houseware factory is one of the leading Espresso Milk Pitcher suppliers and manufacturers. Our Espresso Milk Pitcher product quality has passed international certification and the price is affordable. Welcome to call to order our products.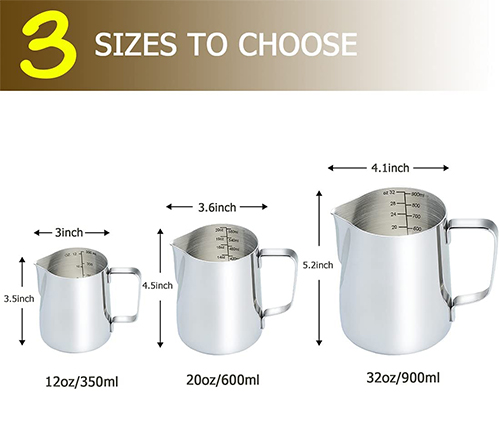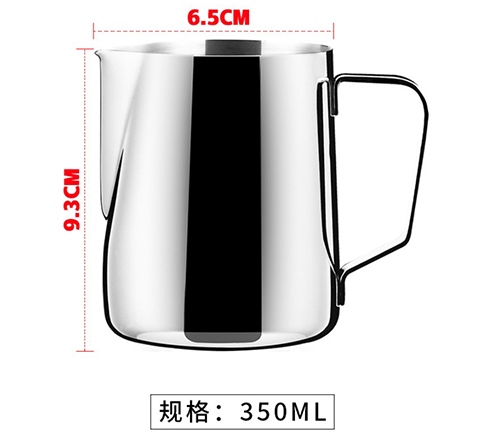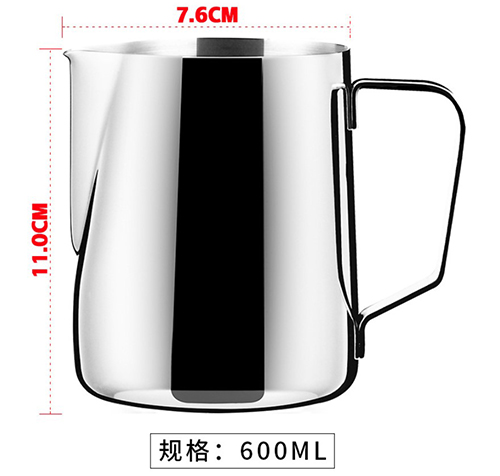 6. Deliver, Shipping And Serving of Espresso Milk Pitcher
Espresso milk pitchers are carefully packed in a standard white box or customized gift box during transportation. For shipping, our forwarder gives us a very competitive price on sea and air door-to-door, FOB, CIF...​ Welcome to contact us for a shipping quote.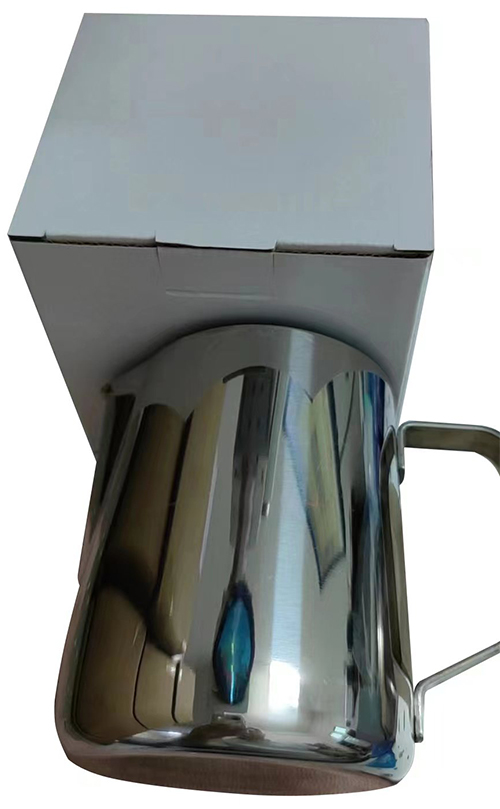 China Espresso Milk Pitcher suppliers
China Espresso Milk Pitcher manufacturers
China Espresso Milk Pitcher factory