China Milk Frothing Pitcher suppliers
China Milk Frothing Pitcher manufacturers
China Milk Frothing Pitcher factory
1. Product Introduction of Milk Frothing Pitcher
1). Excellent quality: Our milk frothing pitcher is made of food grade stainless steel, which is odor resistant, stain resistant, rust resistant, anti-collision, heat resistant, sturdy and durable. Easy to clean and dishwasher safe.
2). Capacity design: This milk frothing pitcher capacity is exactly 12 ounces (350 ml), which is more suitable for you and a few friends to drink 1 or 2 cups of cappuccino or espresso at home or office, compact size, very easy to control the milk in the cup, so you can show off your perfect barista skills in front of your friends.
3). Humanized design: The exterior mirror polished design makes it more excellent and attractive, the design of the milk frothing pitcher spout can be used with the convenience of liquid leaking from the jug, and the welded seams of the cup and handle are very strong and durable to use. Personalized design, easy to carry, each application is very safe and comfortable, no worries.
4). Multi-scene application: Milk frothing pitcher can help you in many ways. Steam or frothy milk for lattes and cappuccinos, serving milk or cream, as well as water, juices, batter mixtures, smoothies and other pourable items, hot or cold. Perfect for home, office or commercial use to start the day with perfection and mood.
5). The perfect combination of art: The perfect combination of milk pot and latte art. The milk frothing pitcher can be used in different ways, frothing or steaming milk for coffee; holding milk or cream. You can coffee cups to shape various beautiful coffee patterns, perfect for frothing milk or steaming milk for espresso, cappuccino or hot chocolate. Be your own barista at home and in the office.
2. Product Parameter (Specification) of Milk Frothing Pitcher
| | | | |
| --- | --- | --- | --- |
| Size | Material | Finish | Logo |
| 12oz, 20oz | 304 Stainless steel | Mirror Polishing | Laser |
3. Product Feature And Application of Milk Frothing Pitcher
This Cappuccino milk frothing pitcher is designed with 12oz 20oz scale lines inside, so you can precisely grasp the volume of liquid poured in to meet your different needs at a glance.
4. Product Details of Milk Frothing Pitcher
HUMANIZED DESIGN
The weld joint of the milk frothing pitcher body and the handle is firm, durable to use. Personalized design for easy carrying and saving energy.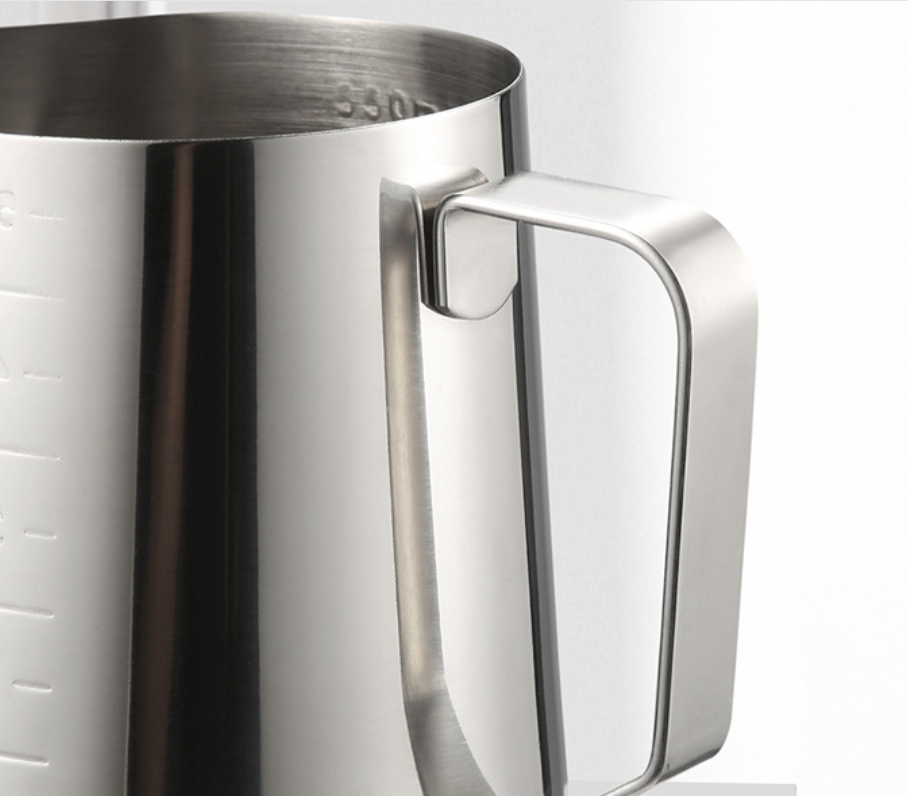 POINT-MOUTH DESIGN
Milk frothing pitcher can prevent liquid leaking from the jug and make the coffee pattern pretty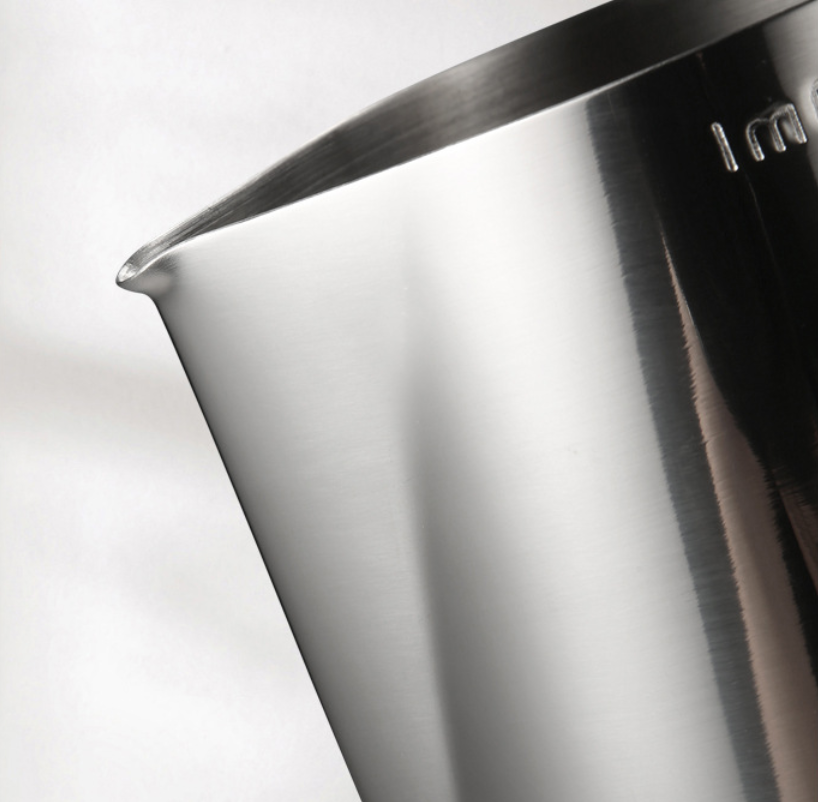 CLEAR MEASUREMENTS
This Milk frothing pitcher offers 12oz/20oz milk jugs to satisfied different customers demands, buy one at home or office for you and a couple of friends.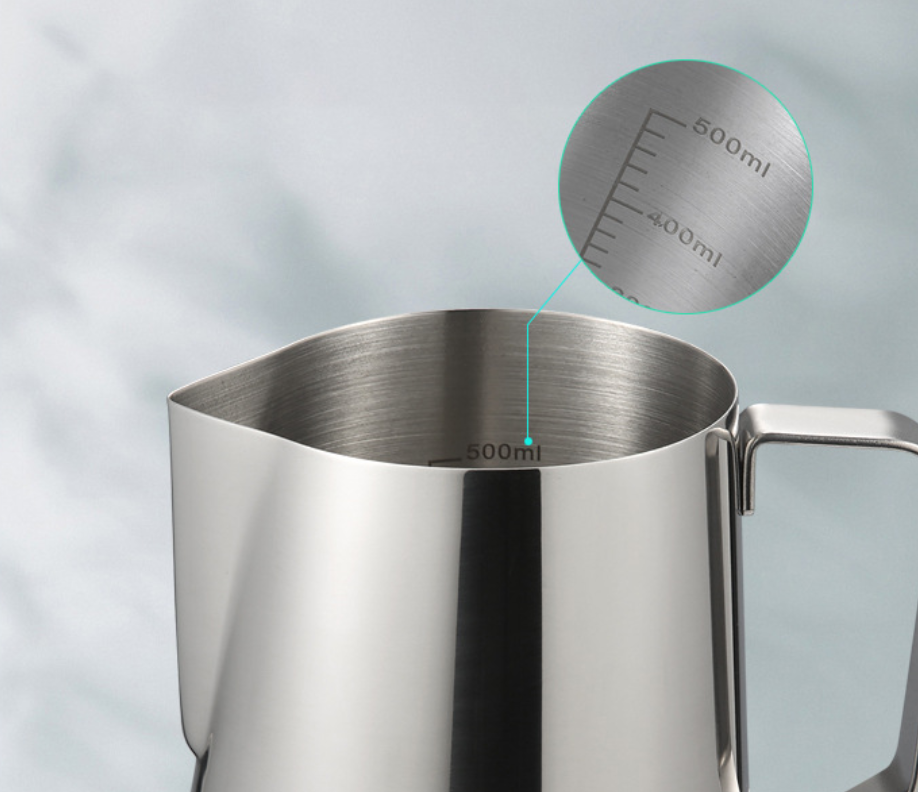 PREMIUM QUALITY
The milk frothing pitchers are made of chrome finished #304 stainless steel. Rust-proof, stain-proof, heat-proof and nontoxic, unbreakable by daily use.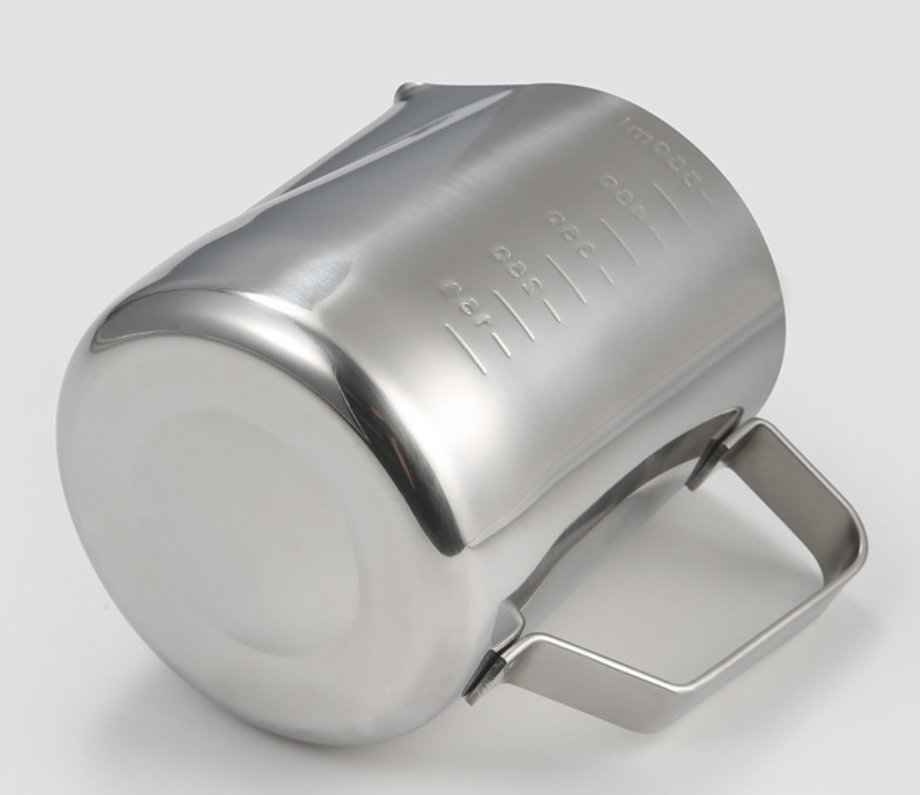 Customize Laser Logo
Provide your logo design, we will help you laser it on milk frothing pitchers.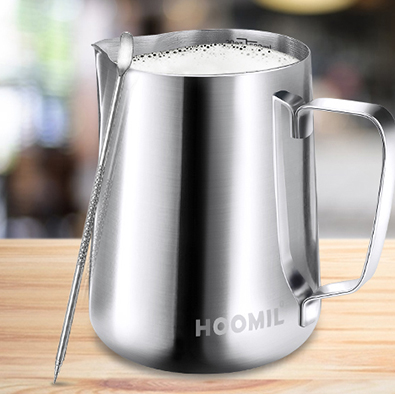 5. Product Qualification of Milk Frothing Pitcher
Our factory is experienced on milk frothing pitchers and sell online for a long time. Various options for sizes/measurements. China Suan Houseware factory is a professional supplier of Milk Frothing Pitcher, with good quality and low price. We sincerely recruit domestic and foreign agents. Milk Frothing Pitcher products are exported to dozens of foreign countries and regions. Welcome to contact us for cooperation.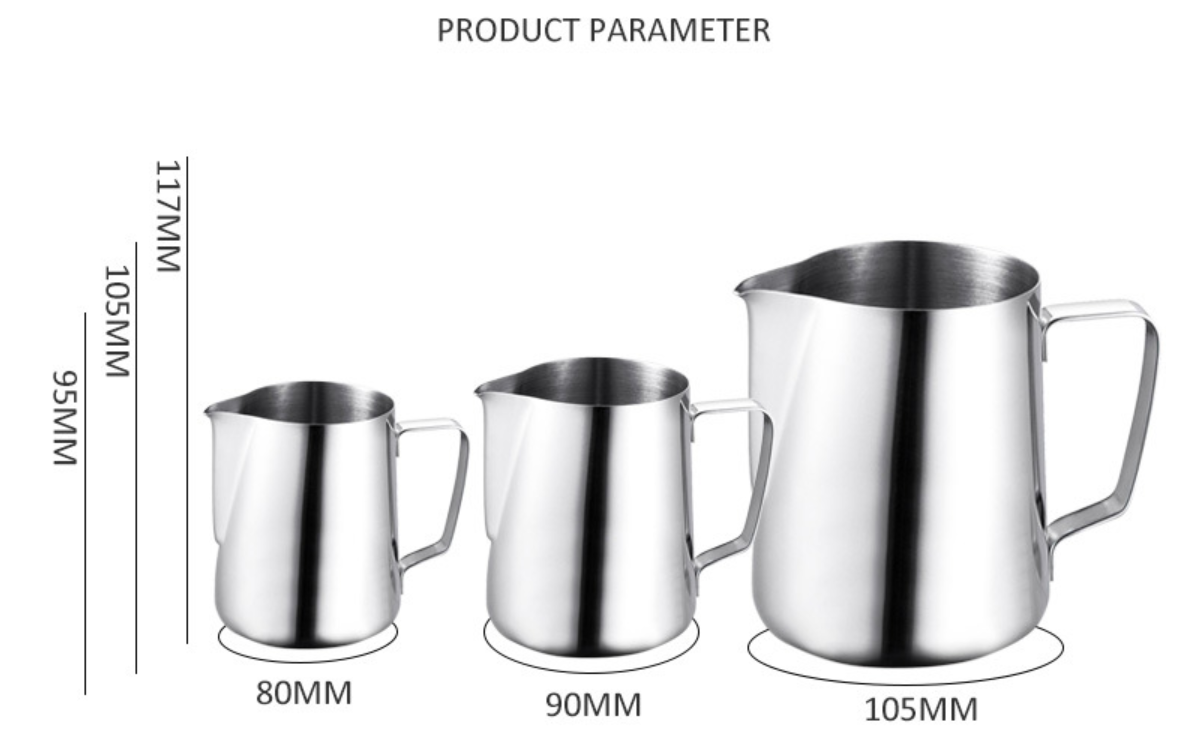 6. Deliver, Shipping And Serving of Milk Frothing Pitcher
Milk frothing pitchers are carefully packed in a standard white box or customized gift box during transportation. For shipping, our forwarder give us very competitive price on sea and air door-to-door, FOB, CIF...Welcome to contact us for a shipping quote.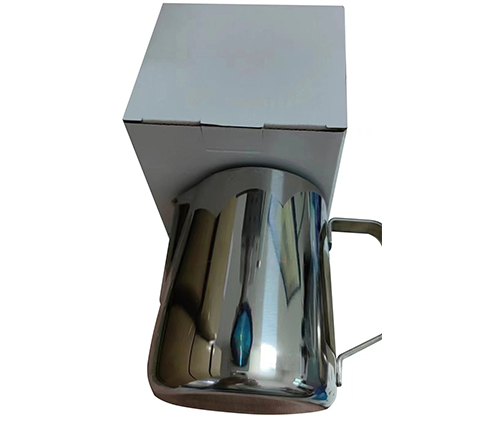 Milk Frothing Pitcher suppliers
Milk Frothing Pitcher manufacturers
Milk Frothing Pitcher factory