Silicone kitchen utensils are made of food-grade FDA, LFGB standard silicone as raw materials. Through molding or encapsulation, the products are used in the kitchen for baking, cooking, stirring, making, conditioning, ingredients, and modulation tools. The general term for utensils and utensils is a new type of kitchen utensils converted from hardware, plastic and other materials. With its unique environmental protection, stable chemical properties, high temperature resistance, softness, antifouling, dirt resistance, the superior performance such as non-sticking stands out among the kitchen utensils of many materials.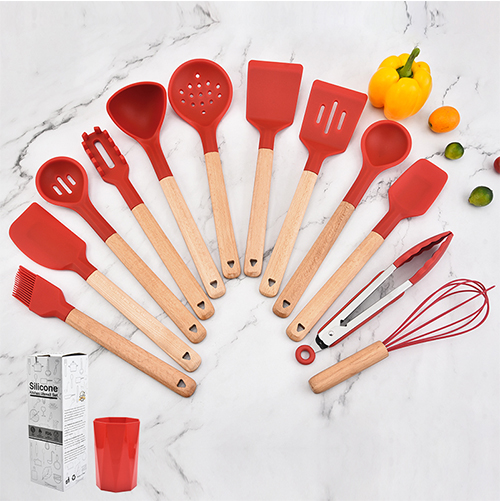 Silicone kitchen utensils include two categories: one is pure silicone kitchen utensils, and the other is encapsulated silicone kitchen utensils. In many western countries, silicone products have penetrated into every corner of people's lives, such as silicone tableware, kitchen utensils, and daily necessities. Because they are all daily necessities, they are welcomed by people in Europe and the United States, and some silicone daily necessities are in short supply.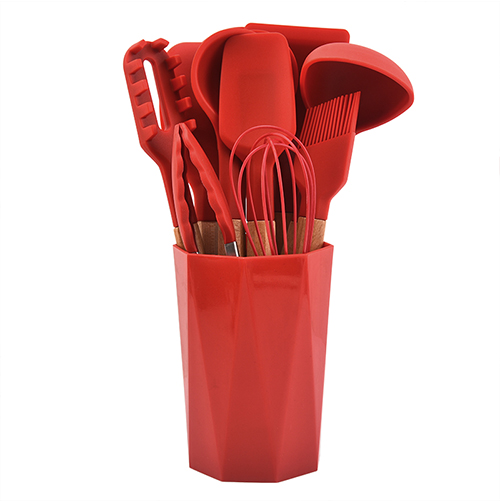 Main Features:
1.​ High temperature resistance: The applicable temperature range is -40 to 230 degrees Celsius, and it can be used in microwave ovens and ovens.
2.​ Easy to clean: The silicone products produced by silicone can be cleaned by rinsing with clean water after use, and can also be cleaned in the dishwasher.
3.​ Long life: The chemical properties of the silicone raw material are very stable, and the products made have a longer life than other materials.
4.​ Soft and comfortable: Thanks to the softness of the silicone material, the silicone kitchen utensils are comfortable to touch, extremely flexible and not deformed.
5.​ Various colors: Different beautiful colors can be prepared according to the needs of customers.
6.​ Environmentally friendly and non-toxic: no toxic and harmful substances are produced from the entry of raw materials to the delivery of finished products.