China Wooden Utensil Set suppliers
China Wooden Utensil Set manufacturers
China Wooden Utensil Set factory
1. Product Introduction of Wooden Utensil Set
1) 6 PIECE SET - Our 6-piece wooden utensil set includes Serving Spoon, Slotted Spoon, Soup Ladle, Slotted Turner, Spaghetti Server, Spatula—just enough to perform basic tasks for most home chefs especially for beginner cook, Enjoy mixing, stirring flipping, and serving with this useful, matching utensil set.
2) HEALTHY & SAFE SILICONE - Made from high-quality food grade silicone, Non-toxic, non-melting and odorless, No need to worry about chemicals leaching into your food, Can withstand temperatures up to 446°F. This wooden utensil set is Less reactive with food and last longer than plastic kitchen utensils, Healthy and durable for daily kitchen use.
3) NON-STICK COOKWARE FRIENDLY - Soft silicone head is sturdy but flexible enough to scrape off every last bit of food, Won't scratch, chip or harm those potentially dangerous non-stick pots and pans, Perfect wooden utensil set to extend the life of your cookware, Ensure you have a safe and pleasant cooking journey.
4) NATURAL WOOD HANDLE - Tough-yet-lightweight wooden utensil set is ergonomically designed, Smooth and comfortable to the touch, Don't slide in your hand even when hands are wet, Prevent heat transfer and avoid scalding the chef's hands, Better left out of the dishwasher and do not soaked in water for a long time.
5) EASY TO USE & STORAGE - With its neutral grey or black and natural wood construction, It pairs well with just about any color scheme, Handy and versatile for all your cooking and baking needs, Each handle has a hanging loop for easy storage, Keep your drawer space clear of clutter, Ideal gift for Christmas, Thanksgiving, housewarming.
2. Product Parameter (Specification) of Wooden Utensil Set
| | | | |
| --- | --- | --- | --- |
| Size | Material | Advantage | Logo |
| Set of 6, size as following picture | Food grade silicone & Natural Wood | Beautifully crafted, soft to touch, lightweight, solid | Laser logo on handle |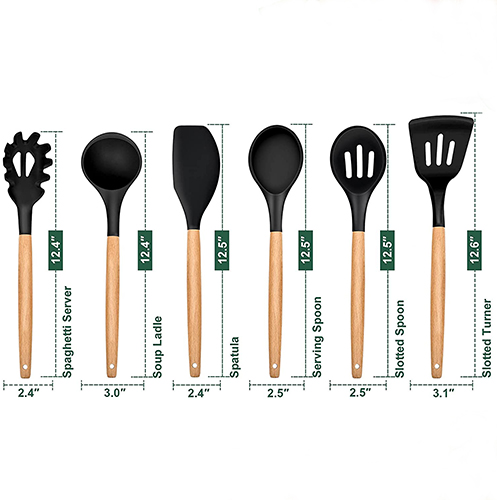 3. Product Feature And Application of Wooden Utensil Set
We believe that cooking is an enjoyable and pleasant experience. With our complete wooden utensil set whipping up a delicious dessert is super easy From spoons to spatula,our complete set of utensils will you have covered from start to serving.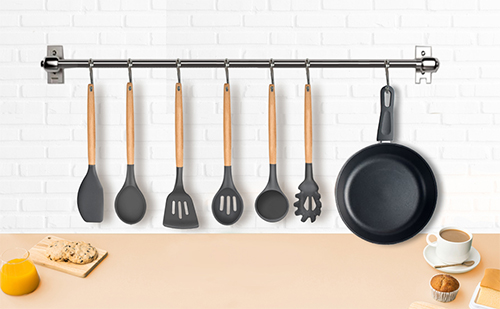 Wooden Utensil Set Includes:
1) Soup Ladle x 1
2) Slotted Turner x 1
3) Spaghetti Server x 1
4) Spatula x 1
5) Serving Spoon x 1
6) Slotted Spoon x 1
4. Product Details of Wooden Utensil Set
Easy to Clean & Store
A wooden utensil set is easily cleaned with warm soapy water. You can easily store this wooden utensil set in a drawer or spoon holder, or hang it on the wall.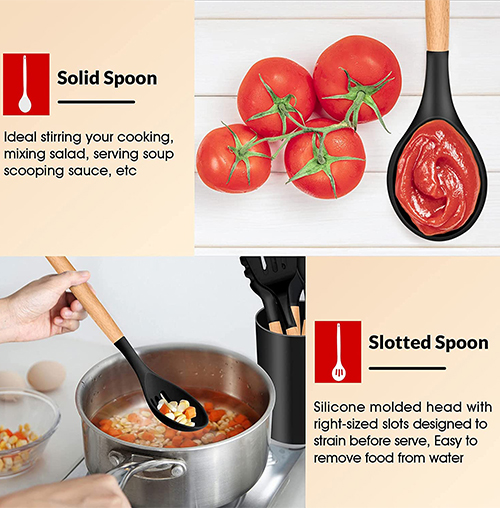 Heat Resistant Wooden Utensil Set
Long and comfortable handles make these cooking spoons easy to hold when stirring food for a long time and protect your hands from the heat of your dish.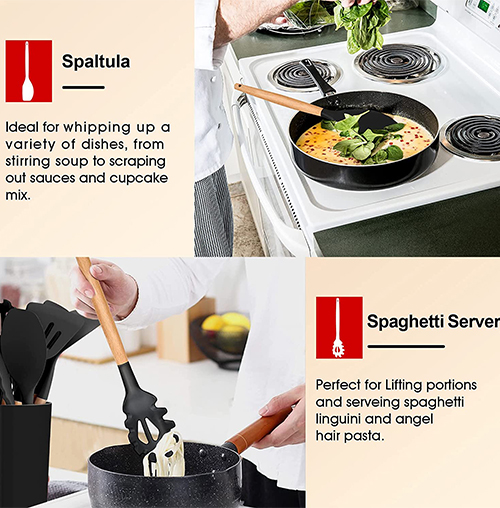 Great for Holiday Gifts
A great choice for sending mom, women, and chefs for housewarming, birthday, Christmas and more special occasions as our wooden utensil set will be useful in every kitchen. It's the best tool to gift your loved ones who spend time in kitchen to see happy smiles of family. Time to give them a decorating set which will decorate their kitchen with elegant look!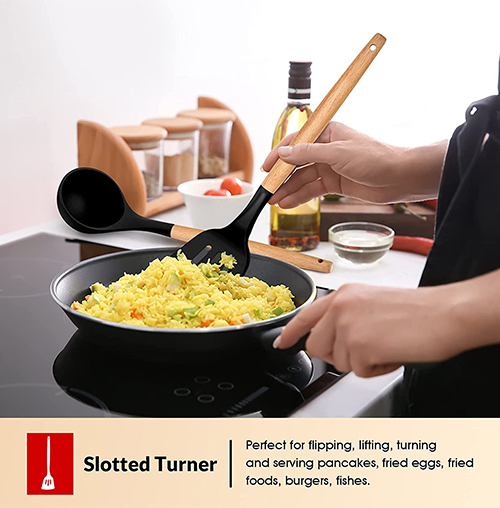 5. Product Qualification of Wooden Utensil Set
Suan Houseware is a house ware brand that believes in enhancing life through convenience and superior quality. Our products such as this wooden utensil set is designed to enrich your daily life and to last a lifetime and beyond. We specialize in functional & beautiful kitchen accessories for the ultimate cooking and baking experience.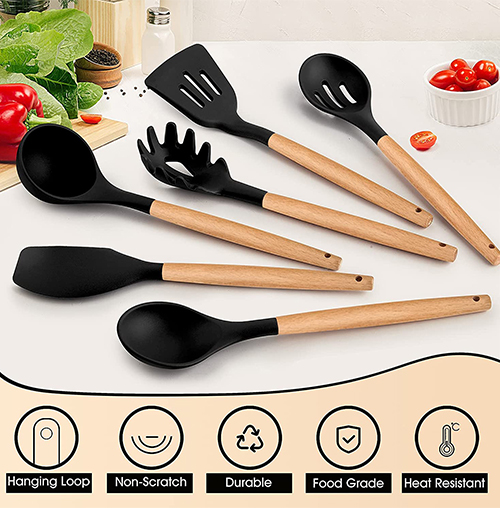 6. Deliver, Shipping And Serving of Wooden Utensil Set
For wooden utensil set, we usually pack gift box, tag, thanks card, flyer or use our standard poly bag, package style is depending on your marketing channels. Strong master carton give outer protection for these utensils during transportation.
For shipping, our forwarder give us very competitive price on sea and air door-to-door, FOB, CIF... Welcome to contact us for a shipping quote.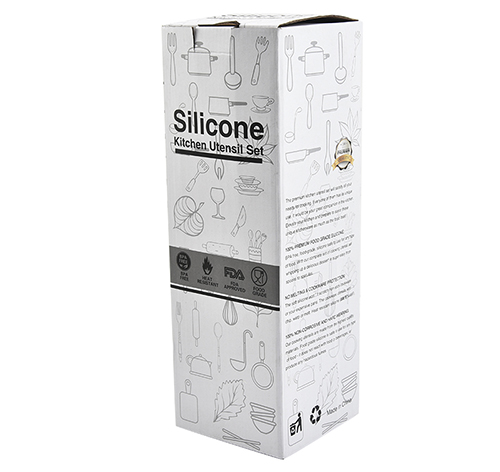 7. Tips For Cleaning Wooden Kitchenware
Many homes use wooden shovels or spoons for health and safety reasons. But even if you wash them immediately after each use, hard-to-remove stains can build up over time. If the condition is bad, suggest a new one. If still OK, I can use a few small skills to come clean.
1). Clean with water
Use wooden spoons, wooden spoons and other utensils. Please clean with warm water. Water immersion is not recommended. Cracks can develop later on in wooden appliances because of the potential for bacteria to breed. Neutral dishwashing liquid is recommended when cleaning these wooden utensils. Hand, sponge and other tools to clean these wooden tableware can be. Washing wooden appliances in the dishwasher is not recommended. Rapid drying may cause damage to the surface of these appliances. It is recommended that wooden appliances be washed and scrubbed with a clean towel before being stored, rather than air dried.
2). Remove dirt and odor
Baking soda and lemon water can not only remove the smell of wooden spoons, spoons and other utensils, but also remove dirt. Start by pouring a tablespoon or so of baking soda onto the surface of a regular wooden appliance. The amount of soda powder is adjusted with the appliance size. The more the appliance size is, the more soda splitting powder is added. The smaller the appliance size, the less soda splitting powder will be added. Mix directly with the baking soda water to form a paste. Apply to the wooden utencil and gently rub the surface with your fingers or a neat cloth to allow the baking soda and lemon water to soak in.
Please aim the friction direction at the wood grain and finally clean the wooden appliance with water. If the dirt is not completely removed, the above process can be repeated until the supplies are thoroughly clean. If the dirt is too stubborn, a small amount of raw salt can be added to the baking soda powder.
3). Sodium Percarbonate
In addition to natural soda and lemonade, you can also clean these wooden utensils with a detergent made of sodium carbonate. Place one tablespoon of sodium percarbonate in about 1 liter of water. Place wooden utensils in the water. Clean the utensils with your hands, sponge and cloth. Soak in water for a few minutes, not only can clean up, but also have the effect of sterilization. After finally washing the wooden appliance with warm water, wipe it dry with a cloth.
4). The Vinegar
If the taste of ligneous implement is a bit heavy, still can wash with vinegar. The smell of vinegar is very good. After mixing hot water and white vinegar in a ratio of 1:1, soak the wooden appliance in vinegar water for about 30min, then rinse it with hot water and wipe it clean with a cloth.
5). Maintain
If you find that the surface of a wooden pan scraper, spoon, etc., is rough, you can use sandpaper to lightly sand these tools.
Apply kitchen oil-absorbing paper or cleaning towel, apply mineral oil or vegetable oil thinly on the surface of wooden tools, leave for 20 minutes and wipe with kitchen oil-absorbing paper or towel.
Oiling wooden props on time also helps to increase the use of life.
Wooden Utensil Set suppliers
Wooden Utensil Set manufacturers
Wooden Utensil Set factory