China Wooden Kitchen Utensils suppliers
China Wooden Kitchen Utensils manufacturers
China Wooden Kitchen Utensils factory
1. Product Introduction of Wooden Kitchen Utensils
1) Kitchen Utensils with Holder: An ideal Wooden Kitchen Utensils that features all the essential cooking tools including spatula,fried spatula,slotted spatula, soup ladle, spaghetti server,tong,strainer spoon,salad fork,mixing spoon,egg whisk and holder. Covers all your kitchen needs from stiring to cooking, and with hanging holes for wall storage easily.
2) One-Piece Teak Wooden Kitchen Utensils: Constructed from natural teak wood.close-grained hardwood with high organic oil, and silica content that is known for being one of the hardest, strongest, and most durable of all timbers. Beautifully crafted, soft to touch, lightweight, and very solid basically defines what great workmanship is. Now you can use your precious non-stick cookware without worrying about damages and scratches.
3) Easy Use and Storage : These nonstick wooden kitchen utensils can be hand wash with warm water, dry thoroughly, DO NOT SOAK the wooden spoons. The wooden spatula sets are stored easily in drawers or hang up and air dry.every spatula comes with a hanging hole for space saving in the kitchen. the hanging hole is big enough for any thick rope or leather rope.
4) Non Stick Non Scratch : The Teak wooden spoons are perfect for use with nonstick cookware, and the wooden spoons for cooking contoured lines provide comfortable hand feel. Our wooden kitchen utensils set are very smoothly with good touch feeling, won't scratch or damage your favorite non-sticky cookware! Our wood cooking utensils prevents from scratching expensive non-stick pots and pans!
5) Smooth and Sturdy : The most durable wooden kitchen utensils set,they're designed to not bend like plastic utensils, not melt like silicone kitchen tools, and not rust like other metallic utensils. The tools will look new for years to come. Get these wooden spatula set so that you never have to use any broken, deformed or melted utensils ever again!
2. Product Parameter (Specification) of Wooden Kitchen Utensils
| | | | |
| --- | --- | --- | --- |
| Size | Material | Advantage | Logo |
| Set of 10, size as following picture | Natural Teak Wood | Beautifully crafted, soft to touch, lightweight, solid | Laser logo on handle |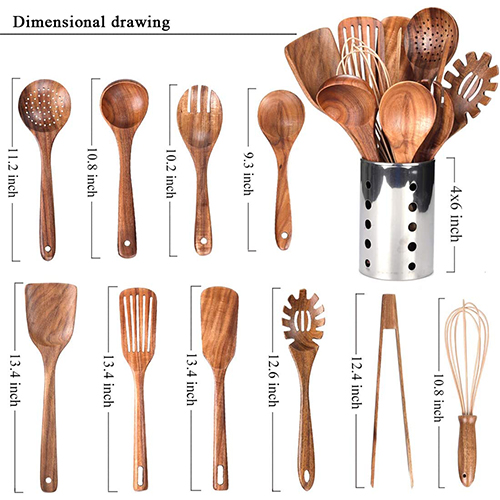 3. Product Feature And Application of Wooden Kitchen Utensils
We believe that cooking is an enjoyable and pleasant experience. With our complete set of wooden kitchen utensils whipping up a delicious dessert is super easy From spoons to spatula,our complete set of utensils will you have covered from start to serving.
Our complete set of wooden kitchen utensils includes: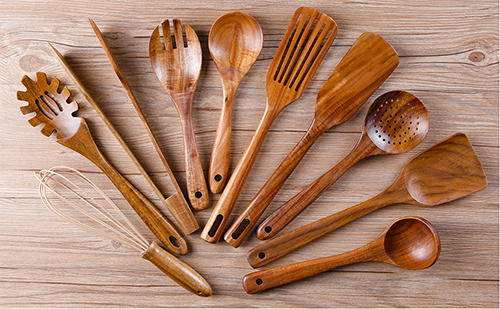 1 x Spatula
1 x Fried Spatula
1 x Slotted Spoon
1 x Soup Ladle
1 x Strainer Spoon
1 x Salad Fork
1 x Mixing Spoon
1 x spaghetti server
1 x tong
1 x egg whisk
1 x kitchen utensils holder
4. Product Details of Wooden Kitchen Utensils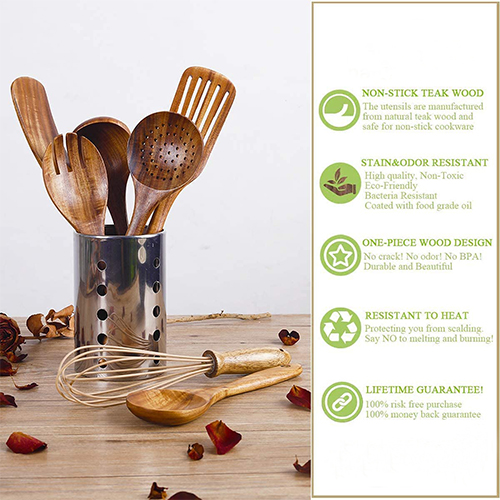 Easy to Clean & Store
A wooden kitchen utensil is easily cleaned with warm soapy water. You can easily store this wooden kitchen utensil set in a drawer or spoon holder, or hang it on the wall.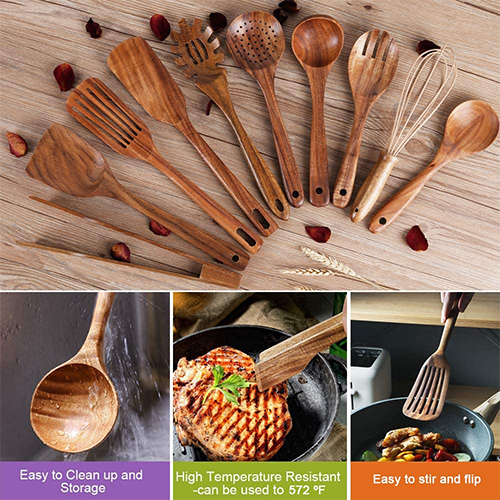 Heat Resistant Wooden Kitchen Utensil
Long and comfortable handles make these cooking spoons easy to hold when stirring food for a long time and protect your hands from the heat of your dish.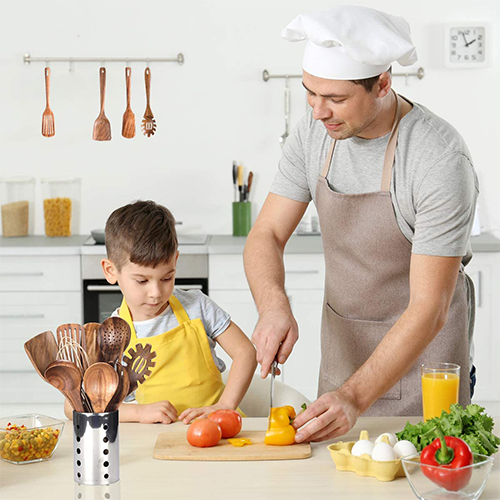 Great for Crafts and Decoration
A great choice for sending mom, women, and chefs for housewarming, birthday, Christmas and more special occasions as our wooden kitchen utensils set will be useful in every kitchen. It's the best tool to gift your loved ones who spend time in kitchen to see happy smiles of family. Time to give them a decorating set which will decorate their kitchen with elegant look!
5. Product Qualification of Wooden Kitchen Utensils
Suan Houseware is a house ware brand that believes in enhancing life through convenience and superior quality. Our products such as those wooden kitchen utensils are designed to enrich your daily life and to last a lifetime and beyond. We specialize in functional & beautiful kitchen accessories for the ultimate cooking and baking experience.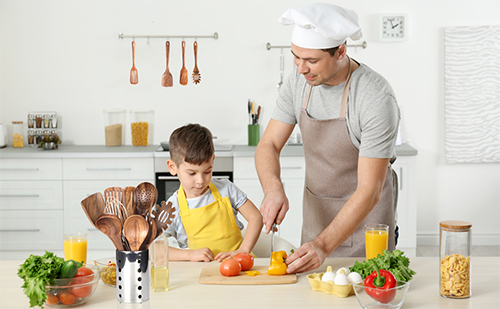 We are committed to excellence in providing beautiful, affordable and innovative products like this wooden kitchen utensil set for use in food preparation. We stand behind every product and we will be glad to assist you in choosing the perfect item to meet your personal needs.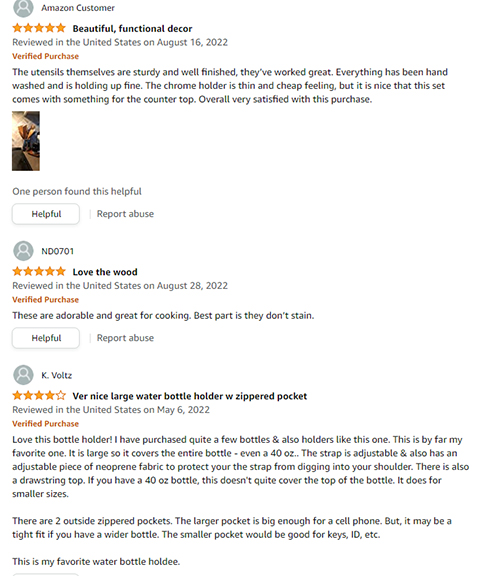 6. Deliver, Shipping And Serving of Wooden Kitchen Utensils
For wooden kitchen utensils, we usually customize your private gift box, tag, thanks card, flyer or use our standard poly bag, package style is depending on your marketing channels. Strong master carton give outer protection for these utensils during transportation.
For shipping, our forwarder give us very competitive price on sea and air door-to-door, FOB, CIF... Welcome to contact us for a shipping quote.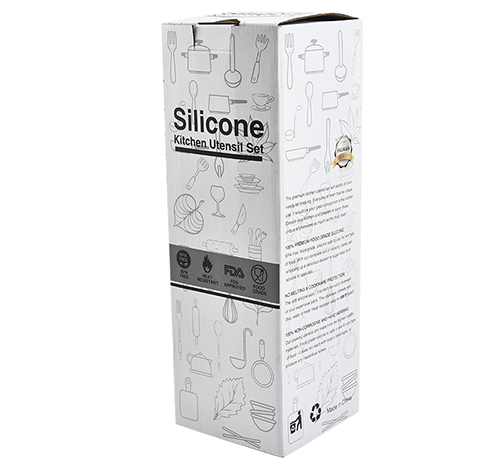 7. 6 Tips For Cleaning And Maintaining Wooden Tableware
The grain of natural ligneous tableware, kitchenware lets SIMPLE sense promote greatly. But we also need to clean the wooden utensils.
1). Do not soak
In our daily life, after cooking, we often have the habit of soaking POTS and pans in water to help remove grease, but wooden kitchen utensils can not be abandoned in the sink, used must be washed and dried immediately, to prevent moisture infiltration into them.
2). Do not put it in the dishwasher or dryer
Wooden kitchen utensils can not be put in the dishwasher, dryer, dishwasher a lot of moisture and hot air dryer will make it more prone to mold, deformation, shorten life.
3). Gently scrub with a soft sponge.
Woodwork does not suit washing with vegetable melon cloth or steel brush, besides the lacquer coating on the surface that may destroy, also scratches wood easily, produces crevice, let dirty in infiltrate capillary hole. Correct cleaning method: use a soft sponge to soak dish detergent and clean water, remove oil by "scrubbing", and put it under clean running water to rinse. The wooden tableware that the market sells is divided again into "go up lacquer" and "did not go up lacquer" two kinds. If what you buy is "did not go up lacquer" wooden meal kitchenware, you can change edible class baking soda powder to this kind of natural cleaner. Not only can it go quickly smeary, but you also need not worry about the problem that cleaner remains, infiltrating the wood interior.
4). Be sure to dry after cleaning.
Washed meal kitchenware had better be dried immediately with clean kitchen paper towels, and placed in the indoor ventilated place to air dry; care should be taken not to stack wooden utensils on top of each other. They must be placed on cutlery racks and kept away from each other to prevent condensation of moisture. Kitchen utensils with large areas, such as wooden cutting boards, are recommended to be stored by hanging or standing, avoiding being close to walls or desktops, and ensuring that both sides are kept dry.
Drying method: If there is no time to dry after cleaning, you can use "oven" to assist drying. Turn off the power after heating the small oven for about 5 minutes, and you can use the residual heat to dry wood products.
5). Location is important
Wooden meal kitchenware must be put in a dry, ventilated environment, and avoid faucet, oven, microwave oven and gas stove beside the humidity, heat is a heavier place, lest cause mildew; additional, also cannot insolate under the sun, otherwise may bring about deformation, crack.
Because the summer weather is hot and humid, the moisture content in the air is not low, and the tableware that is washed and dried is not recommended to be stored in the closed storage cabinet to avoid mildew.
6). Extend life with daily maintenance
There are a few on the market to use to maintain the oil of ligneous meal kitchenware, especially to taste. However, actually you do not need to buy specially, use the condiment that is always prepared in the home and can achieve maintain the goal. Maintenance method: mix olive oil and white vinegar in a ratio of 2:1, dip it with a clean cotton cloth and wipe it evenly on the wood surface. The moisturizing olive oil can penetrate into pores, cover wood fibers and form a protective layer. White vinegar has mild cleaning power, which is helpful for sterilization and deodorization, so that cleaning and maintenance can be in place at once. Wood is fairly odorous. You can also use lemon to deodorize it. Squeeze lemon juice or rub lemon zest on the surface to help remove odors.
Wholesale Wooden Kitchen Utensils
Wooden Kitchen Utensils suppliers
Wooden Kitchen Utensils manufacturers
Wooden Kitchen Utensils factory