China Wooden Kitchen Utensil Set manufacturers
China Wooden Kitchen Utensil Set suppliers
China Wooden Kitchen Utensil Set factory
1. Product Introduction of Wooden Kitchen Utensil Set
1) EVERYTHING YOU NEED FOR THE ULTIMATE COOKING EXPERIENCE – Enjoy mixing, flipping, and serving with this complete set of cooking utensils. Wooden Kitchen Utensil Set includes: spoon, slotted spoon, soup ladle, slotted turner, spaghetti server, spatula and oil brush
2) PROTECT YOUR COOKWARE – These non-scratch "COOL GRAY" silicone utensils won't scratch, chip or harm your nonstick and metal pots and pans. They are the perfect wooden kitchen utensil set to extend the life of your cookware.
3) ELEGANT AND NATURAL – The stylish, cool grey silicone heads and natural acacia wooden handles will greatly enhance your kitchen's decor. Since it is made of natural wood, each handle has its unique pattern and design. This wooden kitchen utensil set will make a great gift for chefs, home cooks or professionals.
4) WOODEN KITCHEN UTENSIL SET LASTS A LIFETIME – The silicone head and durable Acacia wooden handles are made to last. Unlike metal or plastic they won't bend, melt, or rust with time.
5) NO MORE MELTING – All silicone parts are heat resistant up to 240 degree Celsius or 464 degree Fahrenheit. Unlike plastic or rubber, the high heat tolerance of the silicone heads prevents the wooden kitchen utensil set from melting when exposed to heat.
2. Product Parameter (Specification) of Wooden Kitchen Utensil Set
| | | | |
| --- | --- | --- | --- |
| Size | Material | Advantage | Logo |
| 12.5inch, set of 6 | Food Grade Silicone & wooden handle | Non-scratch, heat resistant | Laser logo on handle |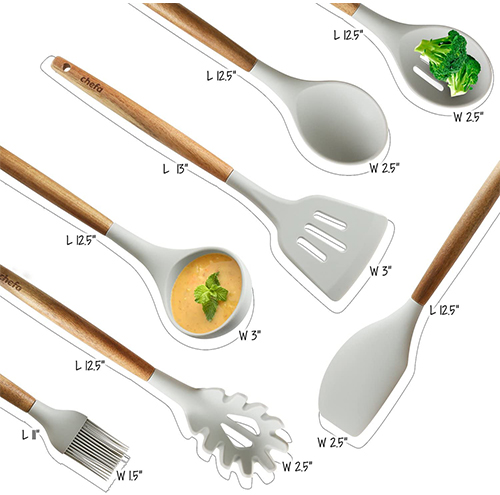 3. Product Feature And Application of Wooden Kitchen Utensil Set
We believe that baking is an enjoyable and pleasant experience. With our complete set of wooden kitchen utensil set whipping up a delicious dessert is super easy From spoons to spatula,our complete set of utensils will you have covered from start to serving.

Our complete set of wooden kitchen utensils includes:

Spoon
Slotted spoons
Soup Ladle
Slotted Turner
Spaghetti Server
Spatula
Oil Brush

Food Grade our material never scratches, or melts.

Please Do Not Put in Microwave, Oven, Freezer, or Dishwasher.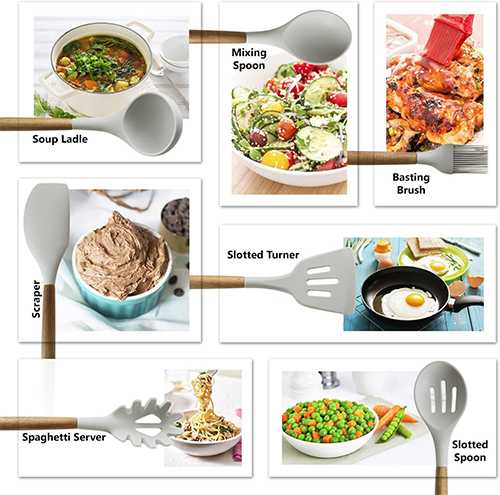 4. Product Details of Wooden Kitchen Utensil Set
Heat Resistant and Easy to Clean
Silicone has been gaining popularity in kitchens due to its high heat resistance, great for temperatures up to 450 degrees, and its non stick capabilities. For an easy to clean tool, that can handle whatever your kitchen throws at it, our wooden kitchen utensil sets are the right choice every time.

Comfortable Wooden Handle
Equiped with durable wooden handle, giving this wooden kitchen utensil set the sturdiness needed for even the most intense cooking sessions. However the wooden handle provides a easy and comfortable grip, that will keep you going no matter how tired and hungry you are.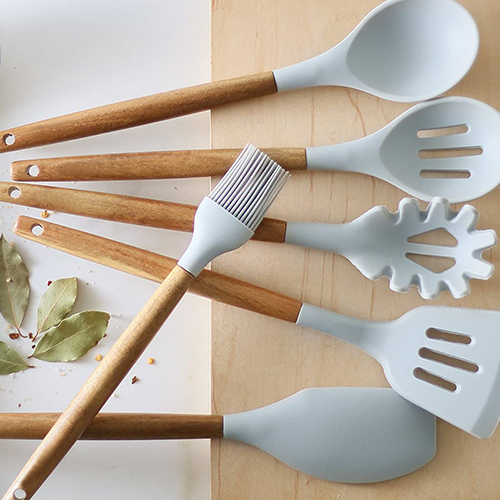 Great Silicone Heads for Non Stick Pots and Pans
Silicone not only is non-stick itself, but also won't harm the non-stick coating in your pans. Eliminate scraping off cooked on food from your after meal clean up. Enjoy the time with our wooden kitchen utensil set!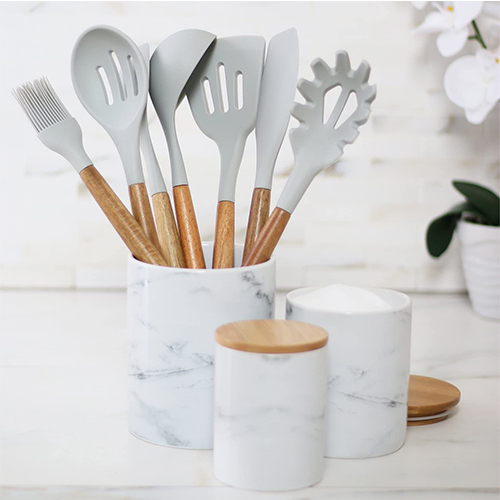 5. Product Qualification of Wooden Kitchen Utensil Set
China Suan Houseware factory is one of the most professional Wooden Kitchen Utensil Set suppliers, and manufacturers. Suan Houseware is a house ware brand that believes in enhancing life through convenience and superior quality. Our products such as this wooden kitchen utensil set are designed to enrich your daily life and to last a lifetime and beyond. We specialize in functional & beautiful kitchen accessories for the ultimate cooking and baking experience.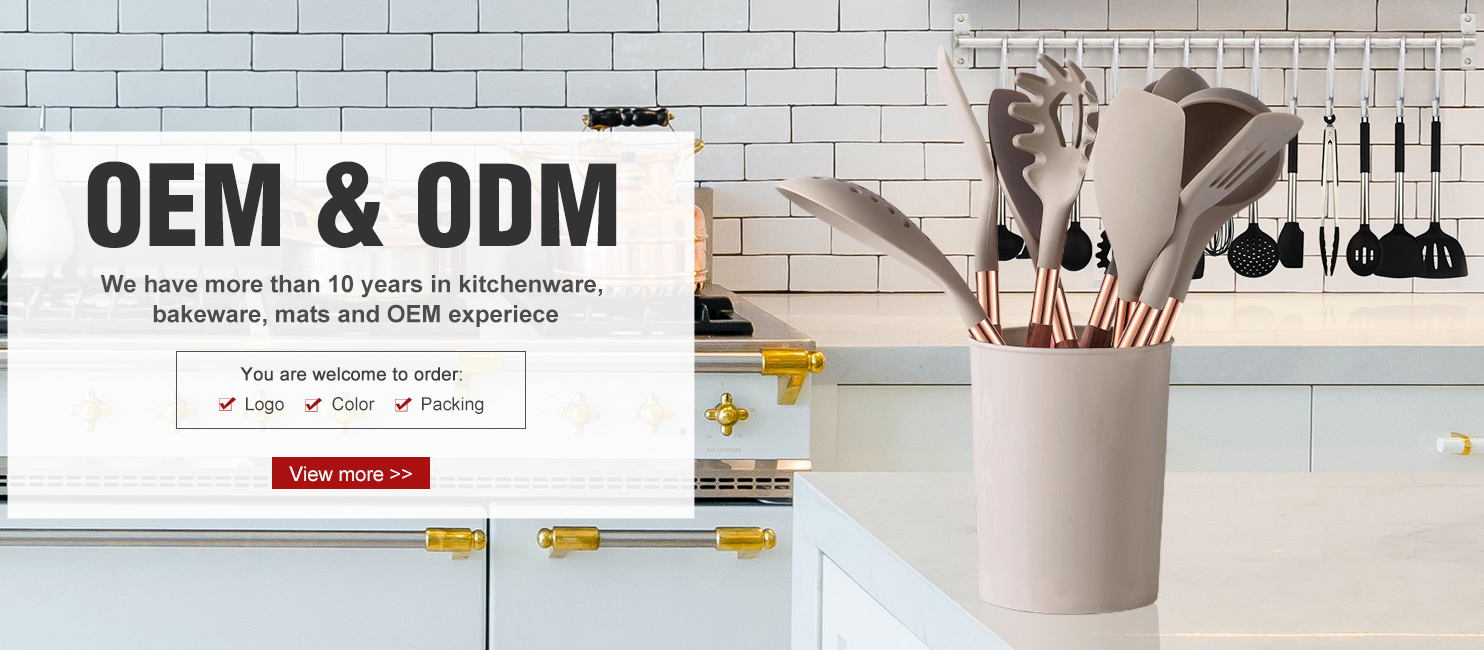 We are committed to excellence in providing beautiful, affordable and innovative products like this wooden kitchen utensil set for use in food preparation. We stand behind every product and we will be glad to assist you in choosing the perfect item to meet your personal needs.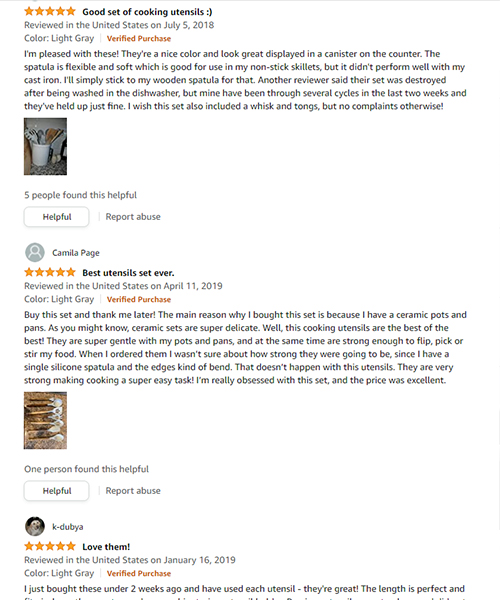 6. Deliver, Shipping And Serving of Wooden Kitchen Utensil Set
For wooden kitchen utensil set, we usually customize your private gift box, tag, thanks card, flyer.. or use our standard poly bag, package style is depending on your marketing channels. Strong master carton give outer protection for these utensils during transportation. For shipping, our forwarder give us very competitive price on sea and air door-to-door, FOB, CIF...Welcome to contact us for a shipping quote.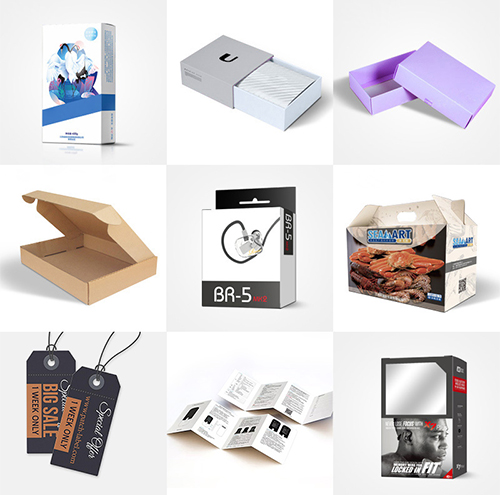 7. How to maintain wood kitchen utensils?
1. No need to soak
Generally speaking, it is customary to soak kitchen items in water to remove greasy stains. However, wooden kitchen utensils should not be treated in this way. Must immediately clean and scrub, so that water will not seep into, reducing service life.
2. You don't have to put it in the dishwasher or dryer.
Dishwashers have a lot of moisture, which can have a negative effect on wood products. To get rid of moisture and moisture quickly, some people put it in a bowl dryer. This kind of clever way is easy to make wood products deformed and moldy, we must pay attention to it.
3. Clean gently.
Wood tableware is different from other tableware, even melon cloth can damage the surface coating, damage the wood, and stains can easily stick in the gaps. Therefore, the correct cleaning method is: with a soft sponge, put the cutlery under running water, in the form of scrubbing, carefully remove greasy things and wash them clean.
4. Dry immediately after cleaning
It is suggested that washed wooden tableware should be immediately scrubbed with clean toilet paper or cloth and then left in a cool ventilated place to dry. Please do not fold it up, but stand on the cabinet at a proper distance to prevent condensation. In case you do not have time to dry, use the oven, bowl dryer and other facilities in moderation. It is not immediately baked, but heating equipment, turn off the power, and put the wooden tableware on the table, and use the warm fast drying. This also prevents mildew and deformation.
5. Choose your storage location carefully
Please do not put clean wood tableware in the gas stove, microwave oven, water tank and other damp cold steam areas, also do not put in the sun. Put in a cool area is not easy to deform and crack.
6. Simple maintenance
There are many products on the market for daily maintenance of wooden kitchen items. If you can flexibly use the common edible olive oil and white vinegar in the restaurant kitchen, you can also achieve the maintenance goal. Mix the olive oil and white vinegar in a 2:1 ratio. Apply evenly to the surface of the wood with a clean cotton cloth. Olive oil is moist enough to penetrate tiny pores and create a protective film on the wood layer. White vinegar has the effect of sterilization and deodorization, and the two can be used together for one-time cleaning and maintenance. If the wood doesn't taste too good, you can use lemon to clear the flavor. Squeezing lemons, or rubbing lemon zest on top, also works.
Wooden Kitchen Utensil Set manufacturers
Wooden Kitchen Utensil Set suppliers
Wooden Kitchen Utensil Set factory