China Soup Ladle suppliers
China Soup Ladle manufacturers
China Soup Ladle factory
1. Product Introduction of Soup Ladle
1) 100% Brand New Product, made of 100% food grade silicone material, safe and healthy for your family; non-stick and heat resistant.The soup ladle will not do harm to your non stick pot or pan too.
2) Soup ladles are solid, durable, long Lasting. They are gentle against delicate pots and nonstick pans. You can firmly scrape up any food from the bottom of your cookware without having to worry about scratching the surface.
3) The soup ladle handle designed easy and comfortable use, and provides a secure grip. There is a convenient hole in the handle for easy hanging storage in your kitchen.
4) The Silicone soup ladle will never go out of style, no matter what type of kitchen you have. Great for mixing, stirring and cooking, making it a great addition to any kitchen.
5) Dishwasher safe. Easy clean and care. With its stain and odor resistant, the soup ladle is easy for hand washing as well. Can be used in restaurants, food shops, catering halls, etc. Suitable for cooking porridge, soup, noodles, and hotpot.
2. Product Parameter (Specification) of Soup Ladle
| | | | |
| --- | --- | --- | --- |
| Size | Material | Advantage | Logo |
| 11inch | Food Grade Silicone & stainless steel | One-piece design, heat resistant | Printing logo on handle |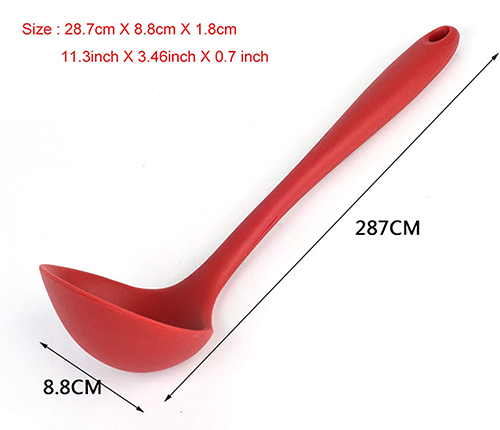 3. Product Feature And Application of Soup Ladle
-Non stick and food grade silicone
-Dishwasher safe and easy to clean
-One-piece and seamless design silicone ladle
-Heat-resistant up 500°F
-Solid steel core
-Flexible silicone head design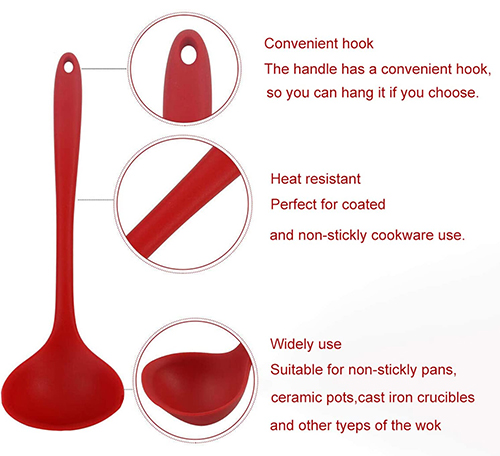 4. Product Details of Soup Ladle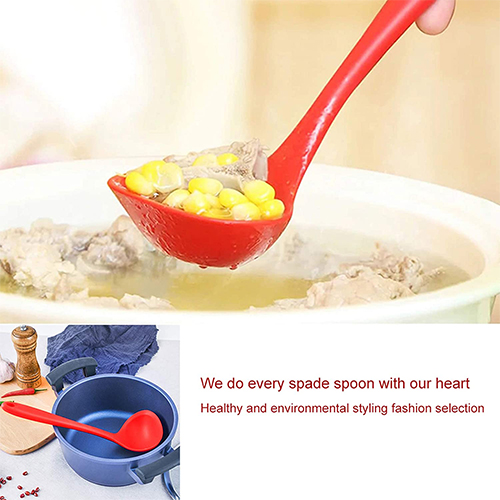 Silicone Coated Soup Ladle
Silicone has been gaining popularity in kitchens due to its high heat resistance, great for temperatures up to 450 degrees, and its non stick capabilities. For an easy to clean tool, that can handle whatever your kitchen throws at it, our soup ladles are the right choice every time.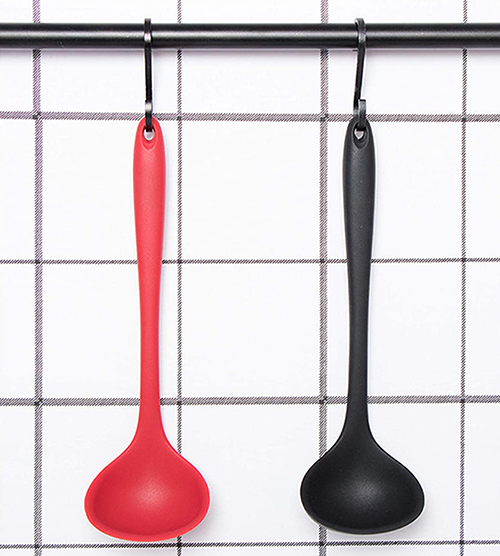 Comfortable Handle Soup Ladle
Soup Ladle is enhanced with a steel rod in the handle, giving these tools the sturdiness needed for even the most intense cooking sessions. However the silicone on the handle provides a soft, comfortable grip, that will keep you going no matter how tired and hungry you are.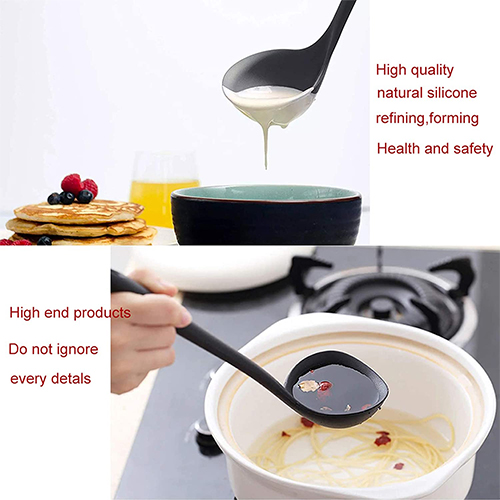 Great Soup Ladle for Non Stick Pots and Pans
Silicone not only is non-stick itself, but also won't harm the non-stick coating in your pans. Eliminate scraping off cooked on food from your after meal clean up.
5. Product Qualification of Soup Ladle
China Suan Houseware factory is a professional manufacturer of Soup Ladle. Our factory is experienced on manufacturing soup ladles and other kitchen utensils, house ware products. We provide high quality products and upgraded design. Various options for you to make sizes/colors. Also OEM, ODM is highly welcome, we provide free 3D samples for your confirmation at first, then open new mold. New Mold time is about 20-25 days.
Hope you enjoy the life and cooking, have a pleasant family time.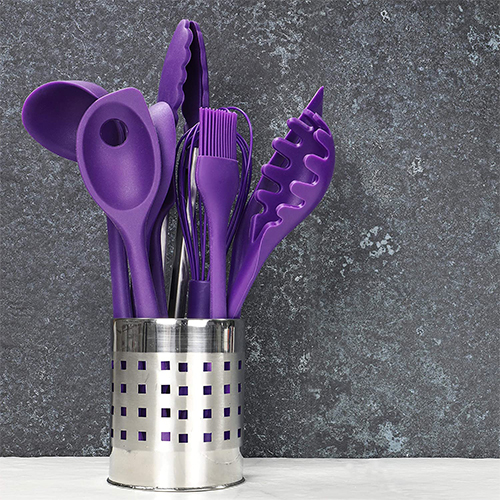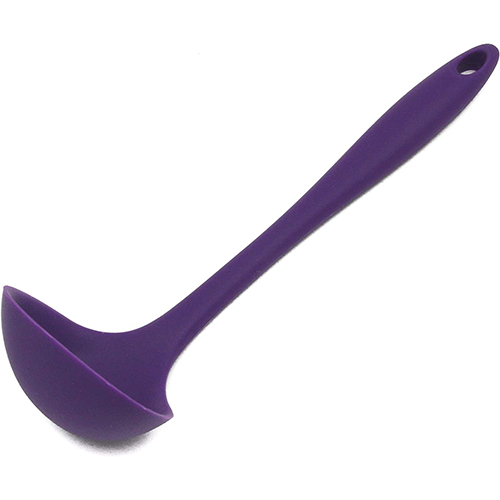 6. Deliver, Shipping And Serving of Soup Ladle
For soup ladles, we usually customize your private gift box, tag, thanks card.. or use our standard poly bag, package style is depending on your marketing channels. Strong master carton give outer protection during transportation. For shipping, our forwarder give us very competitive price on sea and air door-to-door, FOB, CIF...Welcome to contact us for a shipping quote.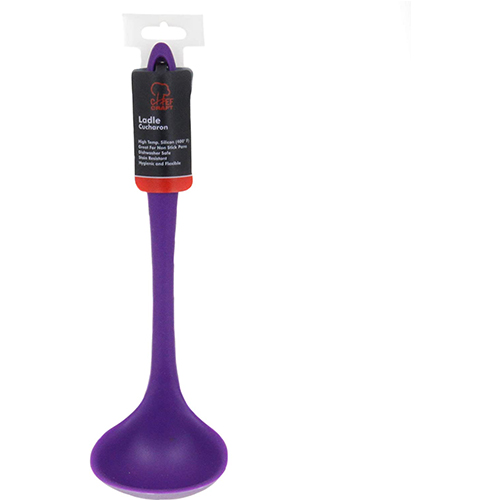 7. How much do you know about silicone kitchenware?
The stability of silica gel is particularly good, especially high and low temperature resistance, can be heated at high temperature with microwave oven without deformation or release of toxic substances, can also be placed in the cold room refrigeration!
Silica gel because the texture is close to human skin, and non-toxic no smell, so children's pacifiers are also made of silica gel, and good silica gel has an automatic disinfection function, does not stain, is easy to clean. Now a lot of fashionable families are using silica gel kitchen, because it can cook with a microwave oven, more worry and save time. More importantly, it will not produce soot.
What kind of soup spoon is good?
1. Wooden soup spoon
The soup spoon made of natural wood belongs to the oldest kind of soup spoon. Since humans began to cook food, wooden soup spoons have been used. The color and texture of wooden soup spoons are beautiful, safe and environmental protection, and there will be no harm to human health.
2. Porcelain spoon
As we all know, China is a country of porcelain, and the soup spoon made of porcelain is rich in cultural meaning. Ceramic soup spoons are not only used at home, but also one of the necessary tableware in restaurants and restaurants.
3. Stainless steel spoon
Stainless steel spoon is widely used in tableware. stainless steel tableware has the advantages of corrosion resistance and durability. stainless steel spoon is most suitable for boiling soup, than wooden spoon high temperature resistance, will not appear deformation cracking phenomenon, more portable than ceramic spoon, and not afraid of breaking, cooking hot pot and soup pot stainless steel spoon must be indispensable.
4. Silicone soup spoon
Silica gel belongs to a kind of environmental protection and safety material, and durable, silica gel soup spoon is a professional tableware designed for infants and toddlers. Silica gel material has passed the certification of scientific inspection, do not worry about the adverse consequences to children.
Soup Ladle suppliers
Soup Ladle manufacturers
Soup Ladle factory