China pastry brush used for BBQ manufacturers
China pastry brush used for BBQ suppliers
China pastry brush used for BBQ factory
1. Product Introduction of Pastry Brush
1) MULTIPURPOSE: Silicone pastry brush set comes with a large 10.2"blue brush & a small 8" in red that fits all your kitchen needs. Keeping your hand away from high heat, the large pastry brush works perfectly for multiple occasions. The basting brush is suitable for spreading oil, butter, sauces or delicately basting rolls/cakes and more. The brushes protect your pan from scratches. It works great on meats, pastries, cakes, and desserts!
2) TEMPERATURE RESISTANT: The pastry brush can resist temperatures up to 446℉/230℃. Unlike plastic nylon or wooden brushes, it does not melt, discolor and shrink.
3) HIGH QUALITY: The pastry brushes are made of high quality food grade silicone which is BPA free and 100% safe to use. Each brush has a handle built with a solid internal steel core that increases its durability. It is a great environmentally friendly, non-toxic, lead free and odourless kitchen utensil option!
4) EASY TO CLEAN & DISHWASHER SAFE: Simply clean brushes with water and soap or put them into a dishwasher. The pastry brushes will come out like new! It dries fast and has no residual odour. The brushes do not trap food particles (unlike wooden utensils) which help avoid cross contamination.
5) ONE-PIECE DESIGN: The pastry brush is equipped with a strong stainless steel core inside the handle which won't break easily like a nylon brush. It holds up to the demanding use of home cooks, BBQ, and much more. With proper care, it will certainly stay in your kitchen for a long time and be a great money-saving solution! The hole on the end of the brush handle hole allows you to hang it in your kitchen easily, saving storage space.
2. Product Parameter (Specification) of Pastry Brush
| | | | |
| --- | --- | --- | --- |
| Size | Main Material | Core | Heat Resistance |
| 10.2 , 8 | Food Grade Silicone, BPA free | Solid internal steel core | 446℉/230℃ |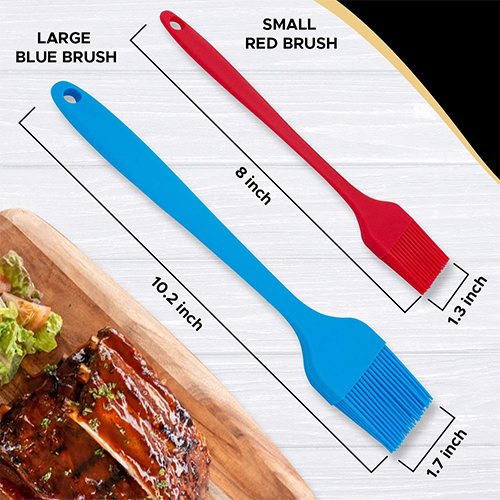 3. Product Feature And Application of Pastry Brush

Perfect Basting and Pastry Brushes Set
Convenient Indoor or Outdoor Brushes
Easy to be stored with a hole designed to the handle.
The handle does not separate from the brush head.
Various sizes and colors satisfy all tasks.
Multi-functional in indoor baking and outdoor grilling.
Great gifts for mother or wife, perfect presents for friends.
4. Product Details of Pastry Brush

High Quality
Made from premium and food grade compliant silicone. Bristles will not break or shed in your food. No bacteria will be stuck in the silicone pastry brush to ensure food safety.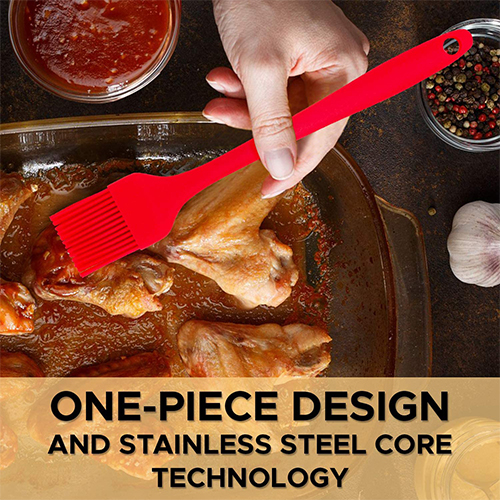 One-piece Design
An internal stainless steel core technology. It very secure, owing to seamless design. This special design avoids the pastry brush head from loosening or falling off when spreading liquid or sauce.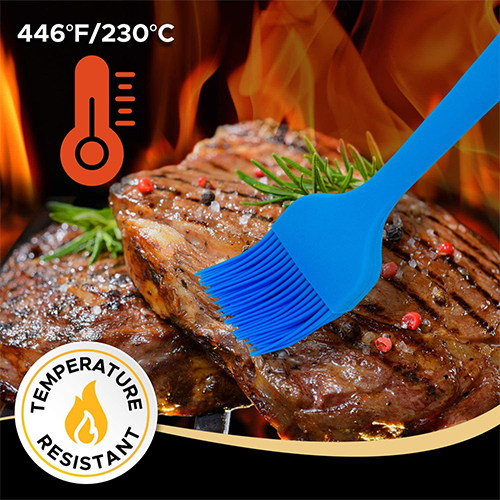 Easy to Store
Easy to store by allowing you to hang the pastry brush in your kitchen easily, saving storage space.
5. Product Qualification of Pastry Brush
It is because of our more than 10 years of rich experience in kitchenware products that we can gain the affirmation of many customers. Our Pastry Brushes are safe, heat resistant, easy to clean, dry quickly and have no residual odor. It is the first choice for BBQ brushes. Our factory is experienced in manufacturing pastry brushes and other kitchen products, houseware products. We provide high quality products and upgraded designs. Hope you enjoy the barbecue and cooking, have a pleasant barbecue party or family party. Various options for you to make sizes/colors.
Also, OEM, ODM is highly welcome. We provide free 3D samples for your confirmation at first, then open new mold. New Mold time is about 20-25 days. Looking for a supplier of China pastry brush, SUAN is your best choice, we can provide you with wholesale customization of products, and at the same time provide perfect after-sales service, so that you can truly experience our sincere service.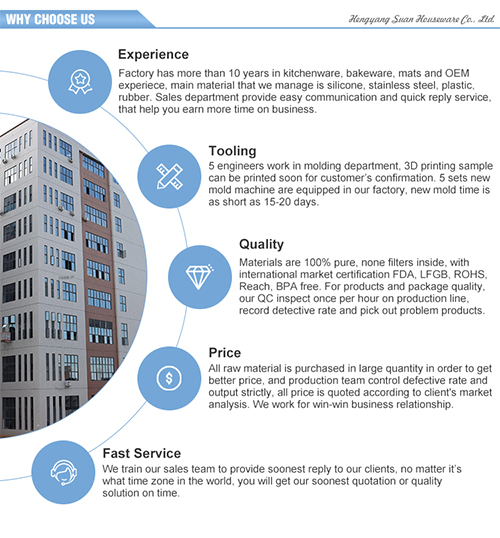 6. Deliver, Shipping And Serving of Pastry Brush
For pastry brushes, we usually customize your private gift box, insert, thanks card.. or use our standard poly bag, package style depends on your marketing channels. Strong master carton gives outer protection for BBQ brushes during transportation. For shipping, our forwarder gives us a very competitive price on sea and air door-to-door, FOB, CIF... Welcome to contact us for a shipping quote.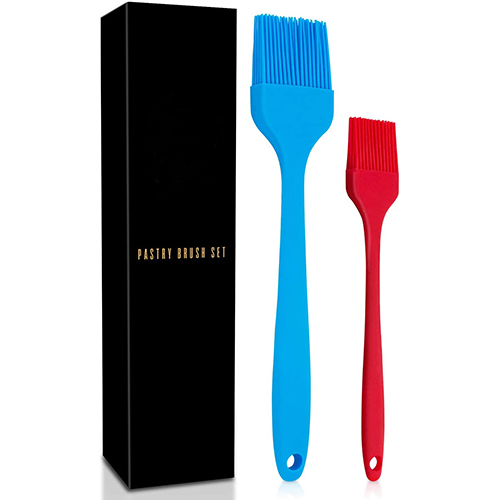 7. What are the benefits of using a silicone soft brush?
Whether in baking or in the barbecue, a lot of people will always worry about the old brush, touch the food above, after cleaning will hide the dirt problem, but the use of silicone soft brush, these troubles can solve it to avoid the old brush trouble, refuse to drop hair trouble, brush head soft, brush oil brush uniform. Integrated silicone brush, using grade silicone material, not afraid of high temperature, use is not easy to fall, not easy to break, easy to clean, refuse dirt and dirt, soft brush, durable, food contact, safe and healthy.
1). Silicone brush is made of food-grade silicone material, high temperature and low temperature resistant, soft and not deformed, can directly contact with food, easy to clean. High temperature resistance, environmental protection, non-toxic, direct contact with food, high heat resistance, high temperature resistance up to 230℃, can be directly used in the cooking process.
2). Silica gel is soft and not deformed, the brush head is uniform and fine, easy to dip, uniform oil, kinkiness resistance, food silica gel material, high cost performance.
3). Comfortable non-slip grip, food grade material, with strong corrosion resistance and temperature adaptability, can directly contact with food, lengthened handle, circular handle, non-slip stable, effective heat insulation and anti-hot. Ergonomic design, soft lines and non-slip grip comfortable upgrade.
4). High toughness silica gel brush head, no smell no color, soft brush head, high elasticity no break, soft and elastic good, integrated design, brush head easy to clean, no residue, a wash, no dirt.
5). Versatile and practical, let you bake more at ease, brush baking sauce, brush oil, brush egg wash. Not only can it be brushed with oil, but it can also be grilled, baked in pastry and cooked at home.
6). Tail hanging hole design, easy to hang, drain clean, save kitchen space, easy to store.
pastry brush used for BBQ manufacturers
pastry brush used for BBQ suppliers
pastry brush used for BBQ factory