Wholesale High Quality Grilling Brush
China Wholesale High Quality Grilling Brush suppliers
China Wholesale High Quality Grilling Brush manufacturers
1. Product Introduction of Grilling Brush
1) BETTER TOGETHER: Looking for both precision and versatility? You don't have to choose with this grilling brush set! Use the grilling brush for unmatched sauce control.
2) BRING ON THE SAUCES: These grilling brushes feature satin-finished 18/8 stainless steel and silicone bristles that were born to slather on sauce. With brush heads that are heat resistant up to 480° F, you can rest assured that these brushes can baste anything you're grilling!
3) SLEEK FINISH: The modern satin finish gives this stainless steel grilling brush a seriously professional look. So whether you're at a cookoff or just showing off for friends and family, this brush will make it clear who the grill master is! Easy on the eyes and practical. Win-win.
4) DISHWASHER SAFE GRILLING BRUSH: Spending an hour in the kitchen doing dishes when you could be hanging with friends, celebrating your team's victory, or stealing the last rib on the platter is no one's thought of a good time. The 18/8 stainless steel and food-grade silicone bristles mean you can toss these bad boys in the dishwasher, sauce and all.
2. Product Parameter (Specification) of Grilling Brush
| | | | |
| --- | --- | --- | --- |
| Size | Material | Dishwasher | Heat Resistance |
| 22*4.5cm | Food Grade Silicone and Stainless Steel | Safe | 480℉ |

3. Product Feature And Application of Grilling Brush
Perfect Basting and Grilling Brushes Set
Convenient Indoor or Outdoor Brushes
Easy to be stored with a hole designed to the handle.
The handle does not separate from the brush head.
Various sizes and colors satisfy all tasks.
Multi-functional in indoor baking and outdoor grilling.
Great gifts for mother or wife, perfect presents for friends.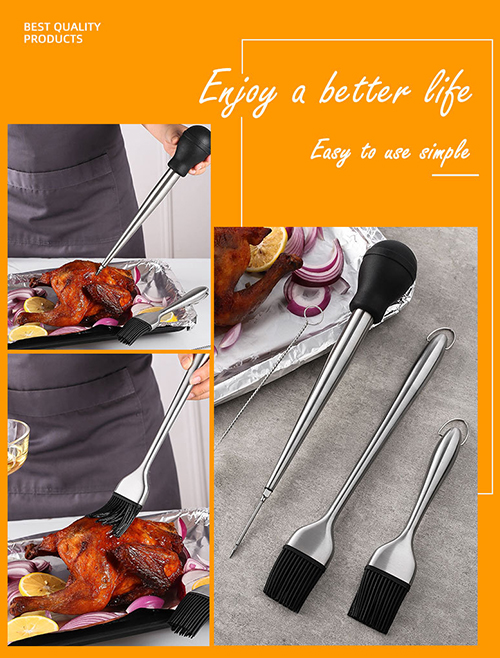 4. Product Details of Grilling Brush
1). PROFESSIONAL: Soft and absorbent, this grilling brush is designed to spread an even glaze, sauce, marinade, or butter across your cooked goods. This grilling brush is a must have for your collection of grill accessories.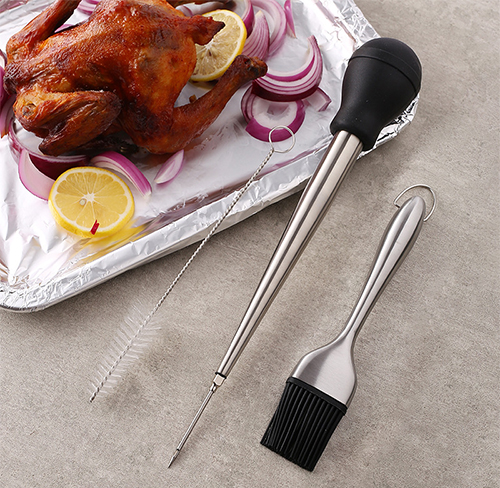 2). LOAD UP THE SAUCE: This silicone grilling brush quickly takes in thinner sauces that standard oil brushes won't. Works great for Carolina and Texas-Style BBQ or vinegar-based sauces. Perfect for basting and glazing a variety of meats and poultry AND as a pastry brush with buttered baked goods!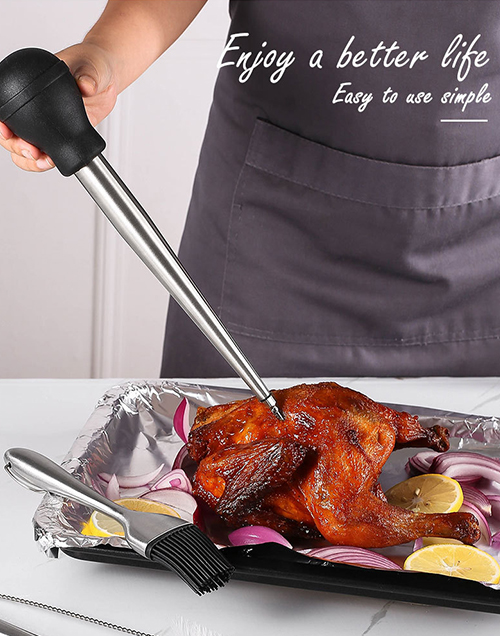 3). SAFE AND DURABLE: Each stainless cooking & grilling brush is equipped with heat resistant and dishwasher safe silicone bristles. The 22cm length handle keeps your hands away from the heat when glazing BBQ meat.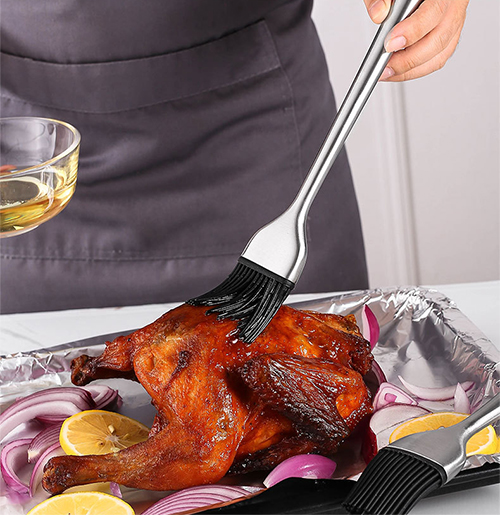 4). HUNGRY FAN COMMUNITY: By purchasing this product, you now become part of the largest community of game day and entertainment enthusiasts! We value the quality and durability of our products and strive to produce the best grilling accessories for you. We have absolute faith in our products and offer a money back guaranteed if you are not satisfied. No-questions-asked, no hassle.
5. Product Qualification of Grilling Brush
Suan Houseware factory is a professional Grilling Brush supplier. The Grilling Brush we produce uses a silicone brush head, which is high temperature resistant while ensuring safety, easy to clean, fast drying, and no residual odor. It is the first choice for BBQ brushes. Our factory is experienced in manufacturing grilling brushes and other kitchen products, houseware products. We provide high quality products and upgraded designs. Hope you enjoy the barbecue and cooking, have a pleasant barbecue party or family party. Various options for you to make sizes/colors.
Also, OEM, ODM is highly welcome. We provide free 3D samples for your confirmation at first, then open new mold. New Mold time is about 20-25 days.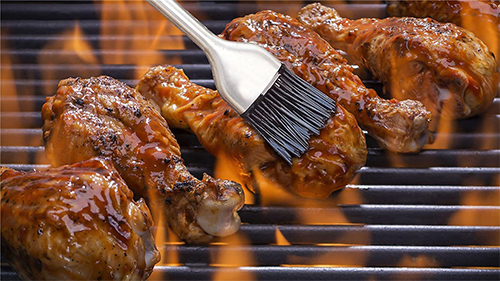 6. Deliver, Shipping And Serving of Grilling Brush
For grilling brushes, we usually customize your private gift box, insert, thanks card.. or use our standard poly bag, package style depends on your marketing channels. Strong master carton gives outer protection for grilling brushes during transportation. For shipping, our forwarder gives us a very competitive price on sea and air door-to-door, FOB, CIF... Welcome to contact us for a shipping quote.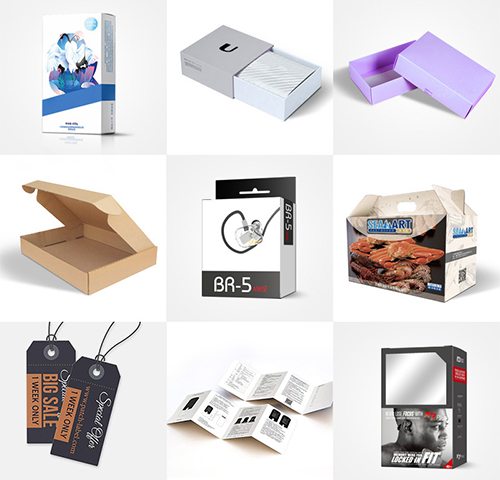 7. Silicone brush and hairbrush, which is good?
The silica gel brush is better than the hairbrush, because the hairbrush is particularly easy to lose hair, and the cleaning is not clean, the silica gel material of the barbecue brush is much better, the silica gel brush is not toxic in high temperature, harmless to the body, can be assured to use, the silica gel material will not lose hair, cleaning up is also very labor saving, with water rinse 1 times or with cleaning agent to clean 1 times.
Silica gel is widely used in the market, not only for maternal and infants, home, kitchen, construction, electronics and electrical, textile, automobile, machinery, leather paper making, chemical light industry, metal and paint, medicine and medical treatment, products by the public like, because silica gel has high temperature resistance, durable, environmental protection, non-toxic, easy to clean characteristics. Its material is food grade silicone temperature resistance up to -40 degrees to 230 degrees, not easy to deformation and soft and comfortable, silicone brush using clean water, cleaning agent cleaning or washing in the dishwasher can be washed.
Silica gel brush brush head for temperature naturally also needs a certain temperature requirements, then silica gel products raw materials can withstand high and low temperature that is sure to achieve, not enough on the one hand, we need to pay attention to the selection of materials, generally speaking, the raw materials of silica gel brush must reach the safe and edible level , the production of non-toxic tasteless without impurities of the quality requirements, so for the material must be strictly selected.
Work is more important, a high quality silicone products need to obtain the user's favor in the appearance that must be done in the production process to the extreme, and the silicone brush more attention must be its brush head part, Because the brush head of the silicone brush is too long, the hole above the mold is deep and the process is made by CNC mold discharge, and in the mold making process, such as the bottom discharge processing is not precise enough, the brush is likely to produce edge or fracture phenomenon, so in the mold, we need to pay attention to whether the brush head hole part of the brush discharge in place.
China High Quality Grilling Brush suppliers
China High Quality Grilling Brush manufacturers
China Grilling Brush factory