China Cooking Utensil Set suppliers
China Cooking Utensil Set manufacturers
China Cooking Utensil Set factory
1. Product Introduction of Cooking Utensil Set
1) FOOD GRADE KITCHEN UTENIL SETS: Cooking utensil sets are made of 100% BPA-free Food Grade Silicone with Super Wooden Handles. These are essential tools for your kitchen. We promise that our cooking tools are 100% healthy for you and your family.
2) 12PCS DURABLE COOKING UTENSIL SET: 13 Different shape for its unique function would be your great kitchen helper! There are included egg whisk, soup ladle, solid turner,basting brush, solid spoon/mixing spoon, slotted turner,tongs,slotted spoon,spoon spatula,paste server, flexible spatula and container.
3) EASY TO CLEAN AND STORAGE: Non-stick cooking utensil sets are easy to clean, Clean up is a breeze – simply wipe under hot water or throw in the dishwasher. Hanging hole design easily hanging and air-dry. The container holder can store all kitchen utensils. Keep your kitchen in clean and tidy, saving-space.
4) HEAT RESISTANT& NON-MELTING: The Silicone Cooking Utensil Sets can withstand temperatures up to 464°F240°C, Even if they are used in the high temperature environment of frying, it will not melt. Anti-scalding prevents heat transfer, so you don't have to worry about scalding the chef's hands. A utility hanging hole on each handle for convenient storage organization with the help of hooks or a wall mount.
5) 100% SATISFACTION GUARENTEED: We believe in our cooking utensil set, made to last with durable, quality materials. We offer a full refund or replacement if you're not 100% satisfied with your purchase. Please freely get in touch with us. We will provide friendly, easy-to-reach support!
2. Product Parameter (Specification) of Cooking Utensil Set
| | | | |
| --- | --- | --- | --- |
| Size | Material | Advantage | Logo |
| 31-32.5cm, set of 13 | Food Grade Silicone & wooden handle | Non-scratch, heat resistant | Laser logo on wooden handle |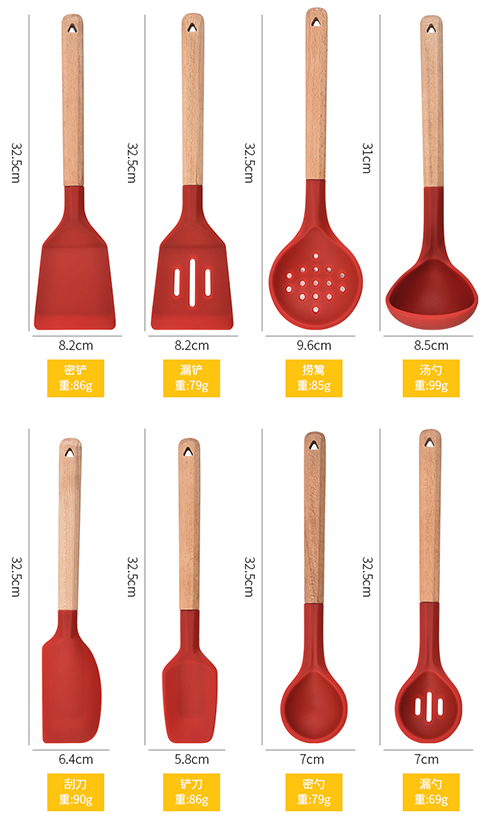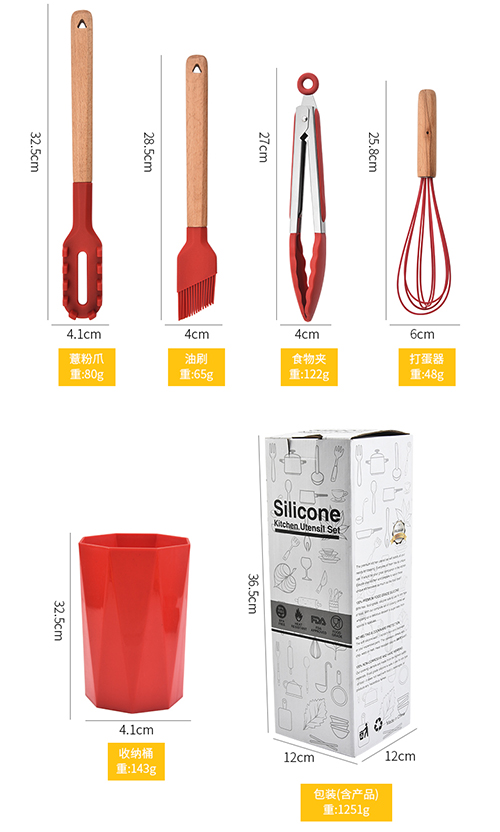 3. Product Feature And Application of Cooking Utensil Set
With our cooking utensil set whipping up a delicious dessert is super easy From spoons to spatula,our complete set of utensils will you have covered from start to serving.
It is specifically designed to help you with all your food preparations, such as whisking, peeling, cutting, stirring, mixing, basting, baking, grilling, frying and serving up that perfect dish.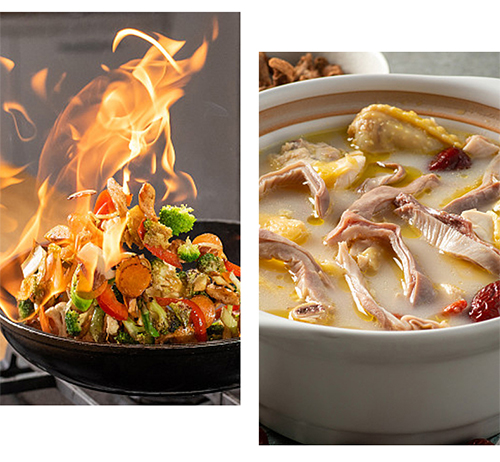 4. Product Details of Cooking Utensil Set
Easy to Clean
The innovative design means no harmful bacteria. Clean them in spray water or in dishwash all are in safe.
Take Whisks BPA Free Design
Premium parts are BPA-free and 100% food-grade. Helps the Utensils hold longer.
Durable and Heat Resistant
The soft silicone protects your other kitchen gadgets from scratches and lasts longer than ordinary plastic kitchen utensils.
Best way Hanging Holes
Keep your go-to utensils within arm's reach by hanging them from a wall-mounted pot rack or another easy-access location. Built-in holes make storage simple.
5. Product Qualification of Cooking Utensil Set
Suan Houseware is a house ware brand that believes in enhancing life through convenience and superior quality. Our products such as this cooking utensil set is designed to enrich your daily life and to last a lifetime and beyond. We specialize in functional & beautiful kitchen accessories for the ultimate cooking and baking experience.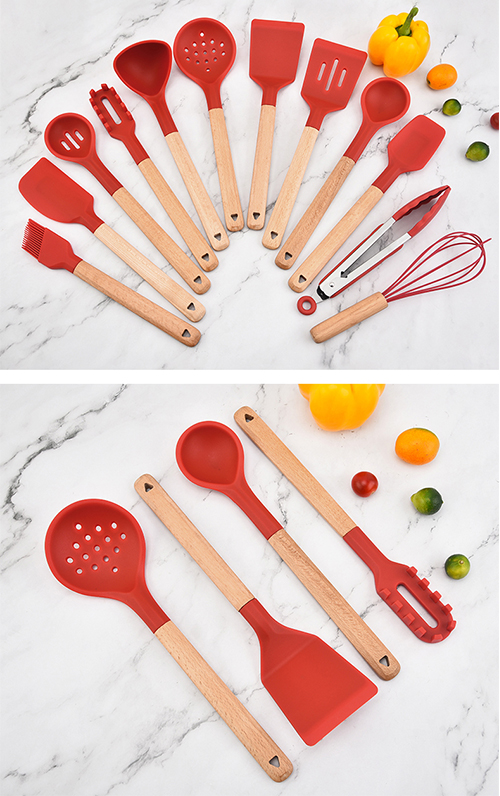 We are committed to excellence in providing beautiful, affordable and innovative products like this cooking utensil set for use in food preparation. We stand behind every product and we will be glad to assist you in choosing the perfect item to meet your personal needs.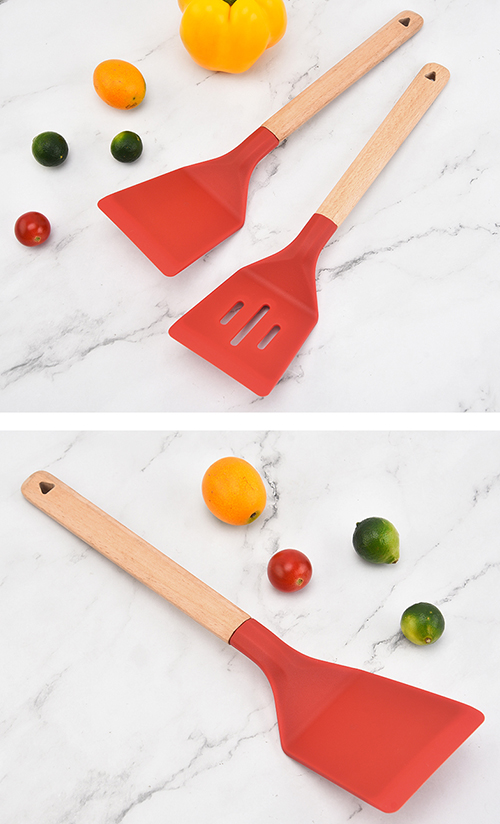 6. Deliver, Shipping And Serving of Cooking Utensil Set
For cooking utensil set, we usually pack it in a standard gift box, also it's acceptable to customize your private gift box, tag, thanks card, flyer.. package style is depending on your marketing channels. Strong master carton give outer protection for these utensils during transportation. For shipping, our forwarder give us very competitive price on sea and air door-to-door, FOB, CIF...Welcome to contact us for a shipping quote.
Our standard gift box: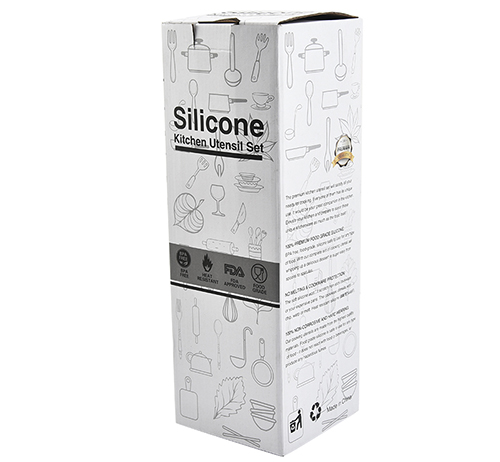 7. The benefits and harms of silicone spatula
Silica gel kitchenware is one of the non-toxic kitchen utensils. Many home kitchens use silica gel kitchenware. Because the safety factor of silica gel kitchen utensils is higher, healthy and harmless. Today's pot belongs to a non-stick pot, non-stick pot will appear coating, if the application of iron stir-fry is very easily causing damage to the pot's body.The silicone spatula is made of food-grade silicone rubber, which will not cause damage to the pot body, which greatly increases the service life of the pot body. Silica gel kitchenware because of its reliability, high and low temperature resistance, is not easy to deformation. The silicone spatula is also easy to clean, and the cleaning method is relatively simple.The silicone products produced by silica gel can be recovered by rinsing with clean water after use, and can also be cleaned in the dishwasher. This provides convenience for our lives, saving time and effort when cleaning. And good silicone rubber is not easy to stick to dirt, qualified silicone spatula is non-toxic colorless tasteless.
Although the silicone spatula has many advantages, there are also many unqualified ones on the market. Poor quality silicone spatula in the use of high temperature, there will be melting phenomenon, resulting in a certain harm to the human body. So when buying silica gel kitchenware, we must choose products with brand and quality assurance.
Cooking Utensil Set suppliers
Cooking Utensil Set manufacturers
Cooking Utensil Set factory