China Basting Brush manufacturers
China Basting Brush suppliers
China Basting Brush factory
Bulk Basting Brush
1. Product Introduction of Basting Brush
1) PROFESSIONAL STEEL SILICONE BASTING BRUSH! Forget cheap wooden pastry brushes with thin bristles that easily fall out, our BBQ Brush is a premium, chef's grade Baking Brush with thick, super heat resistant silicone bristles – perfect for adding glazes & sauces to delicious cooked meats!
2) LOCK IN DELICIOUS FLAVOUR! Get that perfect glaze & delicious BBQ flavour with our larger 1.7in Chef-Size Basting brush heads - perfect for spreading light, thin vinaigrettes, olive oil, & delicious herbed butter, & thick, syrupy BBQ Sauces without collapsing & smearing!
3) 100% ZERO BRISTLE LOSS! This basting brush is designed with extra durable, food grade silicone brushes that won't easily split, curl or shed when basting & brushing, even under super high, 480℉(250℃) heat – perfect for adding delicious Texan BBQ sauces to fresh chargrilled meats during outdoor cookouts!
4) STAINLESS STEEL, UNIBODY DESIGN! Milled from a single piece of premium, 304L stainless steel with a gorgeous brushed metal finish & premium weight, our Basting Brushes are 100% dishwasher safe with removable heads for quick, easy cleaning, that won't harbour bacteria & food debris!
2. Product Parameter (Specification) of Basting Brush
| | | | |
| --- | --- | --- | --- |
| Size | Material | Heat Resistance | Logo |
| 12.7inch /8.5 inch | Food Grade Silicone and stainless steel | 480℉(250℃) heat | Printing logo or laser logo |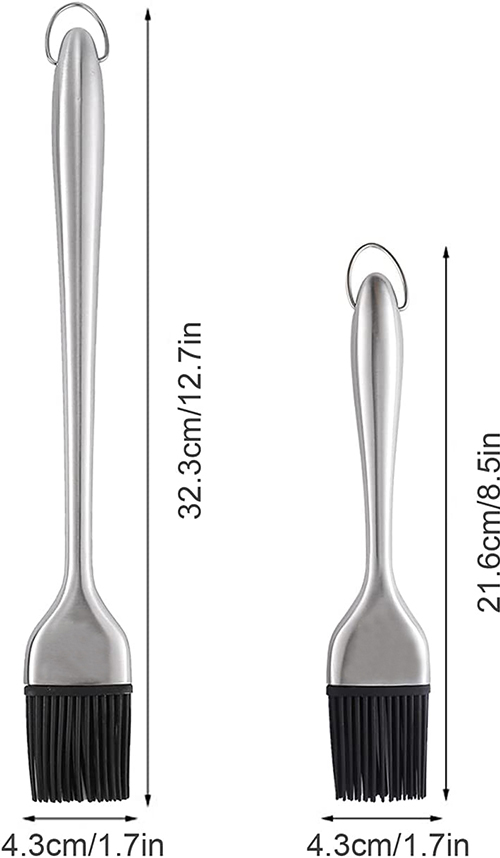 3. Product Feature And Application of Basting Brush
What advantages does our basting brush have?

1) It is easy to use and clean. The lightweight handle provides a soft, comfortable firm grip, making basting easy.
2) No more hair in your food: Our silicone brushes are premium quality and will not melt, warp, discolor. The bristles will not break or shed in your food.
3) Better and more efficient spread: It is designed to mop up and hold generous amounts of liquid better and more efficiently.

4) Multi purposes: Basting brush set can be used to brush melt butter, oil, mustard, sauce in kitchen cooking, baking, barbecue.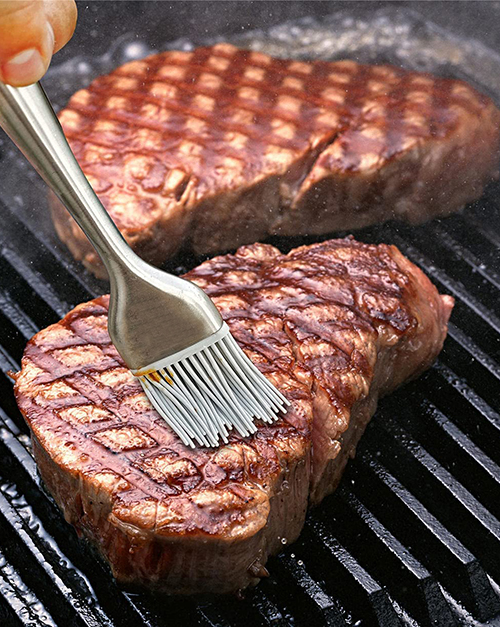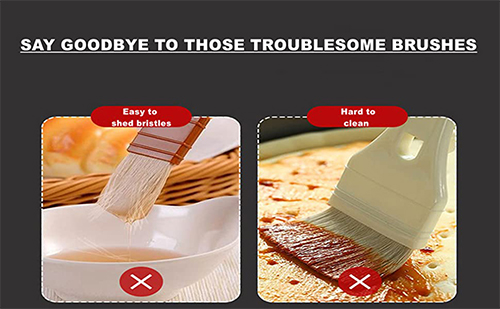 4. Product Details of Basting Brush
Great choice for grilling & BBQ & picnic, enjoy your outdoor party time!
You can get premium quality, upgraded design, safe use, nice package basting brush set from us.
To brush marinades, sauce, vinegar over meat or grilling foods, flip over the shanks and baste.

Great choice for baking, enjoy your hand-made time!
Use our durable long basting brush handle, wide brush head, and soft & thick bristles to spread butter on the dough, egg washes, brush salad or sweet sauce on bread, apply the icing on anisette cookies, etc.
Various sizes or colors are ready for all tasks.

Great choice for home kitchen cooking utensils or restaurant pampered chef food gadgets!
Use the basting brush to oil paint on pans, glaze the Easter ham, brush every kind of condiment you love. Spread liquid nicely and generously where you want it to go.
5. Product Qualification of Basting Brush
Our factory is experienced in manufacturing basting brushes and other kitchen products, houseware products. Suan Houseware factory is a professional BBQ Brush manufacturer. This BBQ Brush is a food grade silicone brush. The head is made of stainless steel. The brush head is made of silicone. It has heat resistance up to 446°F/230°C. The bristles are thick and thin, sturdy, good for brushing oil on food, good for cleaning, no stains, fast drying, no residual odor. It is the first choice for BBQ brushes. We provide high quality products and upgraded designs. Hope you enjoy the barbecue and cooking, have a pleasant barbecue party or family party. Various options for you to make sizes/colors.
Also, OEM, ODM is highly welcome. We provide free 3D samples for your confirmation at first, then open new mold. New Mold time is about 20-25 days.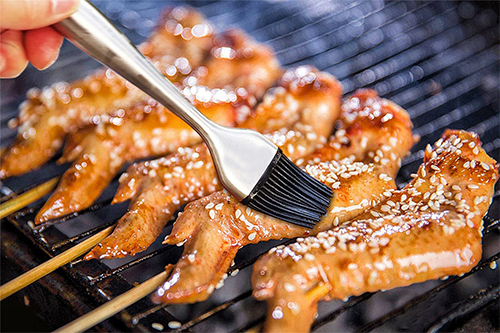 6. Deliver, Shipping And Serving of Basting Brush
For basting brushes, we usually customize your private gift box, insert, thanks card.. or use our standard poly bag, package style depends on your marketing channels. Strong master carton gives outer protection for basting brushes during transportation. For shipping, our forwarder gives us a very competitive price on sea and air door-to-door, FOB, CIF... Welcome to contact us for a shipping quote.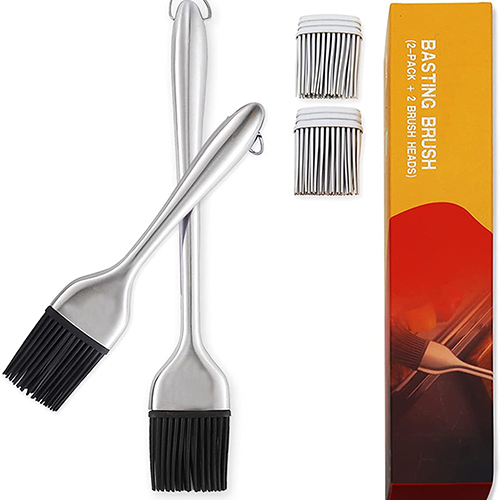 7. What should I do with the baking gadget and the sauce brush?
Whether it's baking or grilling, more and more people are choosing to make their own at home. Homemade food not only has healthier ingredients, but also has no added colors or bad oils, making it easier for the family to eat.
As a necessary tool for barbecue and baking, the sauce brush is made of wool and silica gel. How should we choose?
1). Traditional hairbrush
For example, some food stalls often use a brush when barbecuing. Large brush, brush sauce brush oil efficiency is high; the bristles are thick and slim, and the oil, paint and dip are more uniform and less material is used.
The bristles of oil brushes are usually made of wool. No other brush or paint brush should be used for baking or grilling.
Disadvantages:
1) Because the bristles and handle of the bristles are not formed together, it is easy to lose hair in the process of use, and even stick to food;
2) The wool brush is not resistant to high temperature, which is easy to burn and damage during barbecue;
3) Because the bristles of the brush are slim and clustered together, the oil is very difficult to deal with when cleaning, and it is not easy to clean, and it is easy to mold after a long time.
2). Silicone brush
Because of the problems with the brush, more and more people choose the silicone brush. Silica gel brush is usually made of food-grade silica gel material, which has good toughness, is not easy to break and will not lose hair. Resistant to 220℃high temperature, will not release harmful substances; the bristles are easy to clean and do not retain dirt.
Disadvantages: material reasons, silicone brush bristles not thick and delicate brush.
Basting Brush manufacturers
Basting Brush suppliers
Basting Brush factory