Spice Jar Set suppliers
Spice Jar Set manufacturers
China Spice Jar Set factory
Wholesale Spice Jar Set
1. Product Introduction of Spice Jar Set
1) GREAT VALUE PACK: Our spice jar set includes 24 empty glass spice jars, 24 shaker lids, 24 natural bamboo lids, 547 labels of 3 different types, 1 white chalk pen, and 1 silicone funnel for refilling. Everything you need for organizing your spices, provided in one package - an absolutely great value for your money.
2) HIGH QUALITY GLASS SPICE JARS: This spice jar set feature shatterproof glass and are made from lead-free and BPA-free materials. The lids are made of natural bamboo for healthier ingredients. In addition, the airtight bamboo lids can keep spices fresh and dry.
3) CONVENIENT DESIGN: The shaker lids come in 2 different designs, ones with small holes for powder spices and ones with large holes for grains and herbs. These thick spice jar set are transparent so that you know what's inside and how much is left at a quick glance. Our modern square spice jar set fits any drawer, cabinet, spice rack, cupboard, or organizer.
4) 3 TYPES OF WATERPROOF SPICE LABELS: With 547 spice labels for common spices, this spice jar set includes 480 pre-printed labels in 3 different styles to help you identify different seasonings on similar glass jars and 67 reusable blank labels to fill in or erase with a chalk marker.
5) GOOD GIFTS FOR FAMILY AND FRIENDS: Our spice jar set with labels are not only functional but also decorative. Imagine a kitchen that looks neat and beautiful with all kinds of beautifully packaged spices. Find organization and happiness while cooking meals. These spice jar sets are easy to clean and dishwasher safe while we recommend handwashing the bamboo lids.
2. Product Parameter (Specification) of Spice Jar Set
| | | | |
| --- | --- | --- | --- |
| Size | Material | Style | Capacity |
| 4.1' height and 1.8' opening | high quality food grade borosilicate glass | Clear Jar with bamboo lid | 4 fluid ounce |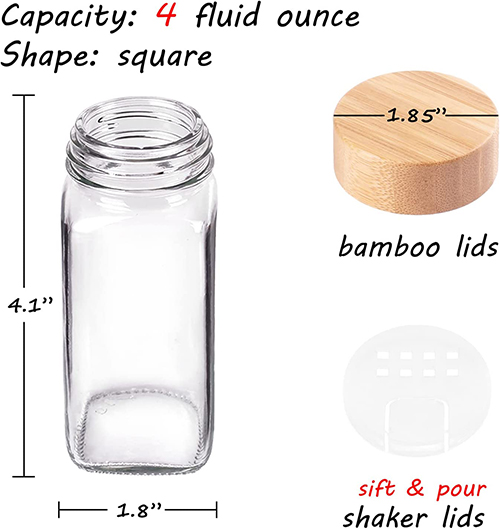 3. Product Feature And Application of Spice Jar Set
In this spice jar set, you will get all goods you need to set up an easy-finding organized spice classification. No longer live with messy kitchen stuff and turn yourself into a tidy, neat and clean lifestyle, our items will help you get into how you like to live in and what you like to like with.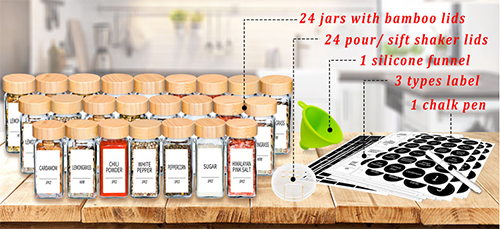 Our spice jar set have all you willing to get for an organized spice assembly. Not just have regular jars for you to line them in an uniform way with same glass jars but also contains three types of chic yet easy-reading labels. You can choose which styles you like to stick on or if you have some exclusive homemade spices, what's surprising, we have prepared blank labels and a white marker for you to write on beside the common spice names in the package.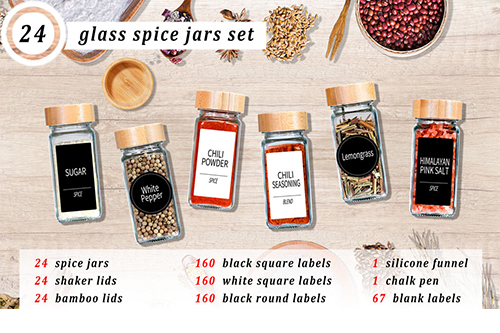 4. Product Details of Spice Jar Set
Quick-find Spice Jar Set
EXTENSIVE LIST- Pre-printed labels with different spices' names on them, very convenient for you to pick out the things you want.
Thick bottle bottom, Lead-Free durable glass
Our 4oz spice jar sets are built for a lifetime, and 100% Dishwasher Safe (lids not). And while we can't vouch for the hardness of your floors, we can say even if you knock a spice jar off the shelf in cooking frenzy, there's a good chance it'll remain.
Multi-functions, good helper in kitchen
Our spice jar set can preserve spice, food, nuts, beans, candy, sugar and so on. Best solution for food preserving. Light weight and portable size can be competent for different life scenes.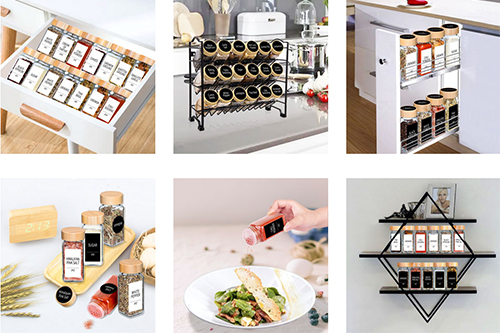 5. Product Qualification of Spice Jar Set
China Suan Houseware factory is a leading China Spice Jar Set supplier, factory, manufacturer that focuses on Spice Jar Set. We focus on producing high-quality products with complete specifications. The quality of our products has passed international certification and the price is affordable. Our factory is experienced on spice jar set and other kitchen and household products, cooperated with worldwide FBA sellers for a long time....Aim at quality products and competitive price, come and see what all the buzz is about!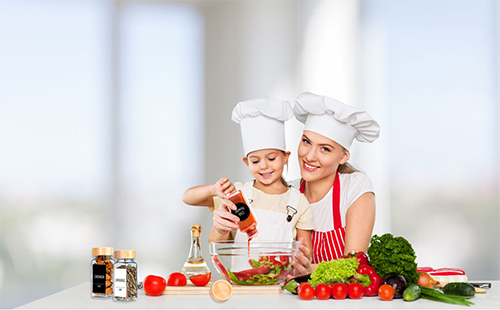 6. Deliver, Shipping And Serving of Spice Jar Set
Our spice jar sets are carefully packed in a safety and strong corrugated box during transportation. If you want other package styles, we also accept to customize it for you. For shipping, our forwarder give us very competitive price on sea and air door-to-door, FOB, CIF...Welcome to contact us for a shipping quote.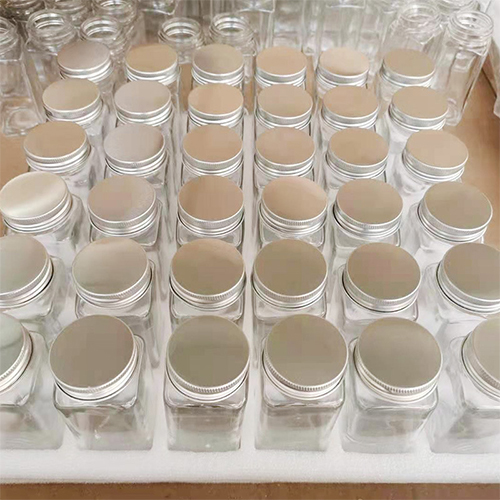 We always love to hear from our fans and users, so never hesitate to message us or call as we are here to answer any questions or concerns you have. Love cooking, love life, that is the Suan way.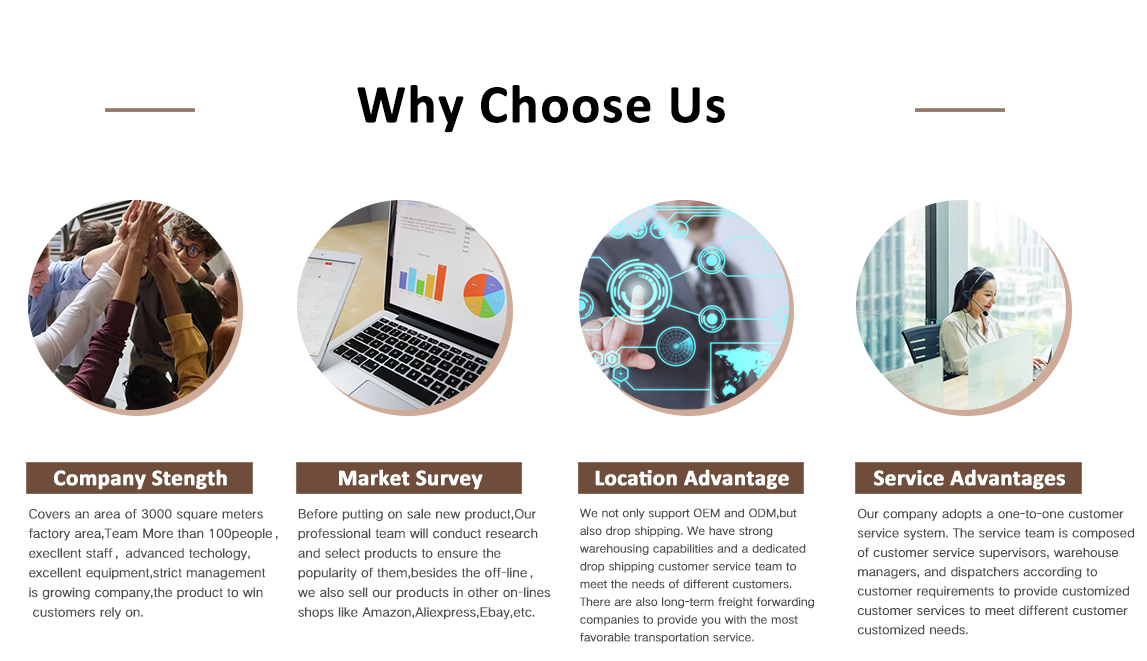 China Spice Jar Set suppliers
China Spice Jar Set manufacturers
Spice Jar Set factory