China Cooking Tongs manufacturers
1. Product Introduction of Cooking Tongs
1) A Strong and Precise Grab: featuring silicone scalloped edges, these cooking tongs can grab nearly anything; from small ingredients like cherries, to large pieces of meats, veggies and more, the cooking tongs are incredibly durable and strong enough for a variety of ingredients.
2) Scratch Resistant Silicone Head: featuring a silicone head, the cooking tongs are gentle on your nonstick cookware so you can worry less about scratching and wear and tear; silicone is heat resistant up to 484 degrees Fahrenheit, making it a great option for nearly any cooking task.
3) Slip Resistant Handle: the cooking tongs feature a slip resistant, silicone grip that helps you get the best grasp on your food; they also include an ergonomic thumb rest to help alleviate pressure on fingers and thumbs for additional comfort.
4) Sturdy Stainless Steel: the cooking tongs are constructed from durable stainless steel; easily grab even heavy items like burgers and meat; perfect for use on pans, stovetops, ovens, and grills; rust resistant and designed for long lasting use; dishwasher safe.
5) Easy Pull Lock: the cooking tongs easily become compact when you pull the easy pull lock up; they fit seamlessly in most drawers and cabinets for easy storage; also include a hook for easy hang.
2. Product Parameter (Specification) of Cooking Tongs
| | | | |
| --- | --- | --- | --- |
| Size | Material | Color | Function |
| 7, 9, 12, 14, 16 inches | 430 stainless steel | Red, Blue, Green, Black | Toaster, barbeque, flipping, serving... |
3. Product Feature And Application of Cooking Tongs
Function
Use these cooking tongs to turn and serve both cold and hot food, while keeping your hands clean and safe from oil splatters and hot surfaces. The two different sizes are suitable for almost any kitchen task: the longer tongs are ideal when you need some extra distance, while the shorter tongs make the perfect hygienic serving tool.
Materials
These cooking tongs are made from food-grade stainless steel that will look brand-new forever, while the handles are cushioned with silicone for comfort and grip. The tips are also made from BPA-free silicone to keep your non-stick cookware safe and scratch-free.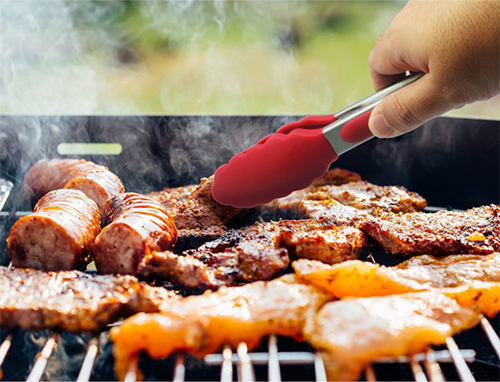 Design
These high-quality cooking tongs are super user friendly, featuring a locking mechanism with a heavy-duty spring, as well as a thumb rest for comfort and added control. The cooking tongs also include a hanging loop for convenient, space-saving storage.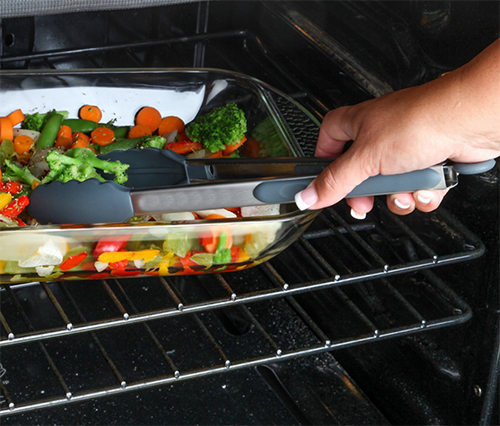 4. Product Details of Cooking Tongs
Sturdy and Made to Last
These cooking tongs are made with extra-thick 1 mm 304 stainless steel for unbeatable strength, durability, and corrosion resistance. They're also light weight and easy maneuverability.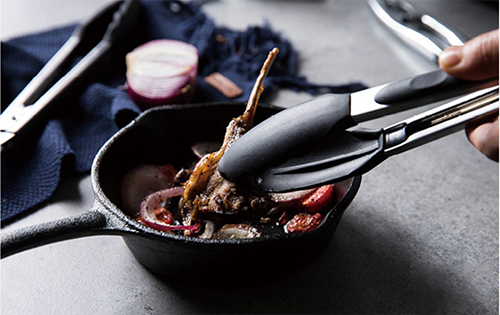 Locking Mechanism
This cooking tongs set is designed with locking mechanism. The locking mechanism is effective and simple to use. Pull the ring to lock the tongs or push to unlock them. You can also hang them by the locking mechanism to cut down on kitchen clutter.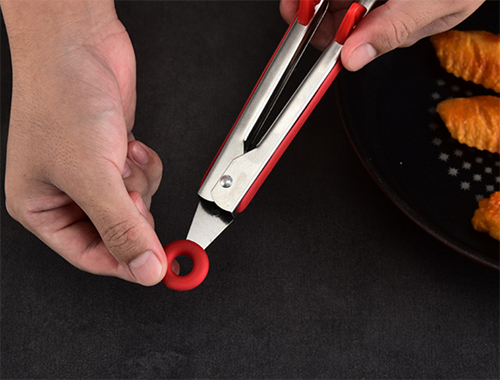 Protect Your Non-Stick Cookware
The silicone tips of these cooking tongs give you great grip and plenty of control. The silicone is BPA-free, heat-resistant to up to 248°C, and soft enough that it won't scratch your non-stick cookware.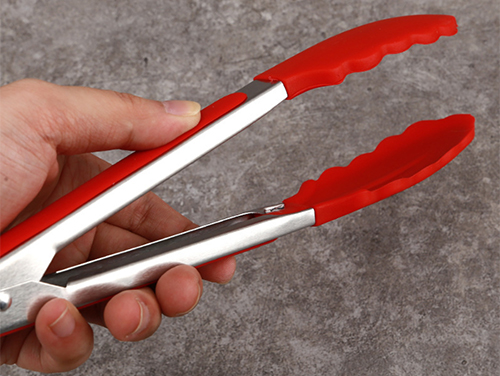 5. Product Qualification of Cooking Tongs
Suan Houseware has been committed to developing and manufacturing safe and healthy silicone cookwares and bakewares. The cooking tongs we produced are made of certificated high-quality stainless steel, which meet the requirement of human health.
At the same time, we keep product upgrading, combine our professional production technology and consumer opinions to make product quality better than international standard quality.
6. Deliver, Shipping And Serving of Cooking Tongs
Our cooking tongs are carefully packed in a color box or customized your private gift box during transportation. For shipping, our forwarder give us very competitive price on sea and air door-to-door, FOB, CIF... Welcome to contact us for a shipping quote.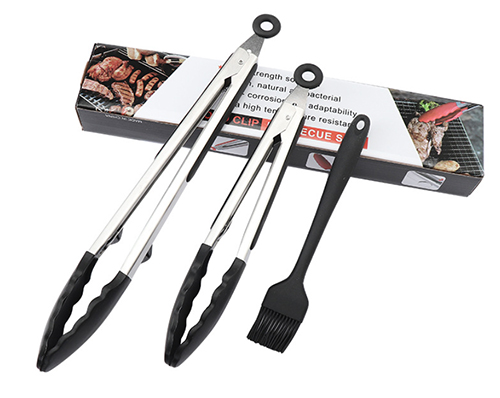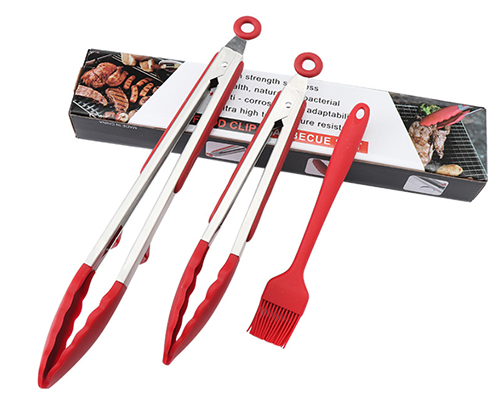 China Cooking Tongs suppliers