1. Product Introduction of Silicone Kitchen Tools
[PREMIUM QUALITY SILICONE KITCHEN TOOLS DESIGNED TO LAST A LIFETIME] Soft food grade silicone head prevents from scratching your cookware such as nonstick pots and pans, no rust long copper stainless steel handle protects your hands from being scalded. No more worries about melting or rusty kitchen utensils! Our kitchen gadgets are polished with a special top-grade oil for longer time using not bend, break or rust.
[UNIQUE DESIGN & FOOD GRADE MATERIAL] Comfortable rose gold stainless steel handle looks more elegant and noble. food grade silicone kitchen tools that are free of toxins and corroding particles. handles and balanced weight make cooking a joy and their large hanging holes help keep your cookware set orderly and organized.​
[NON-STICK HEAT RESISTANT] Light weight and non-stick Silicone kitchen tools can withstand temperatures up to 480°F, they won't melt when directly stir food in your pans. Never worries about melting any more.
[BEST VALUE 24 PCS UTENSIL SET] 24 pcs different silicone kitchen tools to make your cooking much more interesting and easy and meet all your kinds of cooking needs. You need not spend a fortune buying each utensil individually! This set is specifically designed to help you with all your food preparations, such as whisking, peeling, cutting, stirring, mixing, basting, baking, grilling, frying and serving up that perfect dish!
[EASY TO CLEAN] This quality silicone kitchen tools set is easy to wash. The best way to clean these silicone cookware is gently rinsing in warm water. Since this stainless steel handle is colored, in order to keep the color of the product, we do not recommend dishwashers. We are committed to providing each customer with the highest standard of customer service. If you have any problems with the stainless steel utensils set, please feel free to contact our customer service.
2. Product Parameter (Specification) of Silicone Kitchen Tools
| | | | |
| --- | --- | --- | --- |
| Package Dimensions | Material | Feature | Package |
| 14.72 x 5.51 x 5.28 inches | Food grade silicone & stainless steel | Rose Gold Coating on Stainless steel handle | Color Box |
3. Product Feature And Application of Silicone Kitchen Tools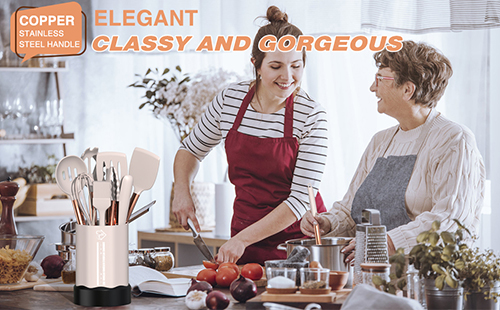 24 durable silicone kitchen tools with holder, high-quality solid stainless steel handles, to meet all your cooking needs, is a good companion for your kitchen. Each of them has its own unique purpose! We are passionate about bringing the best and latest kitchen tools! We started to use the highest quality food-grade materials to make a full range of kitchen utensils, high-quality soft silicone heads, all-round silicone to increase softness. Silicone heads protect your pot and prevent the surface of the cookware from being scratched or dented.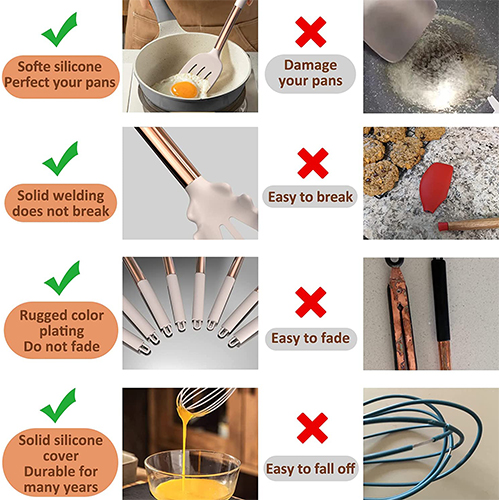 4. Product Details of Silicone Kitchen Tools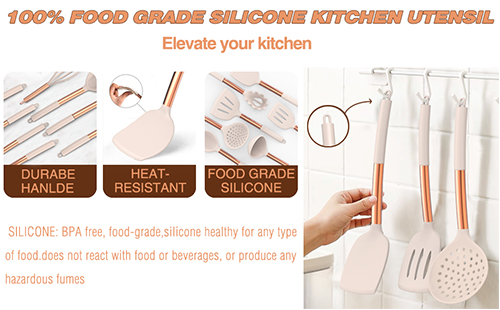 In-depth design: convenient for daily use, making your cooking more convenient and simple. The comfortable wooden handle design will not bend, break or rust. The comfortable handle provides you with a wonderful cooking experience!
Heat-resistant silicone: Silicone cookware can withstand high temperatures up to 446°F/230°C. No longer have to worry about food sticking to your cookware, high-quality food-grade silicone. This kind of silicone cookware will not react with food or drinks. You don't have to worry about the health of your family.
When using it to stir food, there will be no peculiar smell, no breakage, and no bending.
The one-piece stainless steel core enhances durability and toughness and prevents the scraper from bending or deforming! A set of 24 pieces of silicone kitchen tools with holder will meet all your needs!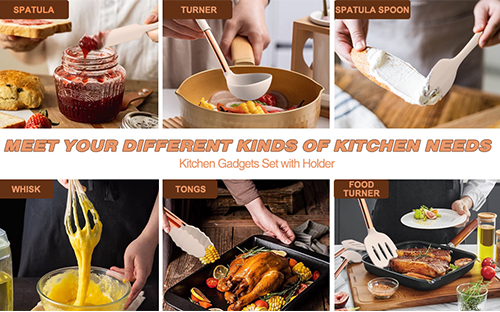 5. Product Qualification of Silicone Kitchen Tools
Suan Houseware is a houseware brand that believes in enhancing life through convenience and superior quality. Our products such as these silicone kitchen tools are designed to enrich your daily life and to last a lifetime and beyond. We specialize in functional & beautiful kitchen accessories for the ultimate cooking and baking experience.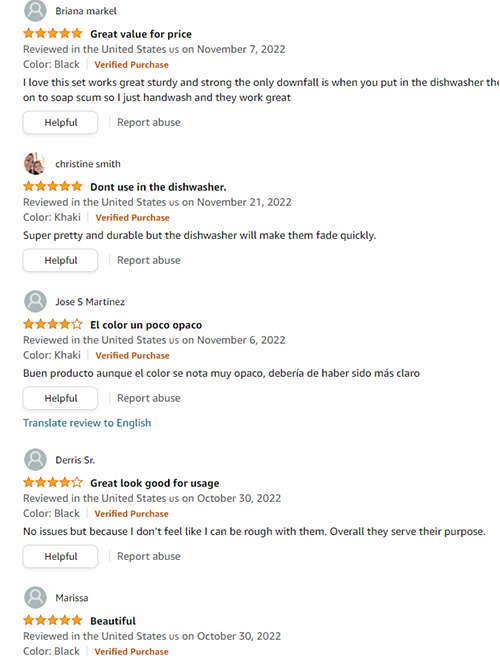 6. Deliver, Shipping And Serving of Silicone Kitchen Tools
For silicone kitchen tools, we usually pack gift boxes, tags, thanks cards, flyers.. or use our standard poly bag, package style depends on your marketing channels. Strong master carton gives outer protection for these utensils during transportation.
For shipping, our forwarder gives us a very competitive price on sea and air door-to-door, FOB, CIF... Welcome to contact us for a shipping quote.