China Kitchen Utensil Set manufacturers
China Kitchen Utensil Set suppliers
China Kitchen Utensil Set factory
1. Product Introduction of Kitchen Utensil Set
1) KITCHEN UTENSIL SET-It's made of easy to clean, dishwasher safe silicone and sturdy stainless steel that won't rust or corrode. BPA-free.also would you please note it the egg whisk is random .black egg whisk or grey one ,same as the second picture.
2) ULTRA NON-SCRATCH PROTECTION – All kitchen utensil set here have premium quality heat-resilient silicone heads, designed to protect the non-stick surface of your precious cookware. This will keep your pans & pots safe from scratching. Stress-free cooking!
3) HANDY, STURDY, LIGHTWEIGHT – We've got the right combination of superior materials (silicone and stainless steel) made to enhance your cooking experience. Firm handles, ergonomic design. All this kitchen utensil set is easy to use, store & clean. FUN upgraded Cooking.
4) EXCELLENT VALUE FOR MONEY – For both newbies or professional chefs, this 13-pack kitchen utensil set is a real deal. Speed up your culinary skills with 1 affordable set - best gift idea for graduation, housewarming, weddings, Christmas, or birthdays.
5) EASY TO CLEAN & STORE-Our heat resistant kitchen utensil sets are fast, simple and easy to clean. Simply toss these in the dishwasher to wash off any grease or oil in seconds and feature small holes on the handles to let you hang these to store them without taking much space.
2. Product Parameter (Specification) of Kitchen Utensil Set
| | | | |
| --- | --- | --- | --- |
| Set Composition | Material | Advantage | Logo |
| 13 pieces utensils | Food Grade silicone and stainless steel | Durable, heat resistant, non-scratch | Laser or printing logo on handle |
3. Product Feature And Application of Kitchen Utensil Set
Everything You Need For Successful Cooking!
Our kitchen utensil set is designed with the chef in mind! Featuring 13 pieces of high quality kitchen utensils, this set has everything you need. Made from stainless steel and silicone material these utensils are heat resistant up to 350 F/180℃. Safe to use on non stick surfaces, dishwasher safe and rust free.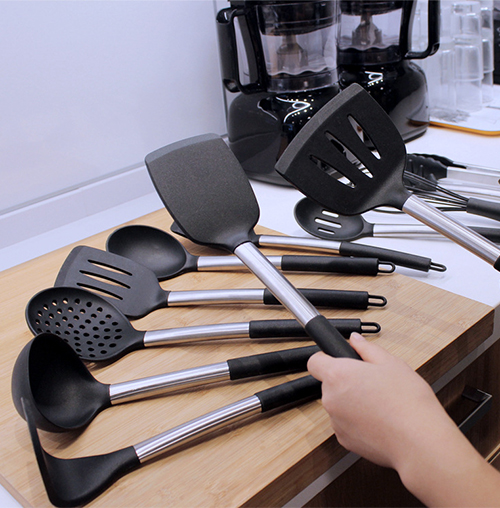 4. Product Details of Kitchen Utensil Set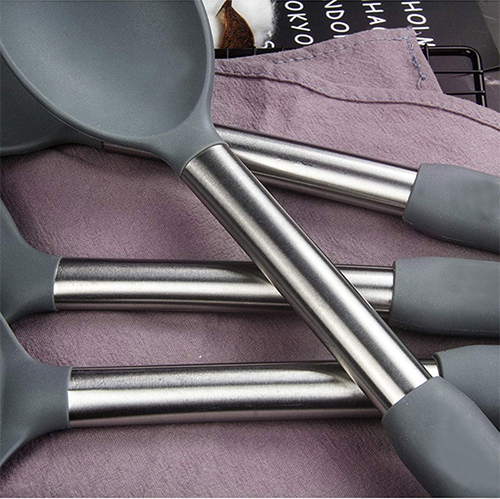 Heat Resistant and Easy to Clean
Our high-quality kitchen utensil sets are polished with a special oil to prevent it from getting rusty. They are dishwasher safe, light weight and non-stick. Heat resistant is up to 446 F/230℃.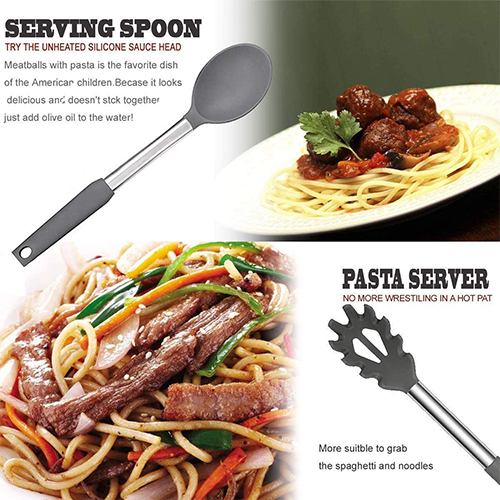 Great Silicone Heads for Multi-functions
Our 13 piece high quality kitchen utensil set has everything you need included. It is specifically designed to help you with all your food preparations, such as whisking, peeling, cutting, stirring, mixing, basting, baking, grilling, frying and serving up that perfect dish.
Enjoy the time with our kitchen utensil set!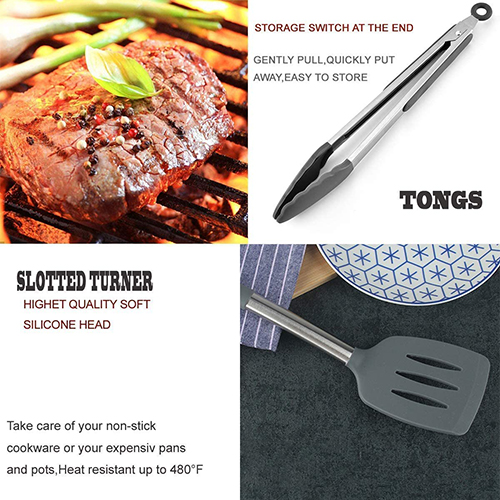 5. Product Qualification of Kitchen Utensil Set
Suan Houseware is a house ware brand that believes in enhancing life through convenience and superior quality. Our kitchen utensil sets are designed to enrich your daily life and to last a lifetime and beyond. We specialize in functional & beautiful kitchen accessories for the ultimate cooking and baking experience.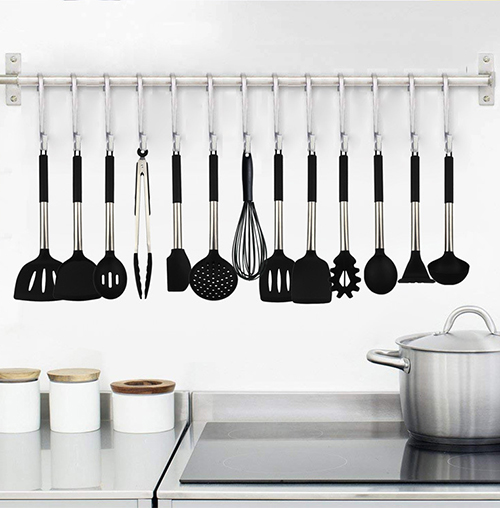 6. Deliver, Shipping And Serving of Kitchen Utensil Set
This kitchen utensil set comes ready to gift in a beautiful box, no wrapping paper necessary!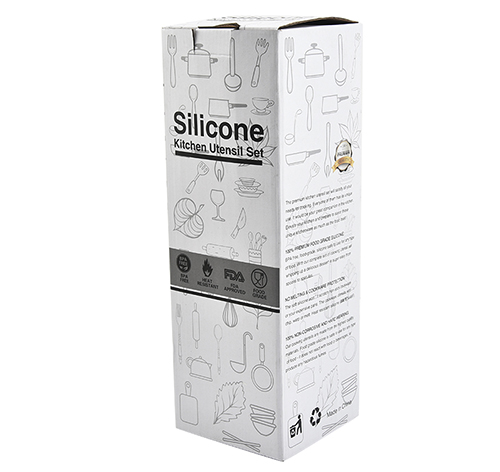 We never compromise on safety! If we sell it, we've also used it right in our kitchen! And were constantly critiquing and upgrading our products, using our experience and by listening to our customers feedback.
Kitchen Utensil Set manufacturers
Kitchen Utensil Set suppliers
Kitchen Utensil Set factory