1. Product Introduction of Kitchen Spatulas
1) MORE SAFE AND HEALTHY: Our silicone kitchen spatula is made of food-grade silicone, free of BPA. Even at high temperatures of 446℉ (230℃), there is no need to worry about melting or deforming. At the same time, the soft silicone won't scratch the coating, which can better protect your pot.
2) THE MOST THOUGHTFUL DESIGN: The high-quality 18/8 stainless steel is more durable and keeps you away from the trouble of kitchen utensils rusting or breaking. The anti-scald kitchen spatula silicone handle is not easy to conduct heat and is more comfortable to hold than traditional utensils. While you enjoy a happy cooking time, you can better protect your hands from being scalded.
3) EASY TO CLEAN: After each use, just wipe with hot water or put this kitchen spatula in the dishwasher. You can easily clean and remove excess fat and food. The design of the round hanging hole makes it easier to dry.
4) JUST WANT TO PROVIDE THE BEST FOY YOU: The modern color kitchen spatula can be freely matched with different kitchen styles. The soft food-grade silicone is designed for noise-free cooking. thin and flexible edge is ideal for flipping.
5) OUR SERVICE: No one is born to be a good cook, but good kitchenware often gets twice the result with half the effort. We have been committed to providing customers with the highest quality kitchen spatulas. If you have any questions about our products, please don't hesitate to contact us. We will be very happy to serve you!
2. Product Parameter (Specification) of Kitchen Spatulas
Size

Material

Advantage

Heat Resistance

Length 13.7inch

Width 3.2 inch

Silicone & 18/8 Stainless steel

Nonstick, cookware friendly, safe material

Temperatures up to 446°F
3. Product Feature And Application of Kitchen Spatulas
Perfect flexible kitchen spatula for flipping, lifting, turning and serving pancakes. fried eggs, fried foods, burgers, fish. Healthy and sturdy. Ideal for whipping up a variety of dishes.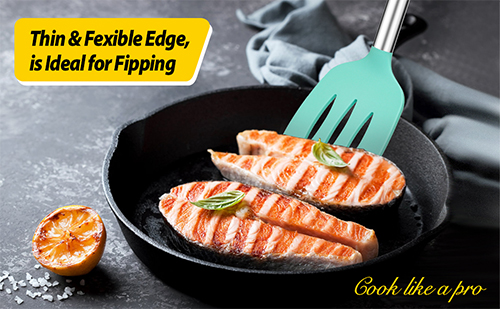 4. Product Details of Kitchen Spatulas
High-Heat, no Melting
High quality silicone, heat-resistant up 500Fflexible silicone kitchen spatula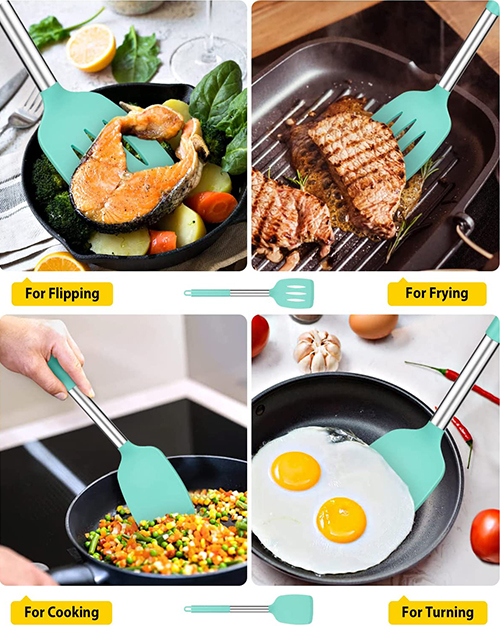 Multipurpose kitchen spatula
Non-stick silicone coating allows you to stir, mix, grill, flip, and fry directly in your pots or pans without fearing damage to your cookware. Used for cooking, baking, stirring, cutting.
Made for Non-Stick Cookware
This kitchen spatula combines the strength of stainless steel with the heat resistance of silicone, flexible edges easily scrape food from pots and pans.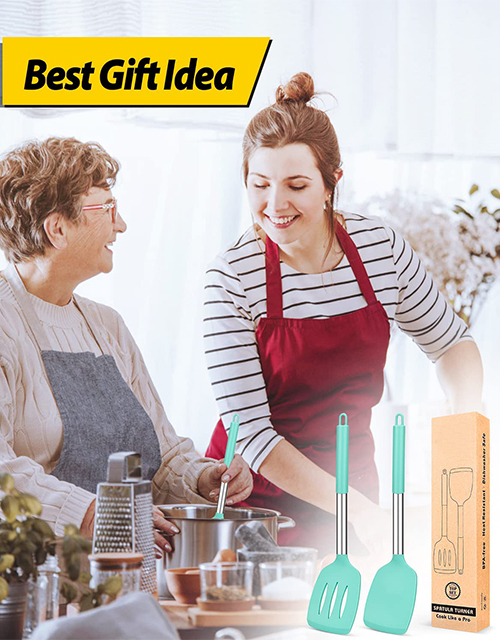 5. Product Qualification of Kitchen Spatulas
Our silicone kitchen spatula is designed to enrich your daily life and to last a lifetime and beyond. We specialize in functional & beautiful kitchen accessories for the ultimate cooking and baking experience.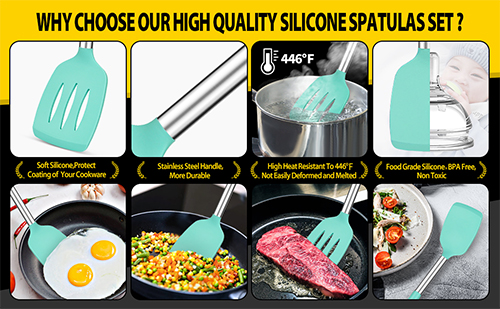 Great Kitchen Gift
It is a great choice for sending mom, women, and chefs for housewarming, birthdays, Christmas and more special occasions as our kitchen spatula will be useful in every kitchen.
6. Deliver, Shipping And Serving of Kitchen Spatulas
For this kitchen spatula, we usually pack a gift box, tag, thanks card, flyer.. or use our standard poly bag, package style depends on your marketing channels. Strong master carton gives outer protection for these utensils during transportation.