China BBQ Brush manufacturers
China BBQ Brush factory
China BBQ Brush suppliers
1. Product Introduction of BBQ Brush
1) Top Quality Silicone and Heat Resistance: Made of premium food grade silicone. High performance silicone BBQ brushes are heat proof up to 446℉/230℃. The pastry brushes bristles will never melt, warp, discolor, or shrink like regular plastic or wooden brushes. And the silicone flexible bristles and comfortable hold handle are great for any use.
2) Effective Brushes for Cooking, Grilling and Baking: The bristles of the BBQ brush are thick and strong enough to pick up and hold a good amount of liquid, saving trouble and bringing efficiency. The high tensile strength together with the flexible soft bristles spread liquid evenly, enabling you to baste smoothly. Brush your brisket with sauce? Apply yeast rolls with butter or coconut oil? Yes, our silicone baking brushes are ready to all.
3) Upgraded One-piece Design: The BBQ brushes your head will never fall apart from the handle or get loosen when you brush and clean them. It is bacteria safe and stain free. And you'll never find bristles in your food. The handle built with internal steel core results in a solid durability to our basting oil brush. It is also long enough to get a firm grip, never break and rust. With our pastries brush set, you can enjoy all the grilling or baking work.
4) Dishwasher Safe: Being ergonomically designed, our eco BBQ brushes are solid and dishwasher safe. Water will never get inside even if you put the brushes upside down in the dishwasher. They also dry fast and have no odor nor residue left after cleaning. The barbecue brushes could be lasting basting, pastry and multi kitchen aid if you could properly care about them.
5) Intended Uses and Satisfaction Guaranteed: Color difference to the BBQ brushes offer you a choice of the foods they apply, avoiding cross-contamination. Yellow for butter, red for pizza sauce and green for basting veggies? Varying sizes are ready for different tasks. Please rest assured that we will work out a perfect solution for you when you are not satisfied with them. So why wait? Just act to get one set of bbq brushes now!
2. Product Parameter (Specification) of BBQ Brush
| | | | |
| --- | --- | --- | --- |
| Size | Material | Weight | Heat Resistance |
| 21*3.5cm | Food Grade Silicone | 35g/pc | 446℉/230℃ |
3. Product Feature And Application of BBQ Brush
Perfect Basting and BBQ Brushes Set
Convenient Indoor or Outdoor Brushes
Easy to be stored with a hole designed to the handle.
The handle does not separate from the brush head.
Various sizes and colors satisfy all tasks.
Multi-functional in indoor baking and outdoor grilling.
Great gifts for mother or wife, perfect presents for friends.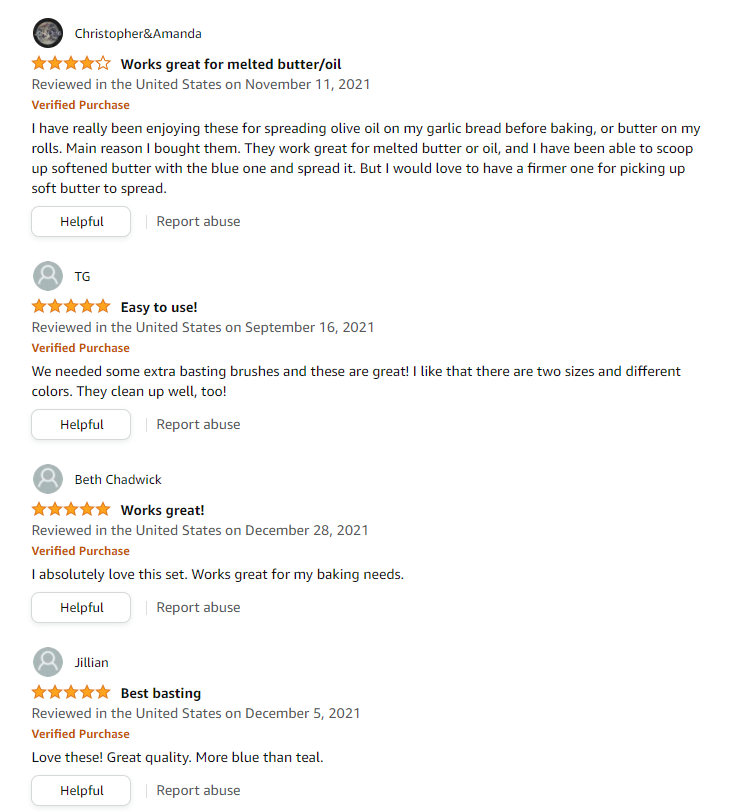 3. Product Details of BBQ Brush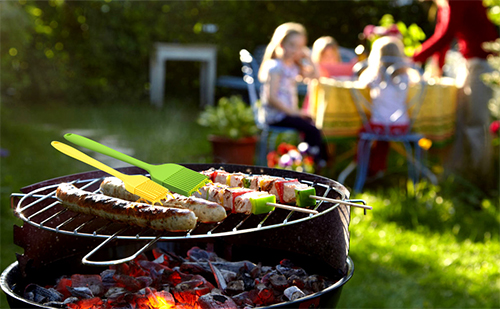 Great choice for grilling & BBQ & picnic, enjoy your outdoor party time!
You can get premium quality, upgraded design, safe use, nice package BBQ brush set from us.
To brush marinades, sauce, vinegar over meat or grilling foods, flip over the shanks and baste.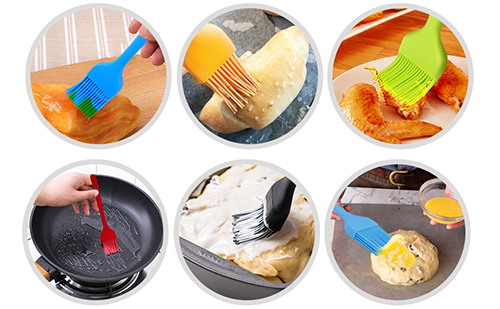 Great choice for baking, enjoy your hand-made time!
Use our durable long BBQ brush handle, wide brush head, and soft & thick bristles to spread butter on the dough, egg washes, brush salad or sweet sauce on bread, apply the icing on anisette cookies, etc.
Various sizes or colors are ready for all tasks.

Great choice for home kitchen cooking utensils or restaurant pampered chef food gadgets!
Use the BBQ brush to oil paint on pans, glaze the Easter ham,brush every kind of condiment you love.
Spread liquid nicely and generously where you want it to go.
4. Product Qualification of BBQ Brush
Our factory is experienced in manufacturing BBQ brushes and other kitchen products, houseware products. Suan Houseware factory is a professional BBQ Brush manufacturer. This BBQ Brush is made of high-quality silicone brush head. It has heat resistance up to 446°F/230°C. The bristles are thick and strong, which is good for brushing oil on food, which is good for cleaning, leaves no stains, dries fast and leaves no residual odor. It is the first choice for BBQ brushes. We provide high quality products and upgraded designs. Hope you enjoy the barbecue and cooking, have a pleasant barbecue party or family party. Various options for you to make sizes/colors.
Also, OEM, ODM is highly welcome. We provide free 3D samples for your confirmation at first, then open new mold. New Mold time is about 20-25 days.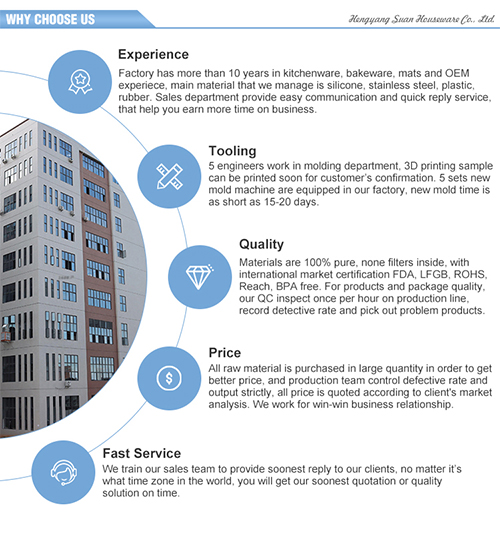 5. Deliver, Shipping And Serving of BBQ Brush
For BBQ brushes, we usually customize your private gift box, insert, thanks card.. or use our standard poly bag, package style depends on your marketing channels. Strong master carton gives outer protection for BBQ brushes during transportation. For shipping, our forwarder gives us a very competitive price on sea and air door-to-door, FOB, CIF... Welcome to contact us for a shipping quote.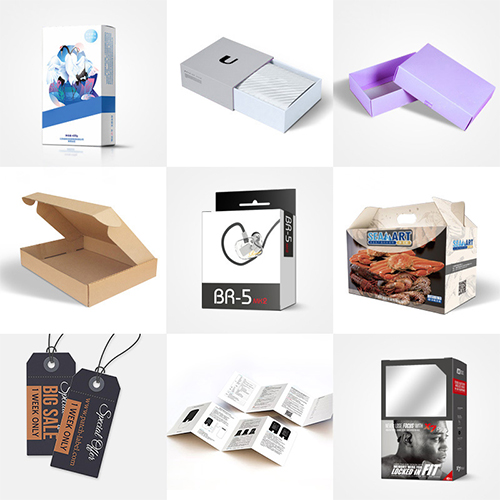 BBQ Brush manufacturers
BBQ Brush factory
BBQ Brush suppliers