China Spice Jar suppliers
China Spice Jar manufacturers
China Spice Jar factory
1. Product Introduction of Spice Jar
1) ELEGANT DESIGN SPICE JARS: Compared with other round small tags, this one is more eye-catching with simple but striking black & white design, which can better achieve the reminder effect brought by the label. American chic retro design can increase the sense of home aesthetic, decorate the kitchen and improve your aesthetic pleasure.
2) COMPLETE SPICE JARS SET: 24 Square Empty Spice Jars, 24 Shaker Lids, 24 Metal Caps and Waterproof Spice Jar Labels ( Contains most names of your spices that you can image in your kitchen and blank labels for DIY), a collapsible silicone funnel to help transfer spices, simplifying the refilling task!
3) DURABLE MATERIALS: Our Spice Jars are made from high-quality Lead-Free durable glass. Clear glass let you have a clear look of spices, each square glass spice jar measures approximately 4 1/8" x 1 3/4" with a 1 1/4" opening. The modern design square shape and tops fit any spice rack, cabinet, organizer, drawers, or kitchen. Waterproof reusable stickers also allow us to take them off easily without leaving a trace.
4) VARIOUS USES: Use our square spice jars for organizing drawers, seasoning, storing spices, salt, pepper, herbs, DIY projects, and more! These mini jars have a variety of uses such as party favors, craft or office supplies, decorative projects or homemade goodies.
5) RISK FREE PURCHASE: If you purchase our spice jars with labels for your kitchen, the product you get is going to stand in the whole life of your kitchen. If you have any issue with our products, please don't hesitate to contact us, we will try our best to find a satisfactory solution for you within 24 hours.
2. Product Parameter (Specification) of Spice Jar
| | | | |
| --- | --- | --- | --- |
| Size | Material | Style | Capacity |
| 14 1/8" x 1 3/4" with a 1 1/4" opening | Lead-Free durable glass | Clear Square Jar | 4 Fluid Ounces |
3. Product Feature And Application of Spice Jar
24 Pcs Glass Spice Jars with White Printed Spice Labels
4oz Empty Square Spice Bottles
Shaker Lids and Airtight Metal Caps
Silicone Collapsible Funnel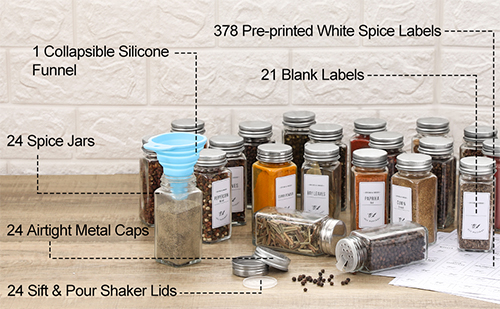 4. Product Details of Spice Jar

Quick-find Spice Jar Labels
EXTENSIVE LIST- 378 Pre-printed labels with different spices' names on them and 21 blank labels for DIY.
Collapsible Silicone Funnel
Specially designed food grade silicone funnel with large opening for fast pouring of powdered, leafy and whole spices, foldable feature that makes it very small and easy to store in the spice jar.
Patented Shaker Lids
Our Spice jar has exclusive sift and pour shaker lids, accurate spice or herb for pouring. Better for your wallet and your health!

5. Product Qualification of Spice Jar
Our factory is experienced on spice jars and other kitchen and household products, cooperated with worldwide FBA sellers for a long time....Aim at quality products and competitive price, come and see what all the buzz is about!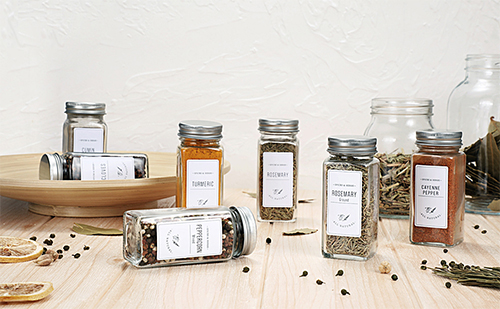 6. Deliver, Shipping And Serving of Spice Jar
China Suan Houseware factory is the leading China Spice Jar factory, manufacturer. Stand out among competitors, keep innovating, and meet customer needs for processing services. Welcome your consultation. Our Spice Jars are carefully packed in a safety and strong corrugated box during transportation. If you want other package styles, we also accept to customize it for you. For shipping, our forwarder give us very competitive price on sea and air door-to-door, FOB, CIF...Welcome to contact us for a shipping quote.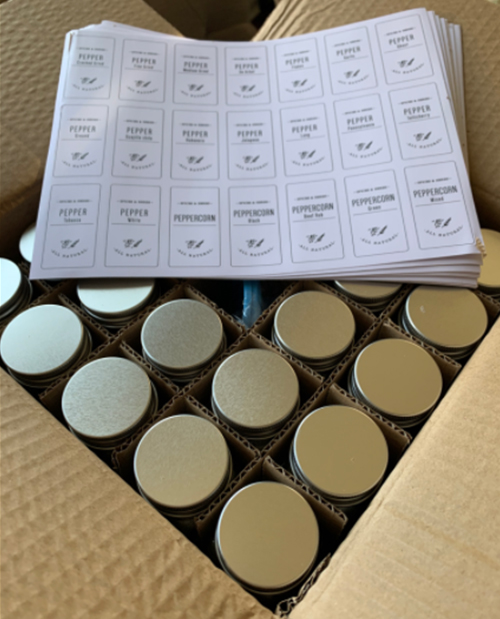 We always love to hear from our fans and users, so never hesitate to message us or call as we are here to answer any questions or concerns you have. Love cooking, love life, that is the Suan way.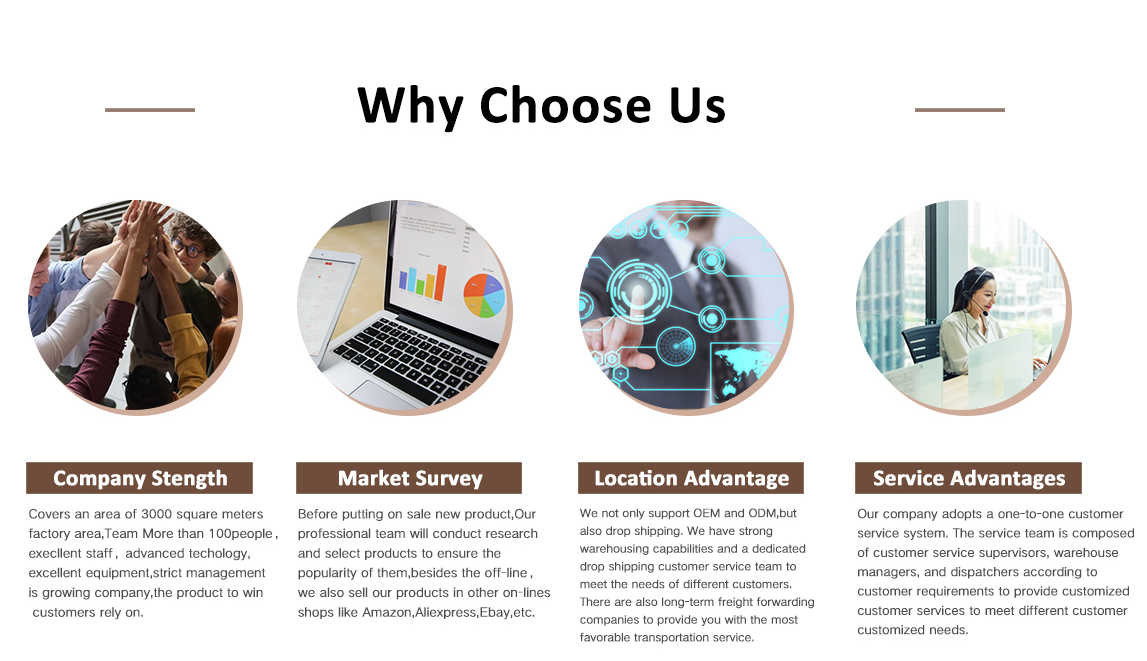 Spice Jar suppliers
Spice Jar manufacturers
Spice Jar factory