Small spice jars with labels
spice jars with labels
Small spice jars
1. Product Introduction of Small spice jars with labels
Spice Art! Dress up your drawers, shelves and cabinets with Suan Glass Spice Jars and their classic, clean labels that will look great on your eyes! It's a great addition to your kitchen stock before you start cooking! 14 glass jars, bamboo lids and 126 jar labels
Mini glass jars with a lot of strength! This small spice jar holds 4 oz ml plus space for the lid. Made from 2.4mm thick borosilicate glass, these spice jars are dishwasher safe, a sturdier spice container for easy handling, and look more expensive when on display.
AIR AIR GLASS JARS FOR SPICES: No more weird stale herbs! Because when you store your dried herbs and spices in these airtight airtight glass storage containers, the aroma is locked inside and oxygen and dust can't get in! For best performance, hand wash cover only.
Not just for storage - Eco-friendly and reusable storage for spices and herbs, coffee, tea, honey, sauces, syrups, condiments, butter, nuts, candies, snacks. Ideal for decorations and crafts, use the small spice jars with labels to make unique creations and gifts.
LABELS WITH THE PERFECT SIZE: Your set includes 126 food container labels pre-printed and they are cut to fit each spice jar without being overpowering! Your spice jar labels also include 28 blank labels and 40 expiration labels to personalize your small glass jars or any glass food storage container!
Need a different shape or size? Suan can customize different sizes for you to meet your needs for different sizes.
2. Product Parameter (Specification) of Small spice jars with labels
| | | | |
| --- | --- | --- | --- |
| Size | Material | Style | Capacity |
| 3.3" x 2 1/7" with a 1 1/2" opening | Lead-Free durable glass | Clear Round Jar | 4 oz |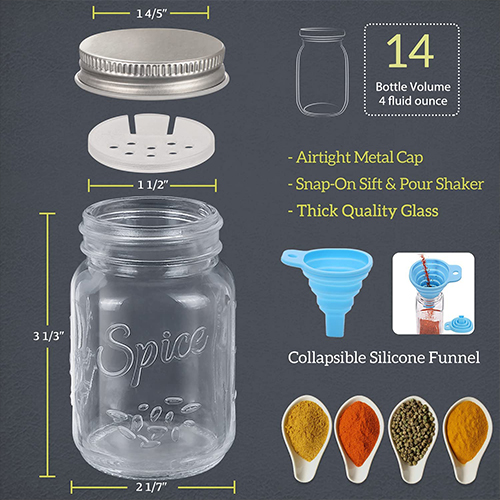 3. Feature And Application of Small spice jars with labels
14 Pcs Glass Mason Small spice jars with labels with Spice Labels
4oz Empty Spice Bottles
Shaker Lids and Airtight Metal Caps
Chalk Marker and Collapsible Funnel Included
For Herbs & Spices, Jelly, DIY & Crafts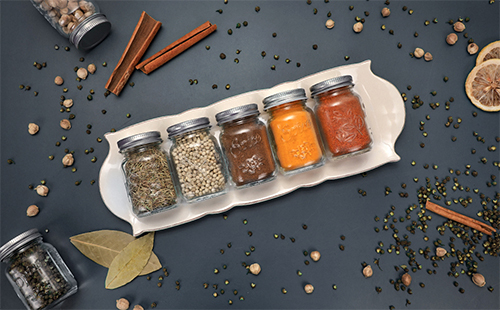 4. Product Details of Small spice jars with labels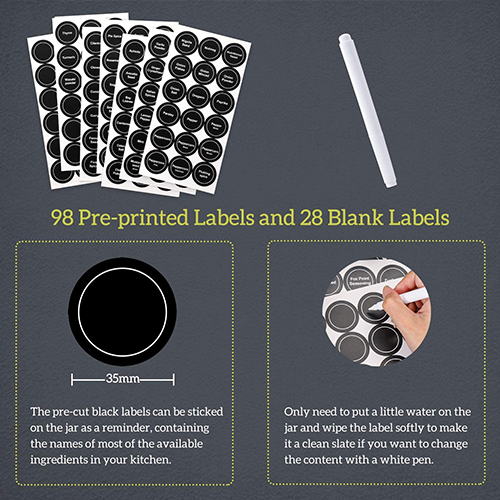 Collapsible Silicone Funnel
Specially designed food grade silicone funnel with large opening for fast pouring of powdered, leafy and whole spices, a foldable feature that makes it very small and easy to store in the little spice jar.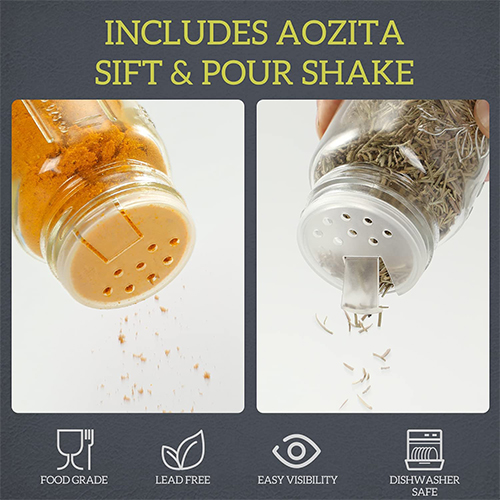 Patented Shaker Lids
Our little spice jar has exclusive sift and pour shaker lids, accurate spice or herb for pouring. Better for your wallet and your health!
5. Product Qualification of Small spice jars with labels
Our factory has experienced Small spice jars with labels and other kitchen and household products, cooperated with worldwide FBA sellers for a long time. If you purchase our spice jars for your kitchen, then you will be confident that the product you get is going to stand in the whole life of your kitchen. If you're not completely satisfied with your purchase, simply let us know and we will try our best to find a satisfactory solution for you within 24 hours. The Spice Jar Set industry is one of the oldest and most popular in the world. Spice Jar Set has been used for centuries as a way to attract people to someone or something. Today, there are many different types of Spice Jar Set and millions of people use them every day.
6. Deliver, Shipping And Serving of Small spice jars with labels
Our Small Spice Jars are carefully packed in a safe and strong corrugated box during transportation. If you want other package styles, we also accept customizing them for you. For shipping, our forwarder gives us a very competitive price on sea and air door-to-door, FOB, CIF...​ Welcome to contact us for a shipping quote.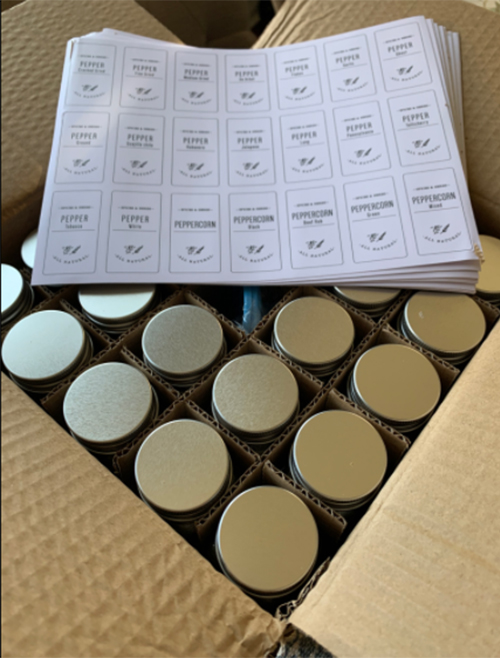 Small spice jars with labels manufactures
spice jars