China Travel Mugs manufacturers
China Travel Mugs suppliers
China Travel Mugs factory
Travel Mugs In Stock
1. Product Introduction of Travel Mugs
1) High-end health and environmental protection new materials, travel mugs are made of 100% Food Grade Silicone. The collapsible travel cup made of food grades silicone. Safe and Reliable: leak-proof travel Mug, BPA-Free, no glue no small, non-stick and keep your health and recyclable.
2) Latest fashion collapsible design travel mugs. Large capacity 600ml + straw + leak-proof design. Updated collapsible design, saving space, only 0.65 inches when folded, very suitable for your pockets, wallets, bike, backpacks, suitcases, does not take up space, very suitable for travel, camping, outdoor hiking, and Various sports activities.
3) Compression and fall resistance travel mugs. Heat insulation ring to prevent scalding; Carabiner, convenient for outdoor sports; cup lid to prevent water leakage; Good sealing, no need to worry about water leakage when inverted.
4) A Must-have for Travel and Outdoor. Convenient and portable as this collapsible travel mug can be, you can put in a backpack or even a pocket, which will bring great convenience to your travel.
5) Silicone travel mugs Can be installed with water from -58F~ 392F, no fear of high temperature, safe and environmentally friendly. Silicone drinking cup.
2. Product Parameter (Specification) of Travel Mugs
| | | | |
| --- | --- | --- | --- |
| Capacity | Material | Easy to Wash | Temperature Range |
| 600ml | Silicone and PP | Hand washing or Dishwasher Safe | -58℉ to 392℉(-50℃ to 200℃) |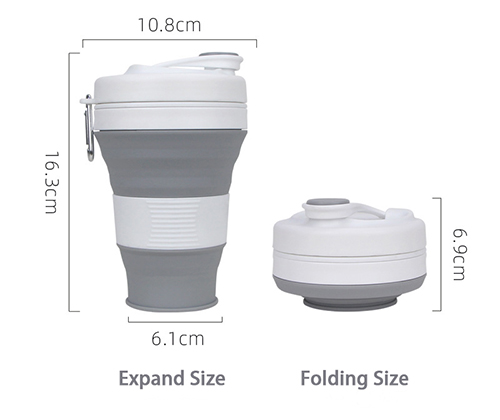 3. Product Feature And Application of Travel Mugs
The travel mugs are made of BPA free silicone, they are FOLDABLE to save space, REUSABLE to save environment, ELASTIC silicone features not fragile like glass cups.
More importantly, using your own clean cup instead of those exposed in the public is the key to stay in fitness.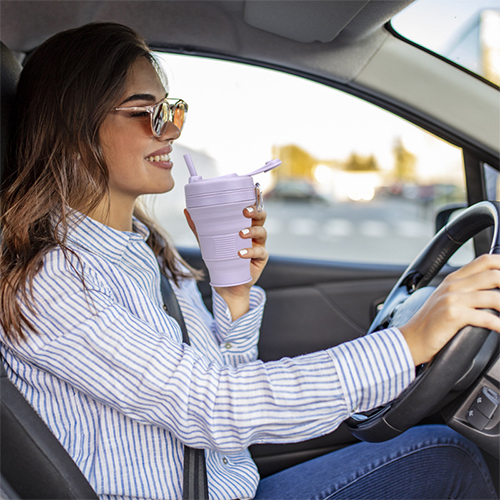 4. Product Details of Travel Mugs
FAST-PACED LIFESTYLE:
For a quick trip to the coffee shop to run around the city or a long cycle, running through the airport to a backpacking trip. The travel mug is small enough to be with you whenever you need it. Use it for your morning coffee, as a hiking or cycling cup or even for wine in the park or beach.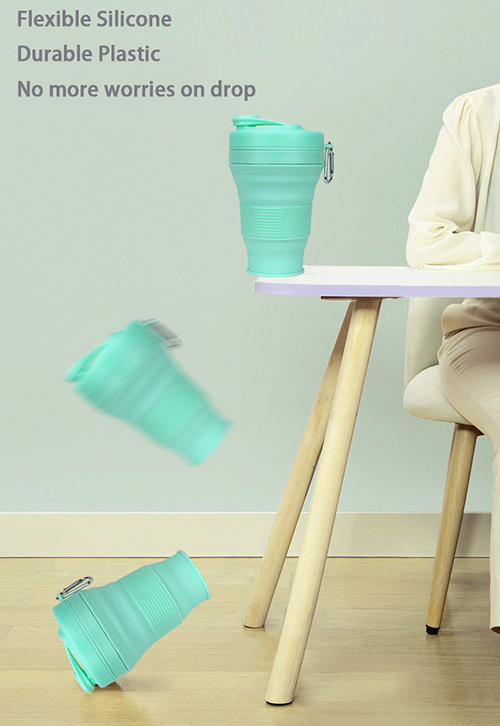 HEAT RESISTANCE:
The reusable travel mugs are made of incredibly durable food-grade silicone to be used over and over again. Heat insulation hand cup with a lid opens and closes easily. Suitable for cold drinks, tea, and other hot beverages.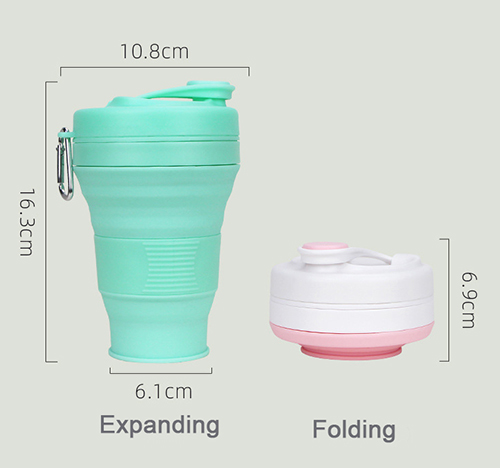 SAFE TO USE:
Easy to clean and carry. This travel mug can withstand the microwave, the dishwasher, and the freezer. It fits perfectly into a zero-waste lifestyle and makes it easy to be sustainable. No more single-use coffee bowls.
5. Product Qualification of Travel Mugs
Advanced Travel Mugs, Our factory is experienced on travel mugs and sell online for a long time. Various options for you to make sizes/colors. Also OEM, ODM is highly welcome, we provide free 3D samples for your confirmation at first, then open new mold. New Mold time is about 20-25 days for whole cup.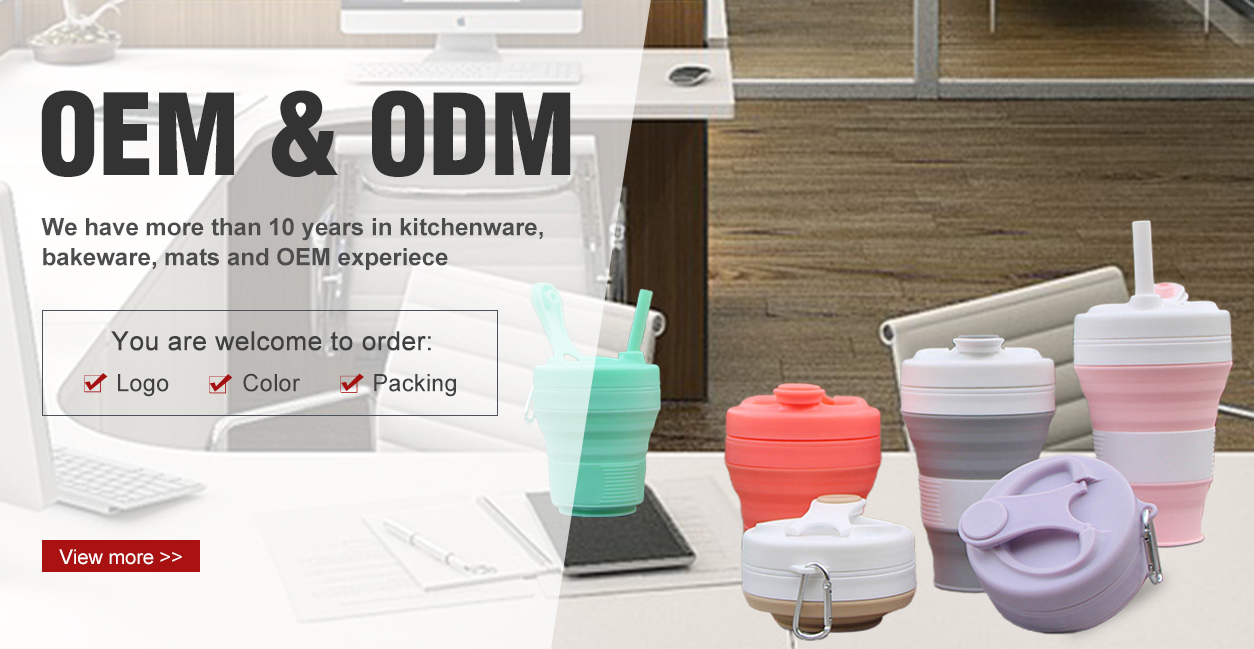 6. Deliver, Shipping And Serving of Travel Mugs
Our collapsible cups are carefully packed in a color box or customized your private gift box during transportation. For shipping, our forwarder give us very competitive price on sea and air door-to-door, FOB, CIF. Welcome to contact us for a shipping quote.
7. Instructions: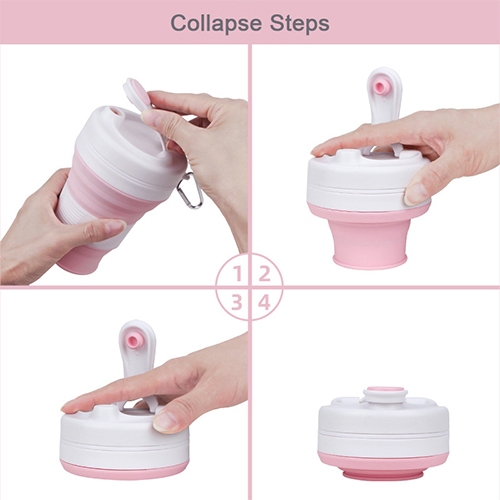 8. The safety of the silicone folding cup!
The silicone folding cup is environmentally friendly, non-toxic and very safe. It is made of food-grade silica gel. Food-grade silica gel is the most commonly used silicone fork, shovel, cutlery, bowl, heat insulation mat, gloves and pacifier in our daily life. The main component is mSio2nH2O. In addition to alkali and hydrofluoric acid, two special cases do not react with any acid and base, chemical stability is good. It is commonly used in silicone baby pacifiers, bottles and other products with high safety requirements. Heat resistance can reach 220 degrees.
Is silicone folding water cup safe?
Generally speaking, silica gel cups are safe. Silicone water bottles are made of environmentally friendly organic silicone. Temperature resistance -40-220 degrees durable, never deformation. It can be folded into a pocket for use!
Food silica gel is an inorganic polymer colloidal material made of silicic acid condensation, the main component is mSiO2nH2O. Good chemical stability except in caustic and hydrofluoric acid, which two very special cases do not react with any acid base. It is often used for products with high safety requirements, such as baby pacifiers and bottles.
Silica gel folding cup is a kind of convenient to carry, use health, with double cup wall folding cup, the outer wall between the two adjacent sections of threaded connection, the inner wall between the two adjacent sections of the cone can move up and down through the outer wall thread rotation to drive the inner wall _ up and down telescopic to achieve the cup folding, stretching function.
Travel Mugs manufacturers
Travel Mugs suppliers
Travel Mugs factory
By discount Travel Mugs